Hailey Edwards has been called to the Bermuda Bar, with Ms Edwards saying she "feels exceptionally privileged to enter into Bermuda's legal profession."
A spokesperson said, "Conyers is delighted to announce that Hailey Edwards has been called to the Bermuda Bar. The ceremony took place on Friday 6 November before Chief Justice Narinder Hargun.
"Hailey Edwards is the third Associate to join the Corporate Practice at Conyers within the past few weeks. She began her pupillage with Conyers in 2019, having previously worked at the firm as a Summer Law Student in 2017 and 2018 in the Private Client and Corporate Departments respectively. Hailey was also a recipient of the 2017 Conyers Legal Bursary Award."
Conyers Director Julie McLean described Ms Edwards as "intelligent, with an abundance of common sense and strong organisational skills to set her apart."
She added: "These are skills critical to a strong legal practice especially in the corporate field where it is important to understand our clients' business needs. Hailey's background degree in economics brings a depth to her legal practice and we are delighted to have her as part of our corporate team."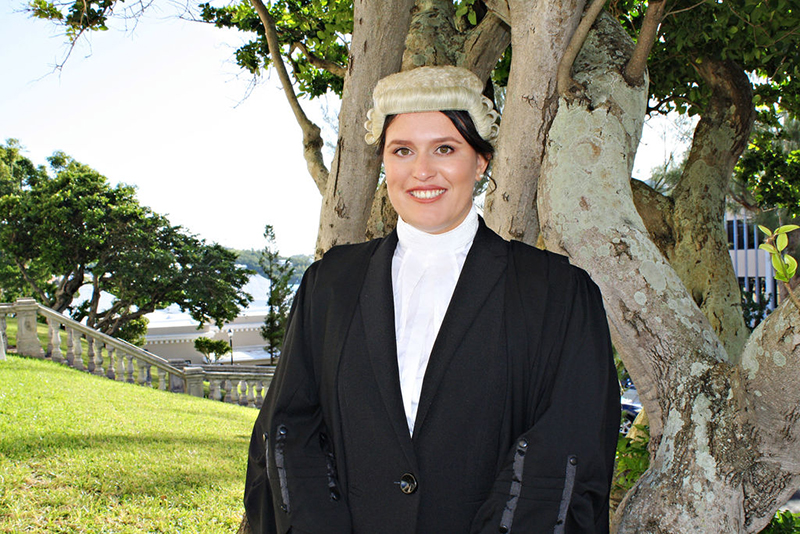 The law firm said, "Hailey attended high school at Ridley College in Ontario, Canada where she achieved the Ontario Scholar Certificate. Thereafter she was accepted at Queen's University, where she obtained her Bachelor of Arts [Honours] with a Major in Economics and Minor in History.
"In 2018, she achieved her Bachelor of Laws degree from the University of Kent in England and the following year she completed her Postgraduate Diploma in Legal Practice with Distinction at the BPP University Law School.
"In her address to the Court, Hailey expressed her deep gratitude to the Legal, Regulatory and Compliance team at RenaissanceRe, where she had her first legal internship. She also interned at The Bank of N.T. Butterfield & Son Limited and Cox Hallett Wilkinson as a summer student.
"Hailey thanked her Conyers mentors Anna Bruce-Smith, Neil Henderson, Ben Adamson and Jacqueline King, as well as Craig MacIntyre and Julie McLean for helping to nurture her interest and skills in each area of law.
"She also expressed her utmost gratitude to her parents, John and Gillian Edwards. In her address to the Court, she said: "I would not be standing here today without their encouragement, support and dependability."
"I am extremely grateful that Conyers has seen fit to offer me a position as an Associate in the Corporate department," she added. "I will endeavour to live up to my potential as I grow and develop as a practitioner.
"Today is just the beginning of what I hope will be a long and memorable career. I feel exceptionally privileged to enter into Bermuda's legal profession and I can only hope that my contributions to the profession and to Bermuda will be worthy of my peers and those who have gone before me."

Read More About