The Government has been working "to design and implement a vertical farming facility in Bermuda" and will also be working "to build a shoreside fishing facility," Minister Wayne Furbert said.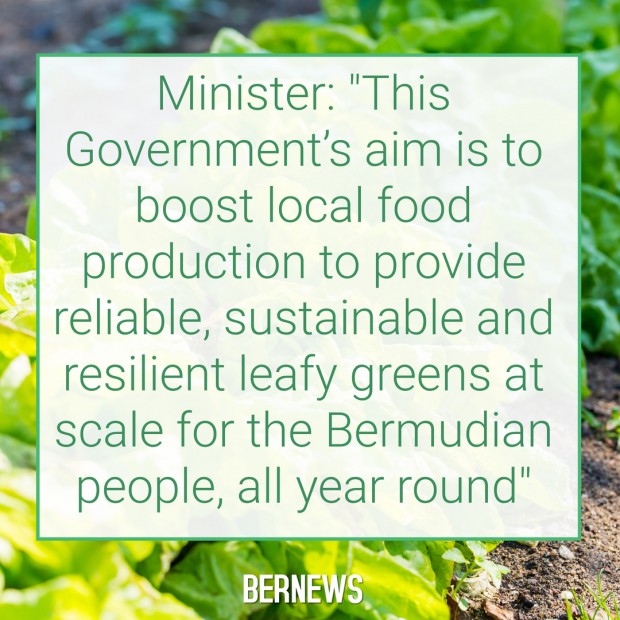 Vertical Farming 
Speaking at yesterday's [Nov 12] press conference, Minister for the Cabinet Office Wayne Furbert said, "This Government's aim is to boost local food production to provide reliable, sustainable and resilient leafy greens at scale for the Bermudian people, all year round.
"For the past year the Government, through the business development unit, has been working with Aerofarms to design and implement a vertical farming facility in Bermuda.
"Vertical Farming will utilize the latest technology to grow leafy greens in a controlled environment. The aim of this venture is to reduce the cost of food to the general public, reduce the reliance on imported leafy greens, and boost employment in Bermuda.
"The Ministry is currently finalising the plans for the development and financing of a purpose-built facility that will have the capacity to produce the equivalent of 200 acres of conventional farmland. The plans will be presented to the Cabinet Committee for Economic Development in November 16″ 2020. A key component of this project, and in keeping in line with the Government's vision to create a nation of owners, will be to allow Bermudians to invest in this entity so that they can enjoy the benefits of ownership of local food production.
"This project has the potential of supplying about 30% of Bermuda's year-round demand for leafy greens. The project is environmentally sound using 95% less water than conventional production and using zero pesticides therefore eliminating harmful run-off.
"We expect to see the creation of at least 30 long term jobs post construction. Other benefits to the wider community are as follows:
Partnership with schools providing a Stem-based curriculum and promoting healthy eating in the school system.
Year-Round Availability
Consistent Pricing
Longer Shelf Life
"As is readily evident, this Vertical Farming initiative will be a boon for Bermuda in many ways and I look forward to providing further updates next month.
Shoreside Fishing Facility
Minister Furbert said, "The Government will be working with the Bermuda Economic Development Corporation and the Fishing Industry to build a Shoreside Fishing Facility.
"The Shoreside Fisheries Complex will be the operational centre and headquarters of a new, long anticipated enterprise that will transform and reposition Bermuda's commercial fisheries sector.
"This exciting project is funded in the current budget to the tune of $370K and is one of the projects where funding has been allocated to move forward in order to stimulate employment.
"We are acting on the recommendations for this initiative, which have been on the table for over twelve [12] years. This fits into our vision to develop Bermuda's economy to advance long-stalled initiatives that are vital for Bermuda's long-term economic development.
"This facility is just the start of our ambitions and while targeted towards local consumption, it has the potential to grow into international exports.
"Principally, fishing vessels that target large pelagic species such as bigeye tuna and swordfish will be supported by infrastructure that is capable of meeting the standards of product handling for export to the United States and Europe.
"It will be a purpose-built facility where fish will be cleaned and processed for sale to the Bermuda market.
"The objective is to create a facility backed by individuals and groups who wish to see fisheries as a viable industry sector move beyond the limiting aspects of its historical roots position it to take advantage of the wider span of natural resources, provide high quality product to the consumers in Bermuda and abroad, and protect our resources for future generations.
"We are making significant progress in realizing the vision of having a Shoreside Fishing Facility and we shall intensify our efforts to achieve this venture."
Read More About