Bermuda's children's team captured first place and the adult team placed second in the recently concluded 2020 Caribbean Equestrian Association's [CEA] Regional Dressage Challenge.
A spokesperson said, "The Bermuda Equestrian Federation is pleased to advise that the 2020 Caribbean Equestrian Association's [CEA] Regional Dressage Challenge came to a successful conclusion for Bermuda with the Children's Team capturing 1st place and the Adult team placing 2nd. First place was awarded to the Barbados Adult Team. Other participating countries included Cayman Islands as well as Trinidad & Tobago.
"Members of the 2020 Bermuda Children's Team were Scarlett Smale riding Roseland, Grace Lightowler riding Just Pete & Natalia Tafur riding Edelweiss. Members of the Adult Team comprised Abby Bardgett riding Up Up & Away, Dale Rochester riding Good as Gold & Michael Rodrigues riding Domino Effect.
Michael Rodrigues riding Domino Effect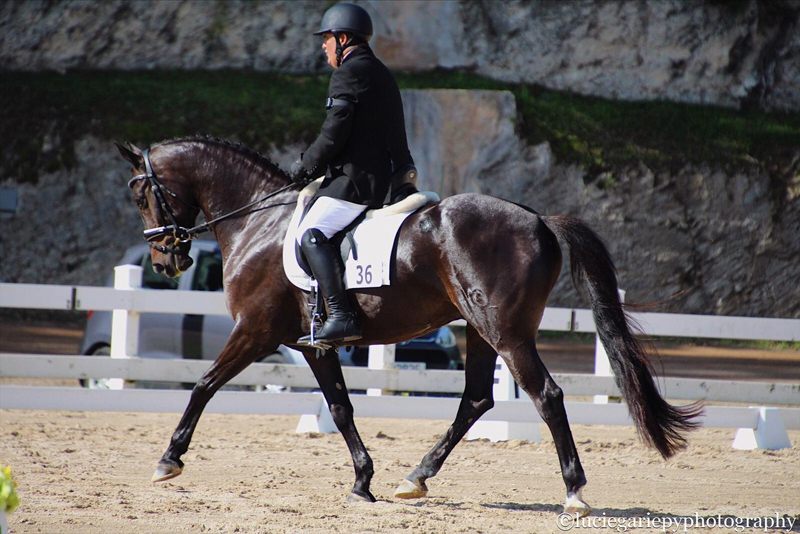 "This year's competition was particularly exciting as it introduced a Freestyle division. Freestyle [sometimes referred to as a Kur] is a 'form dressage competition where the horse's movements/paces are set to music to create a competitive dance.'
"Bermuda's Junior Freestyle Team rose to the occasion and secured 1st place. The Bermuda Team comprised Natalia Tafur riding Edelweiss, Grace Lightowler riding Just Pete & Kayla Bardgett riding Causing Chaos. First place in the Adult Freestyle division was awarded to Barbados.
"In addition to Country placings, the competition also provided for Overall Individual rankings and once again Bermuda dressage riders proved to be on top of their game.
"In the Individual ranking for Children's Training Level Test 3 Bermuda's Scarlett Smale riding Roseland secured the top spot with a 72.241% In the Children's Second level Test 3, Kayla Bardgett & Causing Chaos captured took the top regional spot with a score of 67.309%.
"In the Adult Training Level Test 3, Michael Rodrigues and Domino Effect placed 2nd with a commendable score of 71.207% and narrowly missed lst place which was won by Paula Galbraith of Barbados with a very close score of 71.55%. In the Adult Second Level Test 3, Bermuda secured the top two placings. Claire Turner riding Baltazar Olympus scored 63.261% whilst Abby Bardgett riding Happy Feet scored 63.142%.
Junior Team member Kayla Bardgett riding her horse Causing Chaos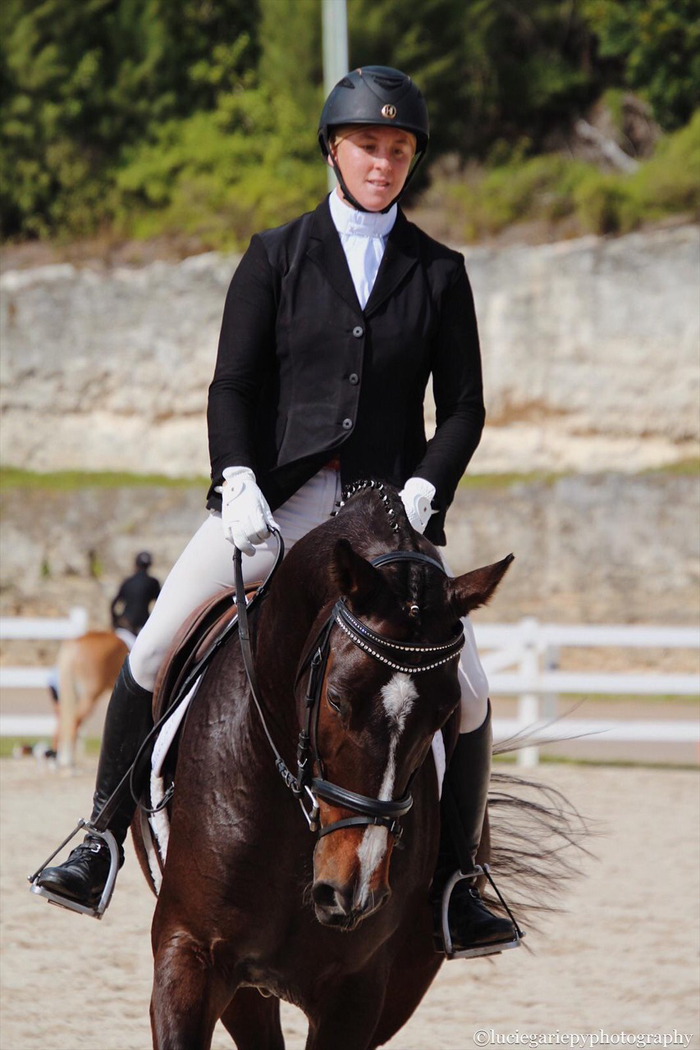 "Initially it was feared that this year's event would have to be cancelled as the global pandemic made it impossible for a foreign judge to travel competing Caribbean countries. Fortunately, the Caribbean Equestrian Association permitted each country to forward video coverage of their competitors to this year's officiating judge, Heather Stalker of the USA, thereby alleviating the need to travel."
Acknowledging the challenges of training as well as the logistics of hosting a 'virtual' event due to the global pandemic, Bermuda's National Dressage Coach, Angela Halloran-Smith expressed her absolute delight with Bermuda's results as well as the opportunity to host a virtual event.
She said, "Bermuda's riders did an excellent job in preparing for the event. This year saw a number of new competitors who performed extremely well. Michael Rodrigues and junior competitor Scarlett Smale both received scores of over 70%. With the Bermuda Junior team placing 1st and the Adult team placing 2nd, this competition demonstrates the tremendous talent and potential on our Island of Bermuda."
- Photos courtesy of Lucie Gariepy photography

Read More About