The Bermuda Football Coaches Association expressed their condolences to the family of French coaching legend Gerard Houllier and said they "will fondly remember his visit to our shores."
A spokesperson said, "It is with great sadness that the BFCA has received the news of the passing of French coaching legend Gerard Houllier. The former Liverpool manager visited the island in March 2018 as part of a series of functions organized by the Bermuda Football Coaches Association. Houllier shared tales from his storied managerial career, which included spells at French clubs Paris-Saint Germain, Lyon, and the French national academy – Clairefontaine, as a guest speaker at a fundraiser for the BFCA at Pier 6.
BFCA President Richard Todd presenting a memento to Gerard Houllier during his 2018 visit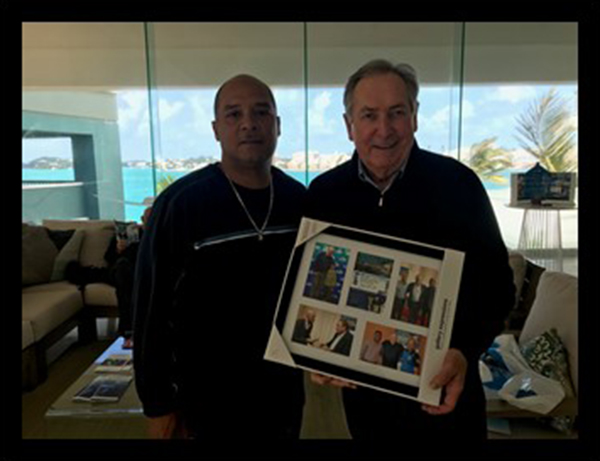 "The event was well attended by football coaches, Liverpool fans and members of the local football fraternity fan base. Additional opportunities were organized for Houllier to meet with the BFA National Academy coaches, join the local LFC supporters club at Docksider's for a viewing of the Newcastle vs Liverpool premier league match, and he was the guest of honor at an invite only dinner at Beau Rivage restaurant.
"Gérard Houllier is a big name in football and, naturally of course, many locals will associate him with Liverpool. He went on to become a folk hero at the club, winning five trophies during his time at Anfield. He guided Liverpool to the FA Cup, League Cup and UEFA Cup in the 2000-01 season, not to overlook his success in France, where he won Ligue 1 three times. Houllier, who also managed Aston Villa, briefly served as manager of France in 1992. He most recently was the Global Sports Director at Red Bull Global Soccer, which includes RB Leipzig in the Bundesliga and the New York Red Bulls in the MLS.
"Houllier's visit to Bermuda was the result of an invitation from Jacques Crevoisier, his former assistant at Anfield. Crevoisier, who served as a consultant for the BFCA in designing and delivering coach education programs for Bermuda, passed away earlier this year. The two compatriots worked together at various football organizations and were great friends off the field.
"Gerard's passing brings back memories for the BFCA of Jacques' influence as the architect of football coach education in Bermuda over the past decade, and his time he spent on the island building many friendships through football. Jacques was an invaluable resource for the BFCA, providing continuity spanning through much of the coaching education that has happened in Bermuda recently. His involvement included working with four organizations: the Bermuda Football Foundation, the Bermuda Football Association, the ABC Football School and the BFCA.
"The BFCA extends condolences to the friends and family of Gerard Houllier, and will fondly remember his visit to our shores as part of a lasting legacy left by Jacques Crevoisier."

Read More About