Six students from last year's Bermuda Zoological Society Junior Volunteer [JV] programme joined twelve new students following the recommencement of the programme in September.
A spokesperson said, "In March 2020 when COVID-19 struck our community and the island went into lockdown, the Bermuda Zoological Society [BZS] was made to pause its Junior Volunteer [JV] programme. This meant the JV group at the time were unable to complete their year of volunteerism at the Bermuda Aquarium, Museum and Zoo [BAMZ].
Cheron Hunt with the Galapagos Tortoises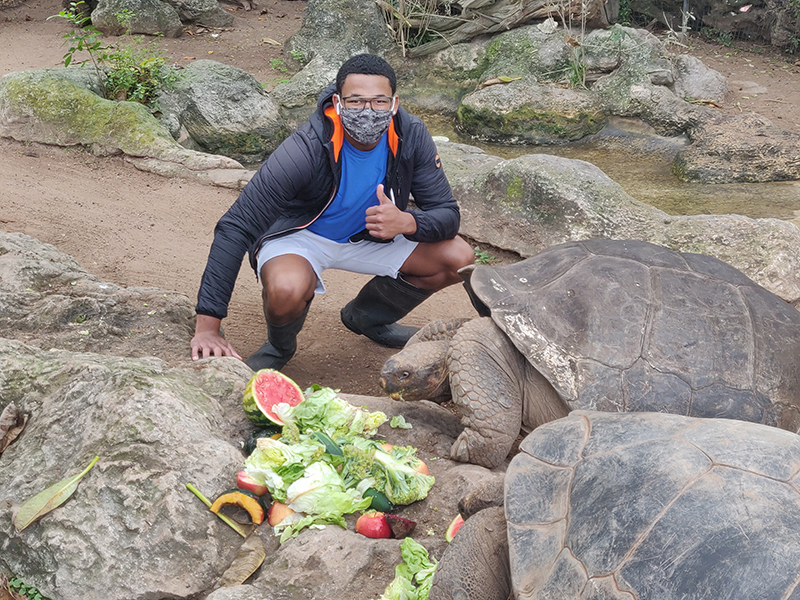 "The highly competitive JV programme runs from October to June and is designed for students aged 14 to 17 years. It requires a year-long commitment from them to volunteer on a Saturday or Sunday morning each week and it gives them the opportunity to work in all areas of BAMZ. They also take part in community conservation projects, field trips and educational activities.
JV Rakshana Sureshkumar and Kristy Sanchez [JV Programme graduate] with Golden Lion Tamarin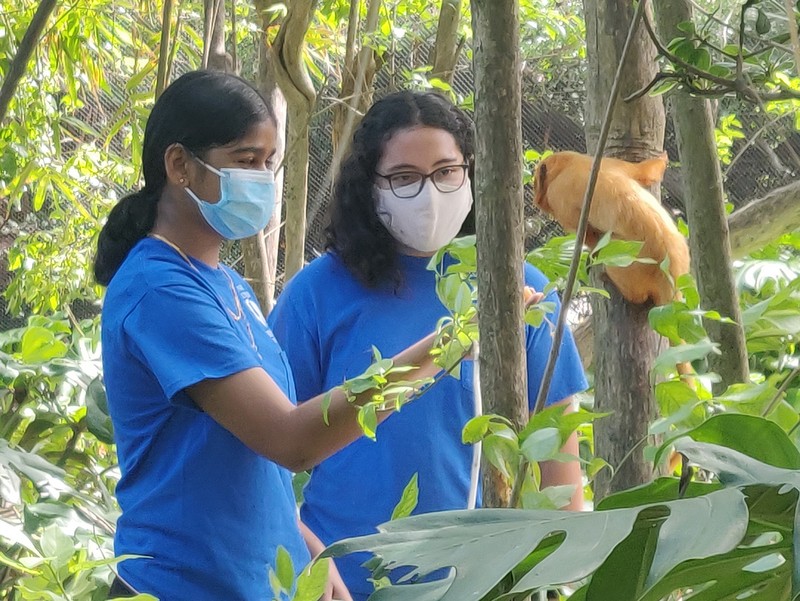 "When the JV programme was able to recommence in September, the coordinators decided to give last year's JVs the opportunity to have a programme "do-over". Six students accepted the offer, and they are currently participating in the programme together with 12 new students. The participating students attend Berkeley Institute, Bermuda High School, Saltus Grammar School, Warwick Academy, Bermuda Institute and Mount Saint Agnes.
"While some JVs chose to come back to re-join the programme, others are still volunteering regularly at BAMZ," said Dr. Alex Amat, JV programme coordinator and BZS Educator. "One student was offered a Junior staff position at BAMZ. Students studying abroad have also pledged to come back and volunteer during their prolonged Christmas break after finishing their quarantine periods. We are very proud of their dedication!"
JV Salayah Stange working with Lemurs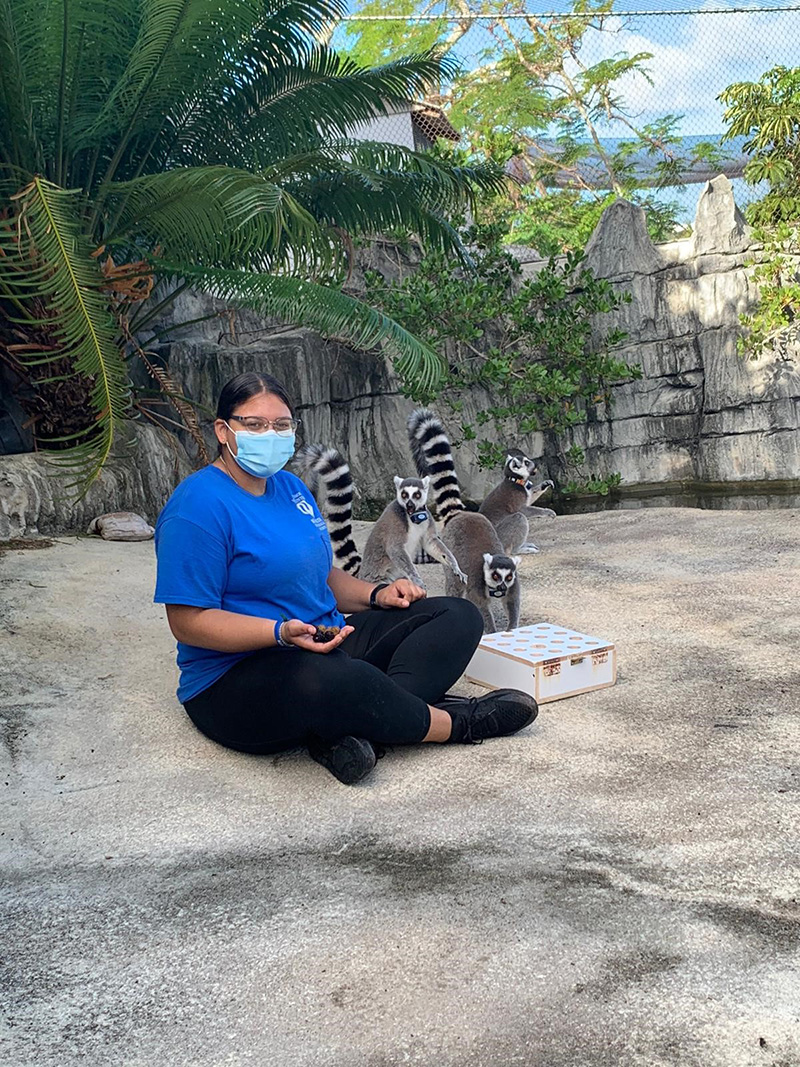 "The shared mission of BZS and BAMZ is to inspire appreciation and care of island environments, and as the support charity for BAMZ, the BZS is an example of a highly successful non-profit/public partnership. Each year the BZS provide more than 8,000 free educational experiences through our Stempel Foundation BZS Schools Programme in addition to popular community programmes for all ages, development of BAMZ exhibits, and conservation and research programmes. Each year, BZS Volunteers contribute over 10,000 hours of valuable husbandry support to the Aquarium and Zoo with all programmes being accredited by the Association of Zoos and Aquariums."
Analiese Finkbeiner preparing fish for animals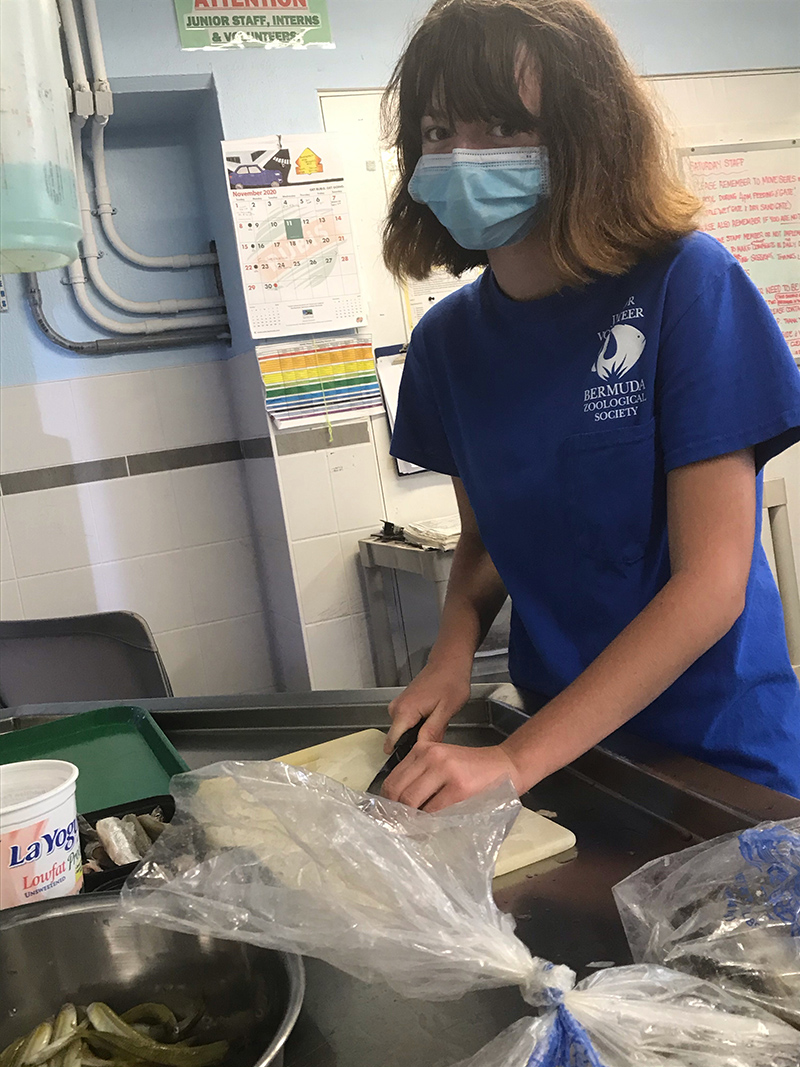 Read More About
Category: All, Environment