After years in the making, a new exhibit 'Madagascar: Land of Mystery and Wonder' officially opened at the Bermuda Aquarium, Museum & Zoo yesterday [Nov.10].
The dynamic facility, incorporating a free-flight, walk-through exhibit as an eye-popping front to the Zoo's Animal Care Centre, was funded by lead sponsor HSBC in partnership with the Bermuda Government, Bermuda Zoological Society (BZS), the Department of Conservation Services, plus corporate and private donors.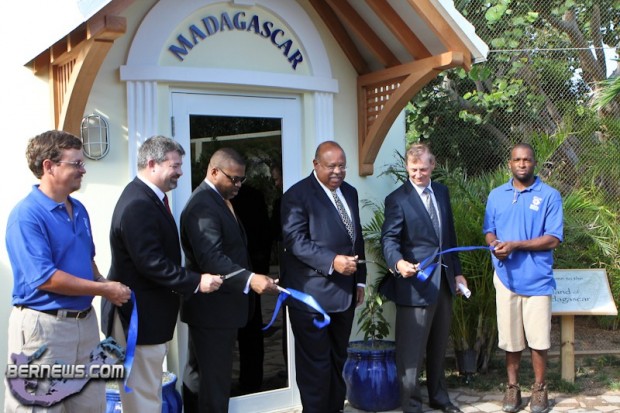 "BZS is thankful for the generosity of major donors, particularly HSBC, which continued to show its outstanding support for education and the environment in Bermuda by becoming our lead sponsor," says BZS President Kevin Comeau.
"BELCO was also extremely generous in its support. We simply can't thank donors enough for helping to make the Madagascar Exhibit and adjoining Animal Care Centre a reality. Both additions to our facility are examples of a strong public-private partnership that benefits our entire community."
Madagascar is funded through $1.25 million in corporate and private donations to BZS's $8.4-million Capital Campaign, which included Government's contribution to the Zoo's infrastructure. The exhibit is the second major project borne of the campaign, following the purchase of the education-outreach vessel Endurance.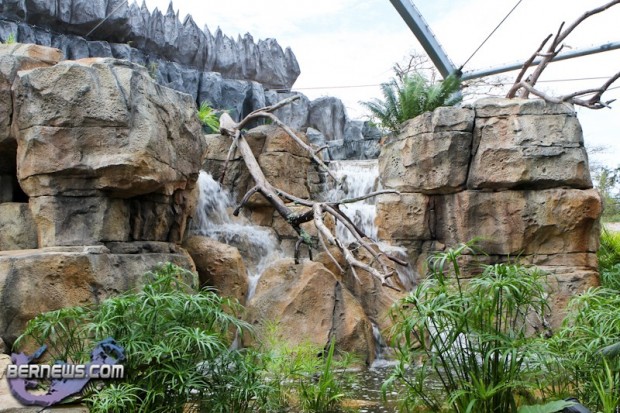 Madagascar is also the first large new exhibit in a decade at BAMZ, underscoring the facility's mission "to inspire appreciation and care of island environments." The biodiversity of regions such as the Caribbean and Australasia, as well as Bermuda's own North Rock, are already featured in popular exhibits at BAMZ.
Now, Madagascar continues the theme, linking Bermuda's own conservation challenges with those of another unique but fragile island—one where an astonishing 80 percent of species are found nowhere else on earth.
"One of the most fitting ways to celebrate Bermuda's 400th anniversary in 2009 was through substantial donations to local projects that contribute to the preservation of our Island's natural environment," says HSBC Bermuda CEO Philip Butterfield.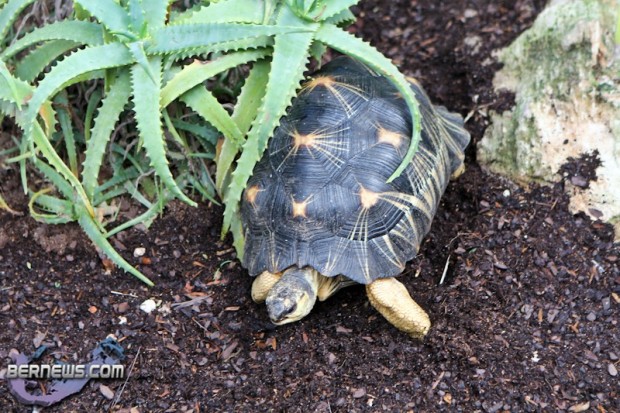 "HSBC Bermuda applauds the efforts of all partners for this positive contribution that teaches us about other unique island ecosystems and how important it is to protect our environment for future generations."
"The Bermuda Government expresses its sincere thanks to HSBC for partnering with us to enhance one of Bermuda's best public attractions," says Public Works Minister Walter Roban.
"HSBC's corporate leadership has helped take the Aquarium & Zoo to a new level with the building of an Animal Care Centre and this fabulous new exhibit, which all Bermudians and our visitors can enjoy and learn from."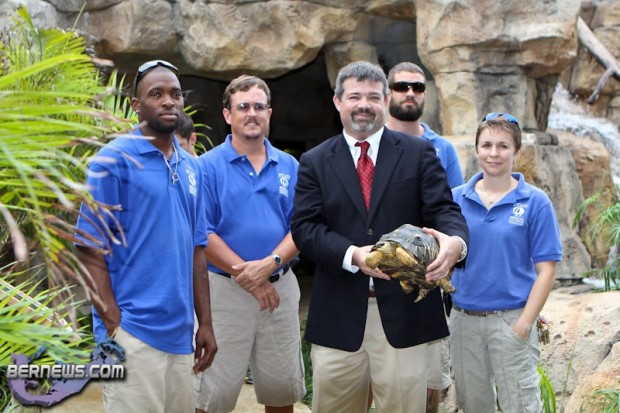 The Indian Ocean island nation is located some 8,000 miles away from Bermuda—off Africa's southeast coast—and is dubbed the "Eighth Continent," thanks to its geological past and unique biodiversity, which scientists call an unparalleled bio-hotspot.
Madagascar has a stunning 250,000 species of plant and animals—five percent of the world's total. Some 80 percent of species are unique to the island, including lemurs and the predatory fossa.
The Madagascar Exhibit showcases this compelling diversity by highlighting some of the standout features of the island's topography—caves, arid desertscapes, a waterfall and wetlands, plus the limestone fortresses of the biodiverse northern Tsingy region, for example—along with several key island species.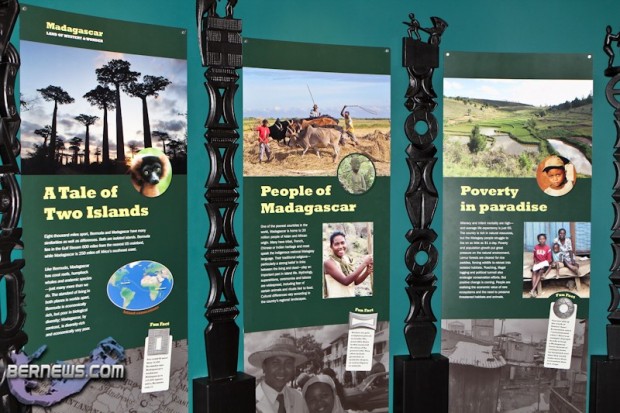 An entrance vestibule contains interpretive wall displays, authentic Malagasy totem poles and a dynamic digital video globe projecting a brief introduction to the world of Madagascar. Outside, visitors can see hallmark habitats and animals of the one-of-a-kind island.
"It is a fantastic facility that will hugely benefit our entire community," says BAMZ Principal Curator Dr. Ian Walker of the new exhibit.
"Not only will it enhance our conservation-education programmes for students and adults here at BZS/BAMZ, but it will also be a recreational resource for local families and individuals, and a big boost to Island tourism as well. It's something we can all feel proud of."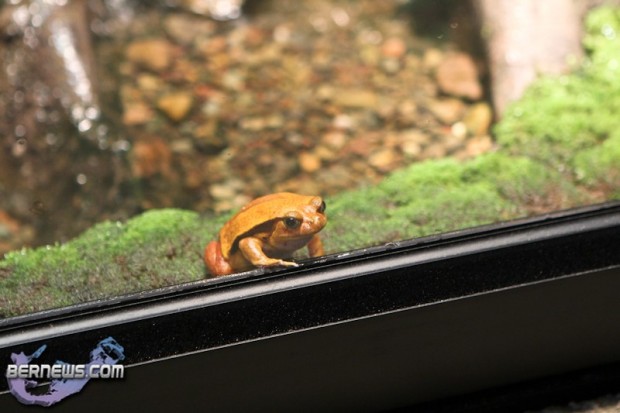 Animals will be phased into the exhibit gradually, with several arriving in Bermuda over the next few months, including chameleons and a troupe of ring-tailed lemurs. Such staged introductions are needed to help animals better adapt to new surroundings.
Already, a few fascinating species have joined the BAMZ Collection, including tiny mantella frogs, tomato frogs, ground boas, endangered radiated tortoises, African helmeted turtles and buttonquails. One of Madagascar's most extraordinary creatures—the fossa—is also settling into life at BAMZ; "Orana" (Malagasy for "rain") is a cat-like member of the mongoose family and Madagascar's top predator.
Along with the wow factor of intriguing animals and landscapes, the new exhibit explores the heavy socio-economic pressures that have endangered Madagascar's natural environment. With a population of 20 million, it is one of the world's poorest nations, despite a wealth of natural resources.
Hunting, mining and deforestation have led to extinctions, and less than eight percent of Madagascar's original forest remains. But eco-tourism, environmental education and economic development are starting to make a positive difference and non-profits—including BZS—are working hard to help.
"BZS has given funds to help build and outfit classrooms in Madagascar so that education may provide a way out of poverty," says Dr. Walker.
"Children in these impoverished regions now have places to learn that have blackboards, books and furniture. Our hope is that through projects like these, the country's young people will grow up to be stewards of their environment. Another project we support helps reforest areas inhabited by silkworms. That is a non-destructive industry which provides income for local people."
BZS/BAMZ hope to continue fund-raising for conservation and education projects such as these—and the Madagascar Exhibit itself will help generate donations towards worthy causes. At the exhibit's exit stands a "Spiral Wishing Well" into which visitors can deposit notes and coins, and all money raised will go towards Madagascar.
"We have an obligation to be pro-active and participate in global conservation initiatives," Dr Walker believes.
"By doing so, we are helping to protect the existence of the very animals and habitats we have on exhibit. Equally importantly, we are also helping the people of Madagascar, which is the future of the country and its survival as an ecological treasure."
Click to enlarge photos:
Read More About