The African Bermuda Dispersion Cultural Tour will be hosting the "Long Walk To Freedom' walking tour in the City of Hamilton on November 21st and November 28th.
A spokesperson said, "The African Bermuda Dispersion Cultural Tour is visiting the City of Hamilton and join us for a Sankofa Journey of the African Diaspora sculptures, as we learn about 400 years of history and its impact on the lives of Black people. To understand the present, we have to look into the past, in order to move forward to a better future!
Highlights:
Stop outside "The Cathedral" – an iconic city landmark and learn about the early establishment of Bermuda in the 1600's and the English colonists that arrived here.
Stop outside "The House of Parliament" – an historic landmark and learn about Britain's Westminster system of laws in Bermuda during and after slavery.
Visit to Sarah "Sally" Bassett sculpture at Cabinet Grounds- An Enslaved woman accused of poisoning a slave owner, and being the ringleader of the poisoning plots in the 1700′s.
Visit "We Arrive" sculpture at Barr's Bay Park – A story about a ship that entered Bermuda and the fate of those onboard.
Visit "When Voices Rise Sculpture" at City Hall – Learn about the groups that help to end segregation in Bermuda.
"Departure point: Departure from Freedom Square [City Hall], in Hamilton and this will be the return location. Please ensure to arrive at least 10 minutes early for check in and to ensure an on-time departure. The tour is 2 hours and will depart promptly at the scheduled times.
Dates: Nov 21st & 28th
Times: 1:30PM to 3:30PM
Cost: $25 per person
"Book at www.titantoursbermuda.com or call [441] 234-1096 or info@titantoursbermuda.com for enquiries. In following Covid-19 requirements, guests are required to wear face masks and adhere to appropriate social distancing. A 24-hour cancellation notice is required for refunds."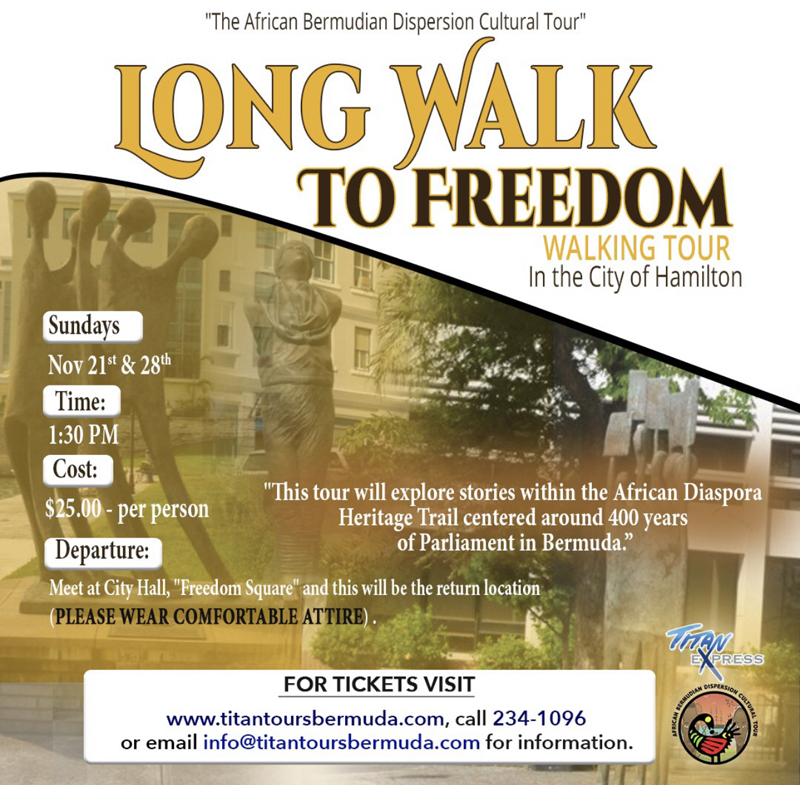 Read More About
Category: All, Entertainment, History