The Bermuda Economic Development Corporation [BEDC] will be hosting a virtual seminar entitled "The Next Big Thing – A Follow Up, One Year Later" on Thursday [Jan 21], with panellists set to include Premier David Burt, Marico Thomas, Karen Franks, Neville Grant, Nhuri Bashir and Tulani Bulford.
A spokesperson said, "The Bermuda Economic Development Corporation [BEDC] will host "The Next Big Thing! – A Follow Up, One Year Later". This virtual seminar will be a sequel to the original seminar held in 2019.
"The virtual fire-side chat will allow the returning panel, inclusive of the Hon. Premier, to provide an update on the business opportunities that exist in the local market and abroad, post Covid-19. The free online event will take place on Thursday, January 21, 2021 from 11:30 am – 1 pm.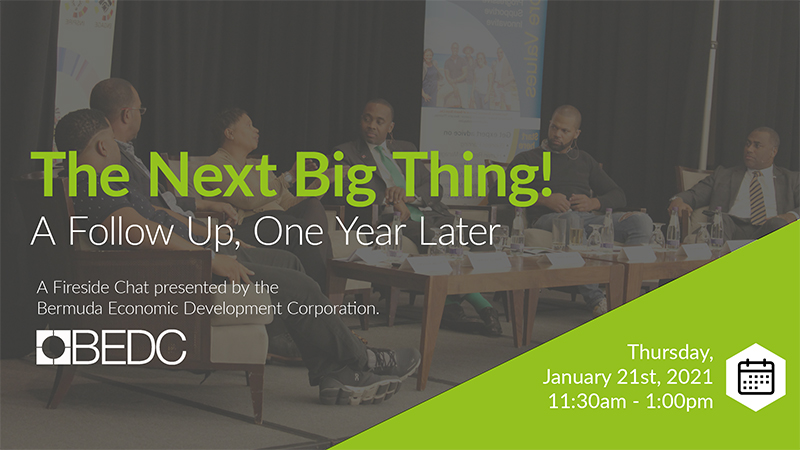 "In 2019, the seminar tackled some difficult questions including: What is required to solve real world problems? How do you identify an opportunity and then seize it?
"During a global pandemic, it is more important now to understand how to recognize business opportunities and if necessary, pivot to survive. These questions and more will be discussed by the panel, providing insight to attendees on the steps they have taken to navigate through a global pandemic and how innovation has played a factor in helping to do business differently.
"Featured panellists include The Premier, the Hon David Burt, JP, MP, Marico Thomas of Four Star, Karen Franks, President /Founder, ADA Group Holdings Limited; Neville Grant, BEDC Board Chair and Head of Corporate Banking, HSBC; Nhuri Bashir, Co-Founder of Burnt House Productions and Tulani Bulford, Senior Partner, Portland Lane Capital.
"Attendees will hear directly from the Premier about what has been accomplished towards achieving his goal for the development of a thriving entrepreneurial ecosystem in Bermuda. The accompanying panel of entrepreneurs will provide an update on the opportunities that they have identified and how they have realized or shifted to continue to achieve their business objectives."
Mr. Thomas said, "I feel fortunate to have been able to maintain business operations through the pandemic and want to share my experiences which may bring benefit to others."
"The last year has been a challenge for so many entrepreneurs.", said Erica Smith, BEDC Executive Director. She continued, "This seminar is timely and will provide a macro and micro economic outlook on how entrepreneurs are surviving and, in some cases, thriving during the Covid-19 Pandemic. Our hope is that the panel inspires attendees to continue to identify and leverage opportunities."
Registration is free. To reserve your spot, please register online at www.bedc.bm.
Read More About