Raleigh Bermuda is recruiting for their 2021 Venturers Programme, and will be holding recruitment information sessions on February 3 and February 5.
A spokesperson said, "Raleigh Bermuda offers a year-long personal enrichment programme, subsidised by community and corporate funding, that provides young Bermudians age 17 – 24 with the opportunity to change their lives. Using local training camps and overseas expeditions to Costa Rica, Tanzania or Nepal, and continued coaching, Raleigh challenges young people to harness their full potential and develop skills for life.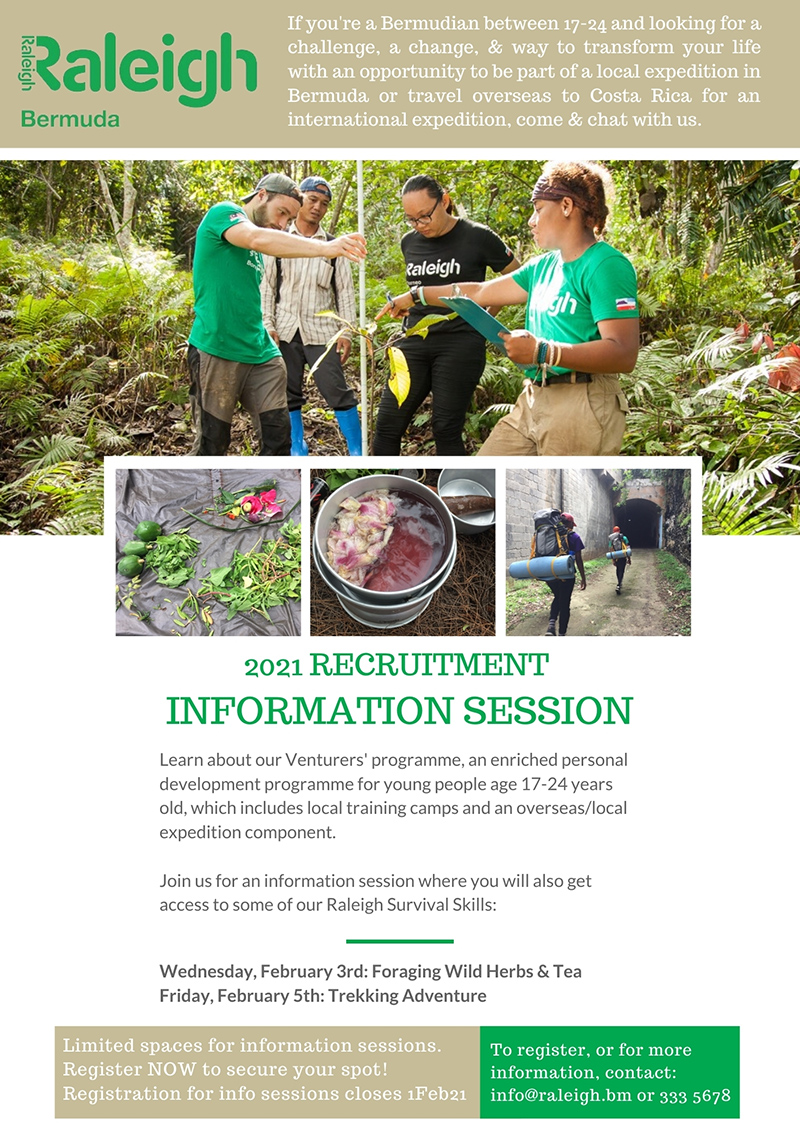 "The Raleigh programme creates an alternative hands-on learning environment where students will learn things that cannot be taught in the classroom. The Raleigh programme will help equip them for the future and give them skills that employers are looking for.
"We will provide them with life skills which includes survival training, financial/budgeting, communication, problem solving and emotional/mental coping skills. We will help build their confidence, resiliency and leadership skills as they transition into young adulthood.
"The 2021 Venturers Programme is free for all young people ages 17 – 24 years old. The programme consists of local training camps followed by a choice of:
Participating in a 2-week local archaeological expedition in Bermuda in August 2021 [open to Bermudians and Non-Bermudian residents] or,
A 4-week overseas expedition in Costa Rica in July 2021 [open to only Bermudians].
"Raleigh Bermuda will be hosting two information sessions offered as Teaser "Survival Workshops". Attendees will get an introduction to some of the skills learnt during training camps such as foraging for wild food and trekking.
"Participants can choose to either attend the information session on February 3 or February 5. Due to group size restrictions, spots are first come, first serve. Participants are encouraged to sign up as soon as possible to reserve their spot. A $10 refundable deposit is also required to secure their spot.
"To register for the information session or for more information, please contact info@raleigh.bm or call 333-5678. Visit www.raleigh.bm."
Read More About
Category: All