After adjusting for the retail sales rate of inflation – measured at 0.7%  in September – the overall volume of retail sales increased 5.9% when compared to September 2019, according to the recently released Retail Sales Index.
A Government spokesperson said, "Today the Minister for the Cabinet Office the Hon. Wayne Furbert, JP, MP released the September 2020 Retail Sales Index.
"In September 2020, the overall volume of local retail sales increased by 5.9%. This compares to the previous year's local retail sales which reported a volume decrease of 5.1% as outlined in the Department of Statistics' September retail sales report.
Chart extracted from the report: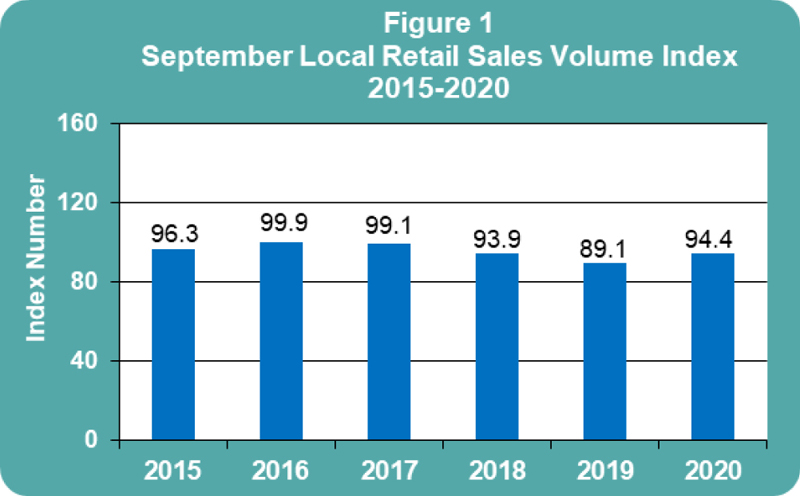 The Minister explained that "while the restrictions on travel had a significantly limiting impact on local retail activity, they actually substantially boosted Selected Overseas Declarations," which are defined as declarations via courier, by residents via the airport, by households via the sea, and via the Bermuda Post Office. The value of the total of those categories is seen as continuously increasing for the fifth consecutive month since May 2020. Compared to August 2020, Selected Overseas Declarations in September had reported an increase of 6.6%.
"Minister Furbert further noted that in September 2020, five of the seven retail sale sectors had experienced positive growth in sales volume. Motor vehicle stores experienced the largest sales volume increase of 35.8% due to a greater demand for available cars and motorcycles.
"The Minister also noted that the streamlined processes and policies implemented by the Government regarding planning applications had seemingly encouraged many building and renovation projects to start early, which had helped local businesses and the economy overall. In September 2020, building material stores experienced a 10.7% growth in sales volume over the same month of the previous year.
"Food stores and liquor stores recorded a 5.1% and 7.8% growth in volume sales, respectively, and as compared to September 2019.
"The All Other Store Types sector is comprised of a variety of stores selling household items, furniture, appliances, electronics, pharmaceuticals, marine supplies, and tourist-related goods. In September 2020, it showed a 7.1% increase. Apparel store volume sales were down 17.9% in September, which reflected the lowest decrease month-to-month. August to September, sales volumes were down only 17.9%, as compared to 28.4% July to August, and 22.6% June to July.
"September's retail sales also saw declines in the area of fuel: volume sales at service stations fell 1.3%, which was partly attributed to lost sales during the passage of Hurricanes Paulette and Teddy as well as fewer vehicles in transit as residents continued to work from home.
"Minister Furbert would like to thank residents who, during these challenging times, are doing their part in supporting local businesses and aiding our economy."
The full September 2020 Retail Sales Index publication follows below [PDF here]:
Read More About