After adjusting for the retail sales rate of inflation – measured at 4.0% in March – the overall volume of retail sales decreased 8.0% compared to March 2021, according to the recently released Retail Sales Index.
A Government spokesperson said, "Today, the Ministry of Economy and Labour released the March 2022 Retail Sales Index. March's retail sales fell 8.0% compared to last year. In value terms, retail sales decreased by 4.5% compared to the previous year [March 2021] to an estimated $100.1 million.
Chart extracted from the report: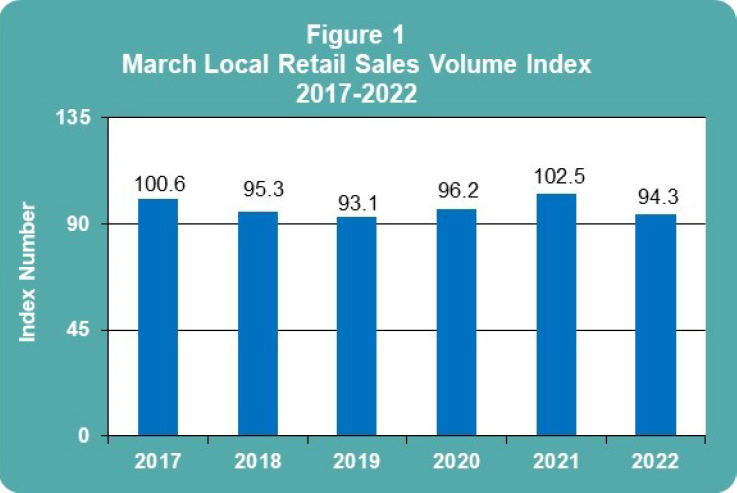 "Compared to the pre-pandemic period of March 2019, volume sales were higher by 1.3%, with three sectors experiencing growth in March 2022.
"Building Material Stores' sales grew 8.3% due to higher demand for building material goods to support contract projects. The sales volume for this sector was 12.4% above the 2019 sales level.
"Sales at Apparel Stores increased by 8.0%, reflecting increased purchases of men's apparel and clothing accessories. However, the sales level remained 14.2% below pre-pandemic sales in 2019.
"Service Stations' volume sales increased by 2.9% from last year but were 4.4% lower than pre-pandemic sales in 2019.
"All other sectors experienced declines in sales volume compared to the previous year.
"In the All Other Store Types sector [comprising stores selling household items, furniture, appliances, electronics, pharmaceuticals and tourist-related goods], there was a 6.9% decrease due to lower sales of pharmaceuticals and marine supplies. Sales for this sector registered 9.0% above the sales volume in 2019.
"Sales at Food Stores decreased by 12.2%, while Liquor Stores' sales fell by 22.5%. Compared to pre-pandemic sales in 2019, Food Stores registered a 5.1% decline, while sales for Liquor Stores were 8.8% higher.
"Motor Vehicle Stores' sales fell by 29.7% due to a decrease in the inventory of automobiles available for sale. This sales level was 3.1% below the sales volume in March 2019, prior to the pandemic.
"Overseas declarations increased 6.3% compared to March 2021, influenced primarily by increased imports of machinery and equipment by residents via courier."
The full March 2022 Retail Sales Index publication follows below [PDF here]:
Read More About