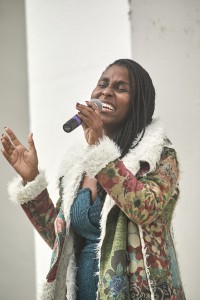 This Friday [Feb 12], the Department of Community and Cultural Affairs is launching Creatives Live!, a local entertainment initiative aimed at showcasing Bermuda's talented artists.
"Creatives Live! is a midday concert series that offers an opportunity for the community to support local performing artists, many of whom have faced challenges due to the pandemic. The activity will also entertain those in the City of Hamilton on Friday and Saturday afternoons," a spokesperson said.
"The first Creatives Live! event kicks off Friday, and will feature popular local singer Joy T. Barnum from 2.00 pm to 3.00 pm.
"The event will take place outside on the City Hall grounds and will be in keeping with the COVID-19 health and safety guidelines. In that regard, members of the public are asked to enjoy the music as they pass by City Hall."
The Minister of Youth, Culture and Sport, Dr. Ernest Peets said, "The pandemic has taken its toll on so many of Bermuda's livelihoods and industries. Sadly, our creative community has also been affected.
"For this reason, we are pleased to be able to host this series of events featuring our local musicians. This is also a way to provide enjoyment and upliftment during a difficult time for our community. We hope the public will support Creatives Live! because in doing so, they are also helping to support and bolster Bermuda's homegrown talent."
The spokesperson added, "The next performance will be held Saturday February 27, from 12.30 – 1.30 pm, on the steps of City Hall, and will feature The Unit Band. As a note, all of the performances will be recorded and offered in a virtual format so that the community can also enjoy at a later date via CITV and the Department of Community and Cultural Affairs' YouTube page.
"For more information about Creatives Live!, please contact Graham Mawer, Cultural Liaison and Development Officer on 292-1681 or gsmawer@gov.bm. To find out more about Bermuda's creatives or if artists wish to be featured in the Department's online catalogue, please visit www.creatives.bm."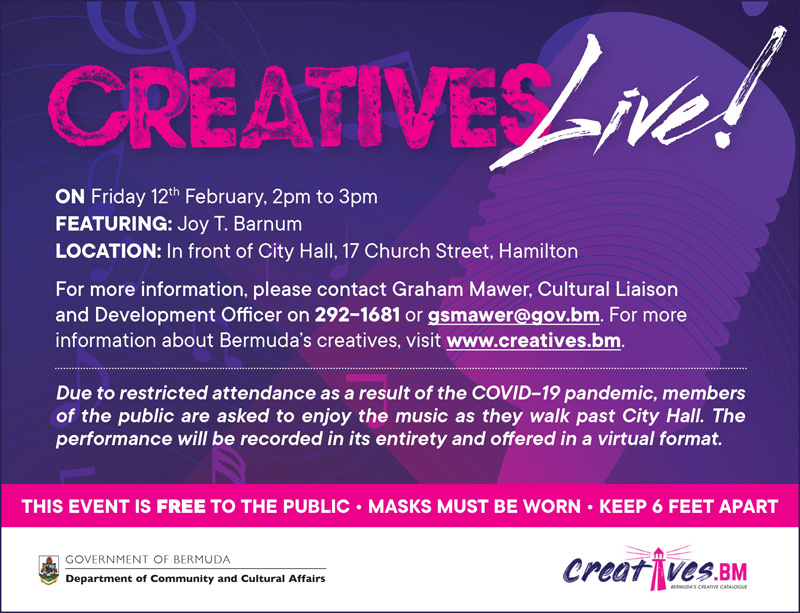 Read More About
Category: All, Entertainment, Music, News