Singer, songwriter, and supporter of The Chewstick Foundation, Joy T Barnum will help to raise funds toward the completion of The Chewstick Culture Hub at 81 Front Street with a show on Sunday, November 22.
The event, titled 'Joy T Barnum: Under the Covers,' will see the singer perform a mix of her favorite covers alongside songs chosen by the audience through bids.
A spokesperson said, "Joy T is no stranger to the entertainment scene, having recorded four studio albums and one live album over the course her career. She also took part in Heather Nova's 13 City Tour in 2010 and has been the star act in several musical collaborations in Bermuda.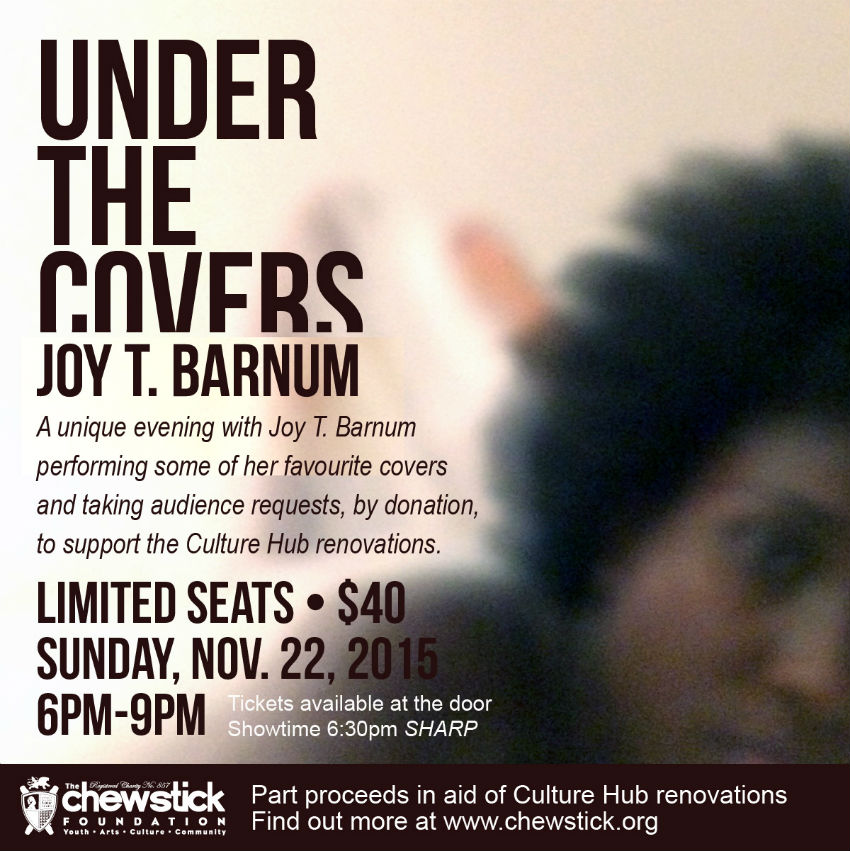 "She has mentored and inspired a multitude of young Bermudian singers to hone their craft and take their voices to the world, as well.
"Despite her many successes she remains a free spirit and philanthropist at heart, who has answered the call to help the Chewstick Foundation to strengthen their service to the creative industry in Bermuda.
"Joy is inviting attendees to the event to make bids toward songs for her to sing, with proceeds from bidding going to support the renovations at the Chewstick Culture Hub at 81 Front Street."
"While Joy enjoys and performs a range of music from a multitude of genres, including opera, country, soul, jazz and rock there are still songs she may not know or would never consider singing without the influence of attendees at this Sundays' Under the Covers fundraiser.
"She is open to the challenge of presenting each song justice, whether she's heard it before or not, and is committed to offering a fun memorable evening.
Ms Barnum performs at the 2013 Peace Concert
"Do not miss the opportunity to experience an awe-inspiring performance, that will be a definite treat to all in attendance.Come early to enjoy every moment of Joy T Barnum: Under the Covers.
"If you can't attend but would like to support the Chewstick Culture Hub renovations, donations can be made online."
Doors will open at 6.00pm and bids will be accepted until 6.20pm – each bid is a minimum of $5, and the higher the bid the higher the chance of hearing it – with the performance to get underway at 6.30pm.
Entry is $40, payable at the door, and part proceeds will go toward completing the renovations at the new Chewstick Culture Hub at 81 Front Street.
For more information, visit online or call office at 292-2439.

Read More About
Category: All, Entertainment, Music