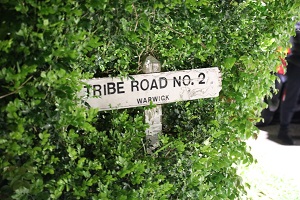 [Updated] There was a shooting in the Ord Road area this evening [April 6th], the police have confirmed.
The police confirmed that the shooting took place near the junction of Tribe Road #2 and Ord Road in Warwick, and a male was shot, and transported to the hospital with injuries which were described as "life threatening."
We will update with more information as able.
Anyone with information is strongly urged to call the police on 295-0011, or the confidential Crime Stoppers number 800-8477.
Update 12.05am: The police have confirmed the sad news that the man has died.
Update: A police spokesperson said, "At approximately 10:30 p.m. on Tuesday 6th April 2021, Police and EMTs were dispatched to a firearms incident in the area of Ord Road and Tribe Road #2, Warwick, after residents reported hearing multiple gunshots.
"Upon arrival, officers found 37-year-old man with a gunshot wound to the chest.
"Officers and EMT's immediately began life-saving measures at the scene and the victim was subsequently transported by ambulance to King Edward VII Memorial Hospital, where sadly, he succumbed to his injuries a short time later.
"No information on the identity of the victim will be provided until all next of kin have been notified. Officers from the Forensic Support processed the scene and an investigation into this matter has already begun.
"Anyone who may have any information on this incident, no matter how insignificant you may think it to be, is asked to call Detective Sergeant Jason Smith of the Serious Crime Unit on 717-0864. You may also call the main police number, 295-0011 or, the independent and confidential Crime Stoppers number, 800-8477."
Update 12.03pm: "The family, loved ones and friends of the victim are foremost on our minds today as we process another shooting incident that has taken the life of another man," said the Minister of National Security, Renee Ming, following last night's shooting death.
"I extend my heartfelt condolences to each of them. As we grapple with this tragic event, I am urging anyone with any information to please contact the Police.
A spokesperson said, "The Minister notes that the investigation into the murder is in its early stages and Police will update the public at 12 noon today. She also confirmed that the Gun Violence Reduction Team [GVRT], will be in the Ord Road area today to provide support to those in the surrounding neighbourhood."
Read More About