Today marks one month since the murder of Jordan Outerbridge, and the Bermuda Police Service have renewed their appeal for witnesses to come forward.
Mr Outerbridge — who is pictured below with his family in an image provided by the police — was fatally shot last month in the Tribe Road #2 area in Warwick.
The police, who previously said that Mr. Outerbridge was not affiliated with any gang or gang activity, said that that they do not believe that Mr. Outerbridge was the "intended target."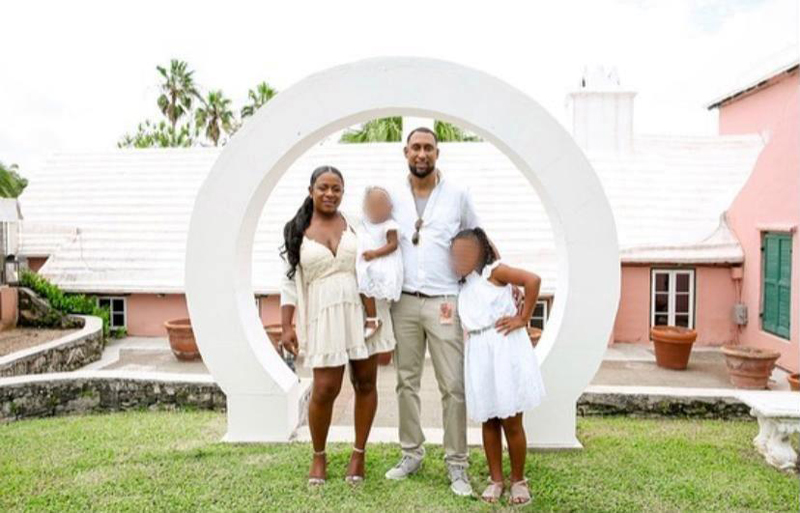 Detective Superintendent Nicholas Pedro, Officer in charge, BPS Crime Division said, "Sadly, today marks one month since the brutal murder of Jordan Outerbridge. One month since his children lost a father, and a wife lost her husband.
"Despite our continued best efforts, we have so far not received the public response we had hoped for in a case that involved the senseless killing of a man.
"As such, we are re-issuing a call for anyone who may know anything about the murder of Jordan Outerbridge, to come forward and say something.
"Crime Stoppers can be a very helpful option in that regard."They exist to help people who – for whatever reason – won't, or can't speak directly to the police, but want to do the right thing. Crime Stoppers, guarantees that you will remain 100 per cent anonymous. They are not interested in who you are and will never, ask for your details – all they want is information, however small, that might help find those behind this murder.
Mr Outerbridge's widow Krishunna Outerbridge appeals for information on April 14
"Jordan's life was mercilessly taken away. By contacting Crime Stoppers, you can help – anonymously – to have the person behind Jordan's murder face the consequences of their violent actions. You may even prevent someone else from coming to harm."
The police have previously said, "If you have any information, as insignificant as you might think it is, please make contact the Serious Crime Unit directly on 247-1739 or, call the Confidential Crime Stoppers hotline on, 800-TIPS [8477]."
Read More About