Skyport and Somers Isle Trading Company won the 2021 DFNI Award for "Airport in the Americas with the Most Supportive Approach to Retail."
A spokesperson said, "An elevated retail experience in the new passenger terminal building of the LF Wade International Airport has won a coveted award. Skyport and Somers Isle Trading Company have won the 2021 DFNI Award for "Airport in the Americas with the Most Supportive Approach to Retail".
"DFNI [Duty Free News International] is the travel-retail industry's leading subscription news magazine and developed special categories for this year's awards programme in light of the unprecedented challenges that businesses have faced due to the global Covid-19 pandemic. This year, they chose to celebrate the companies, teams and people that have made a real difference, within their organisations or to the community."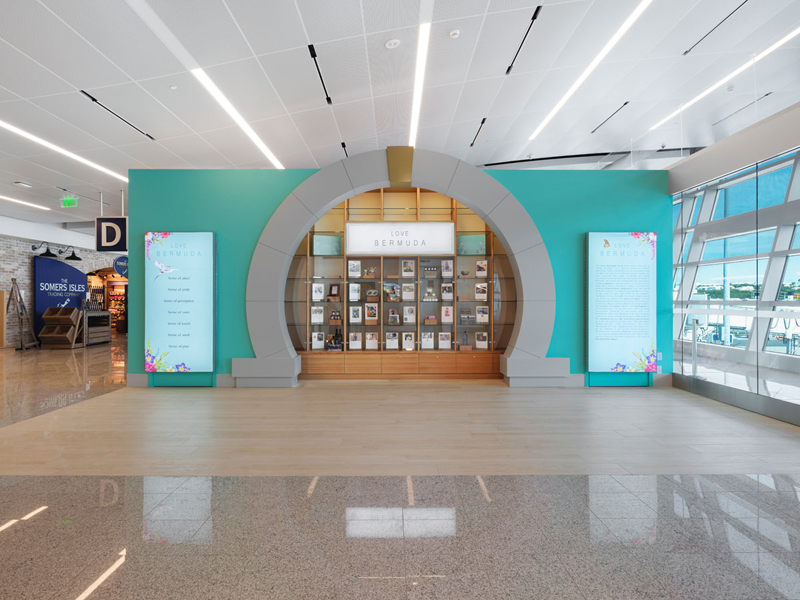 Rhona Sutton, owner and CEO, The Somers Isles Trading Company, says: "My team and I are delighted to have won this award in partnership with Skyport. I am so proud to have this opportunity to work with more than 30 local brands and artisans and create a platform and an opportunity for them to showcase their work in an international environment.
"Working with Skyport has been a true collaboration throughout this journey. There have been numerous obstacles but working side by side with Skyport we have overcome each one of these. I am proud to be their chosen retail partner."
"The Somers Isles Trading Company was founded and developed by Ms Sutton, the respected owner and entrepreneur of the Rhona Sutton Group, with over twenty years' experience developing products and designs for international clients including Harrods, Disney, Macy's, Four Seasons and Ritz Carlton," Skyport noted.
"Combining a personal love for Bermuda with a deep understanding of leisure, resort and airport environments, Ms. Sutton has spent the past two years developing a customized, branded retail concept, known as "Love Bermuda".
Ken Hassard, Commercial Director, Skyport, says: "We are excited that the new, innovative shops at the LF Wade International Airport have been celebrated during this difficult global pandemic. Rhona and her team have done a fantastic job working with local artisans and creating a diverse and unique product offering for passengers to experience. We hope that as the pent-up demand for travel is unleashed, more residents and visitors will be able to experience Love Bermuda and Somers Isle Trading."
"Fresh contemporary concepts that embrace thoughtful and innovative design celebrating the Bermudian sense of pride and community, highlight the stories of the local artisans behind the brands, many of whom are featured at the airport for the first time.
"Local artisans include UMAMI Bermuda, Loquat Roots Tea, Lemoncello Design, Bermuda Gin Company, Distinct Apparel and more.
"Additionally, having had to postpone the opening of a dedicated convenience store on the ground floor outside of Arrivals due to the pandemic, Love Bermuda will rebrand its ground floor store located at the check-in area to include drinks, snacks, magazines and a selection of specialty Love Bermuda items."

Read More About