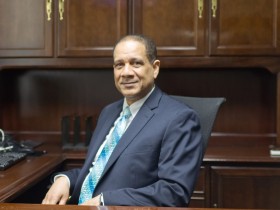 ZipX Bermuda is donating $10,000 in response to the Bermuda Hospitals Charitable Foundation appeal for funding to support the operations of BHB's KEMH Vaccination Clinic.
Kevin D. Smith, Managing Director at ZipX said, "We have been very fortunate at ZipX to be able to continue to serve our customers throughout the pandemic.
"The increased volumes of packages that ZipX processed over the last year, although difficult to manage at times, has helped to keep our thirty-five plus team members employed and for that we are very grateful.
"Moreover, we feel compelled to help the community by donating to the BHB's KEMH Vaccination Clinic. It is very important the KEMH Vaccination Clinic be able to keep its doors open to aid in the fight against the Covid-19 pandemic.
"It is a race against time to get as many residents vaccinated as possible to prevent further spread of the virus. We hope our donation will help Bermuda reach herd immunity sooner rather than later. It is vital for our community to open back up and have our economy fully-functioning again."
Jonelle Smith, Bermuda Hospitals Charitable Foundation Director commented "We are grateful for the donation from ZipX. The positive response from ZipX along with other local companies and families will allow the BHB's KEMH Vaccination Clinic to continue the necessary work of vaccinating our population.
"These donations will be utilized to fund the operational costs associated with running the vaccination clinic on a daily basis, which include the costs for nurses, administrators and equipment needed to handle patient intake and the administration of the shots. Now more than ever the BHB and KEMH are strained and we are thankful to ZipX for coming forward and donating to this important cause."

As the island and world deals with the Covid-19 pandemic, we are doing our best to provide timely and accurate information, and you can find more information on the links below.
Read More About