Twenty local young adults recently participated in the launch of the first ever Ignite Young Adult Entrepreneurial Internship Programme.
A spokesperson said, "The programme kicked off with a two-day Boot Camp alongside Ignite's Cohort 4. The young adult participants were able to gain insight into the Ignite curriculum throughout the two days consisting of workshops covering topics of customer discovery, lean startup, business modeling and more.
"The intern cohort also got to guest judge for the Accelerator programme's pitch competition."
Abigail Brewer, Ignite young adult intern, said, "Boot Camp was an amazing experience that left me feeling motivated, inspired, and ready to take action. Thank you so much to HSBC for sponsoring such an impactful opportunity!"
The first Young Adult Entrepreneurial Internship cohort alongside programme managers and facilitators Melissa Looby [second row far left], Georgia Rego [front row far left] and Alicia Lister [second row far left].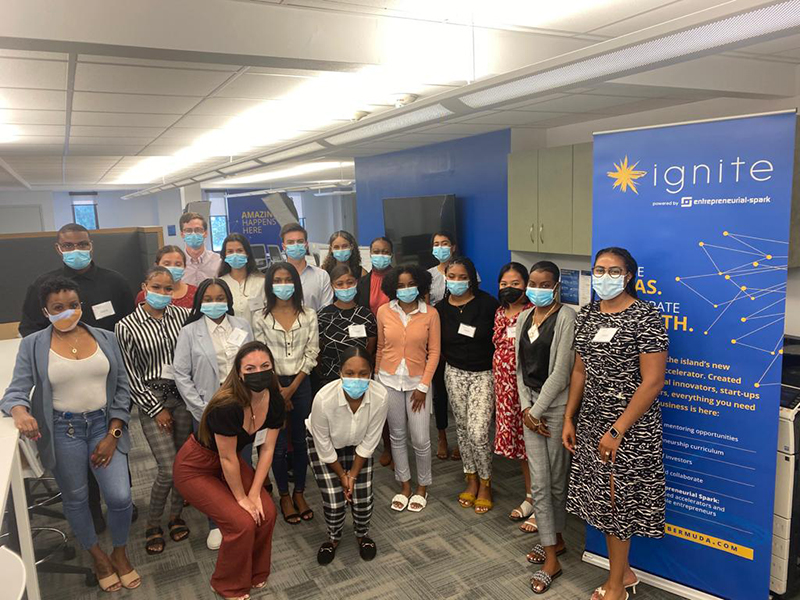 Alicia Lister, Ignite alumni, Internship co-project manager, founder of Royal Highness and co-founder of Wanderlust Explorers Ltd., said, "The Ignite Young Adult Entrepreneurial Internship is a foundational opportunity for Bermudians seeking to explore and develop their business passions."
The spokesperson said, "The internship programme will enable the local young adults to work alongside entrepreneurs in their startups while working on projects designed for them by their host mentor.
"Intern and host business or organization pairings were based on intern interests and skill sets that aligned with the host's project brief."
Ms. Lister said, "Our two-day Boot Camp experience with our inaugural intern cohort proved to be a great success, with complimentary placements into 16 different local businesses, and 4 nonprofit organizations."
The spokesperson said, "Projects range from social media and pricing strategies, to store development and user experience."
Jen Ward, founder of Island Property News and host mentor, said, "I'm very excited to give back and work with young entrepreneurs just starting out on their journey."
The spokesperson said, "Over the next six weeks, interns will take part in workshops run by industry experts and Ignite alumni covering topics in marketing, Bermuda's economic landscape, entrepreneurial mindset and more. They will also be working alongside their host mentor and gain access to the Ignite Hub to work on their internship and independent projects.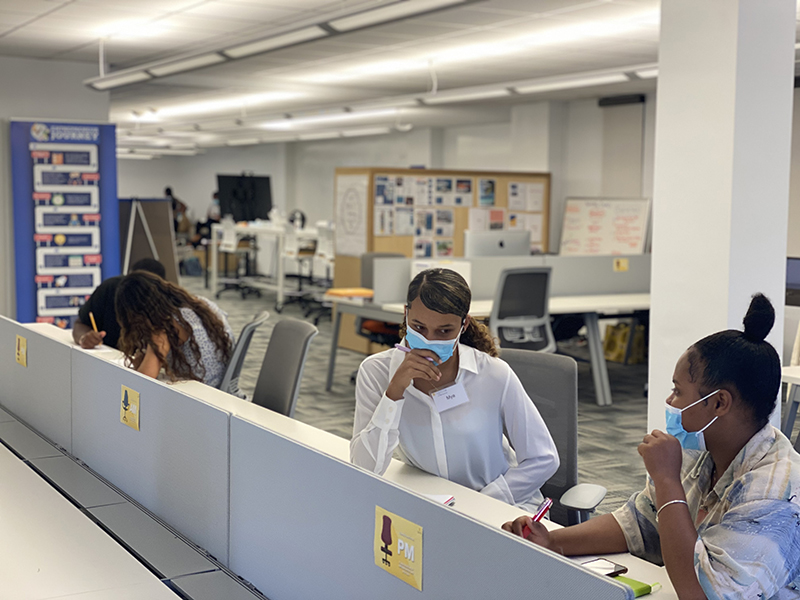 "We hope that at the completion of the programme, interns will walk away with a better understanding of entrepreneurship and are able to take the skills learned, knowledge gained, and mindset growth into all aspects of their lives."
Tinasia Paynter, a young adult intern, said, "Joining Ignite has so far been the best opportunity of my life. Not only do I get to network with some of the brightest people I have come across but also people who have completely different interests and a common goal.
"I look forward to exploring through the ocean of knowledge that they will feed us and to see what brilliant idea I will be able to birth throughout the programme."
Yasmeen Codrington-Edmead said, "Thank you to Ignite and HSBC for providing me with this amazing opportunity to not only grow my business, but myself as well."
The spokesperson said, "Ignite would like to thank our sponsor HSBC Bank Bermuda for supporting this initiative and further supporting the development of Bermuda's young adults.
Young Adult Intern and Host Mentor Business/Organization
Abigail Brewer – Dwayne Trott, Clean Energy Storage Solutions Bermuda Ltd.
Al-Shae Landy – Laura Ann Bell, Two Four One
Alvin-Ae Landy – Kim Caisey, KNC Media Group
Aminah Simmons – Alicia Lister, Royal Highness
Angel Seaman – Patrina O'Connor Paynter, Big Brothers Big Sisters of Bermuda
Chaella Douglas – Jen Ward, Island Property News/Inspired
Davita Githinji – Toriano Simmons, Rewards
Ellis Cooper – Clare Mello, Eliza DoLittle
G'zai Dyer – Jennifer Burland Adams, Wavecrest Ltd.
Hadleigh Tucker – Tracy Astwood, The Harvest Market Bermuda
Kanzi Emery – Kelly Madeiros, Solstice
Layla Kurt – Alexandra Mosher, Alexandra Mosher Studio Jewellery
Mya Furbert-Jacobs – Allison Lacoursiere, Clear Coaching
Sofhia Pagsanjan – Ann Spencer Arscott, Bermuda Red Cross
Tinasia Paynter – Claire McDevitt, Healthcare Solutions Ltd.
Tomei Talbot – Sean Reel, Ignite Bermuda
Xela Swan – Akilah Swan, Aina Curated
Yasmeen Codrington-Edmead – Anderica Gilbert, Bermuda Dental Studio
Zayne Sinclair – Chris Faria, The AgraLiving Institute
"More information about Ignite Bermuda's Accelerator Programme and Young Adult Internship can be found online via ignitebermuda.com."
Read More About