Applications for Ignite Bermuda's Young Adult Entrepreneurial Internship programme taking place this summer will close Friday [April 29] at 5.00pm.
A spokesperson said, "The part-time paid internship programme will run from May 31 to July 21, 2022, and will offer successful applicants the opportunity to gain real-world experience within some of Bermuda's top startups as they work on personalized independent projects within their host business or organization.
"The programme aims to support 20 local young adult's passions for entrepreneurship through workshops with industry experts, access to the Ignite Hub and connectivity with an ever-growing community of entrepreneurs."
A 2021 intern stated, "Everyone in the Hub was always willing to help in regards to literally anything. I thoroughly enjoyed the networking aspect of it." Another added, "The networking opportunities that were/are presented to me have permanently opened doors for me."
2021 Interns in the Ignite Hub working on small group brainstorming activities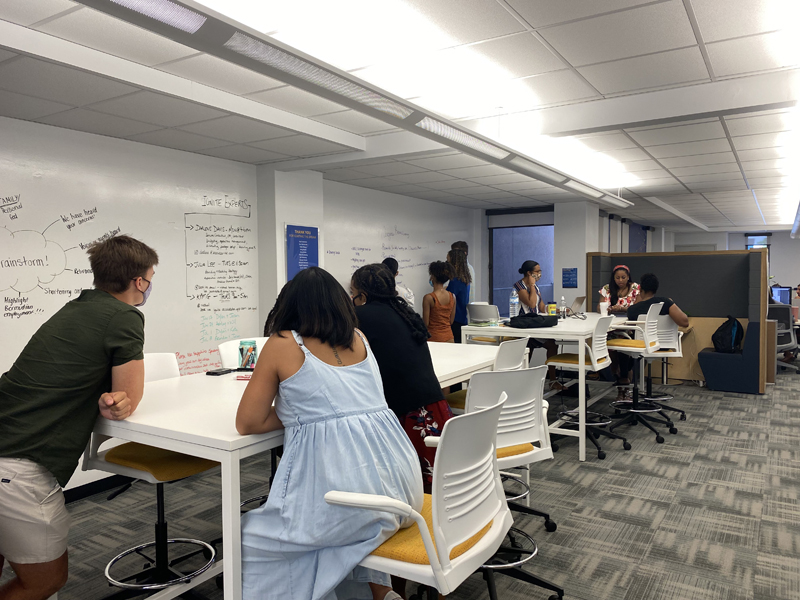 Young adult interns have the opportunity to engage with Ignite entrepreneurs through host mentorship, workshops, small group discussions, and more. Workshop topics include, but are not limited to, Entrepreneurial Mindset, Customer Discovery, Marketing, Bermuda Economic Overview, Health and Wellness, and Access to Capital.
Participants from the 2021 pilot programme expressed that the programme was "engaging while enabling them to gain a deeper understanding of entrepreneurship, and ultimately solidifying their desire to pursue their passions."
When asked about their internship experience, an intern stated, "We could always bounce ideas off each other, collaborate, work through problems, meet with other entrepreneurs in the Ignite network."
Another intern added that their host mentor "always asked me what I wanted to learn and was open to all of my entrepreneurial questions. She really showed me the behind the scenes of running a business."
2021 Interns in the Ignite Hub with Ignite alumni Alicia Lister [Royal Highness], Colin Rego [Sargasso Sea] and Melissa Looby [Pulse Group]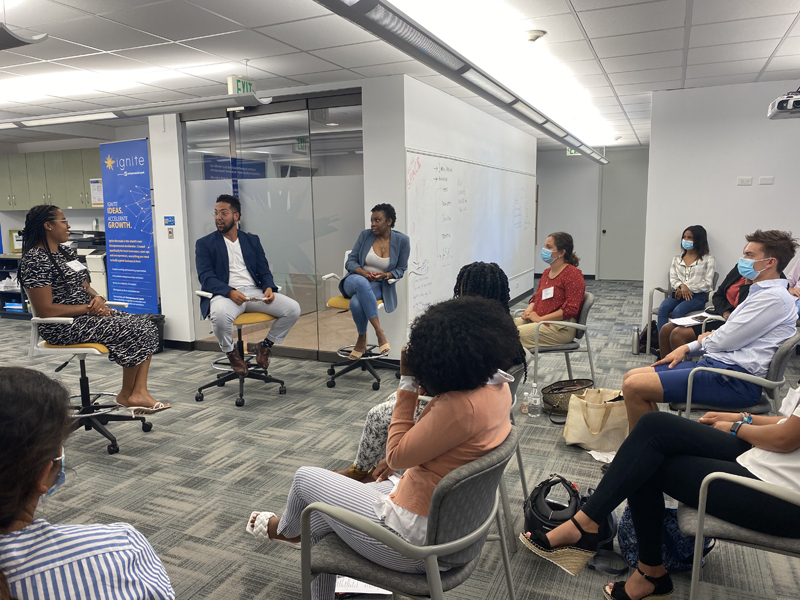 A spokesperson added, "The Ignite Young Adult Entrepreneurial Internship programme is committed to equitably empowering Bermuda's young adults to follow their passion for entrepreneurship.
"Academic certifications and prior work experiences are not required for admission into the programme, however, we do ask that applicants are 18 – 25 years old, are Bermudian or have permission to work in Bermuda, are able to fully commit to the programme, possess a positive attitude and are self-motivated.
"To learn more or apply for this opportunity, visit here."
Read More About