While the journey to recovery may still be a long road ahead, Ignite Bermuda said they are confident that entrepreneurs are key to strengthening our economy.
A spokesperson said, "At the beginning of 2020, Ignite Bermuda was looking forward to celebrating its first anniversary on March 26th. However, by the time the date rolled around the Ignite team was well entrenched in supporting 34 businesses on their full programme, over 40 businesses on their light programme, and a number of invited guests including BEDC entrepreneurs and community mentors through a series of weekly virtual Huddles.
The new normal – online group sessions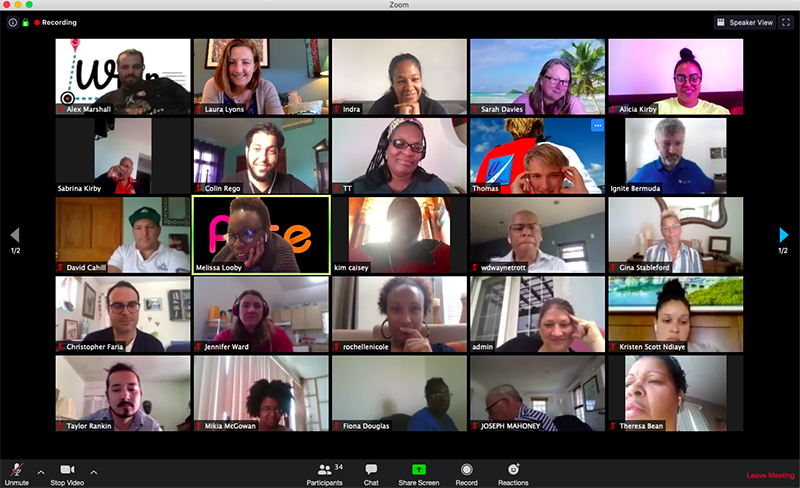 "Given that the country had entered into a state of emergency in response to Covid-19 only a week prior, we barely had time to think about all that had been accomplished in twelve months; instead we set our focus on supporting the necessary emergency measures and steps ahead," said Sean Reel, Executive Director of Ignite Bermuda, who also celebrated his 1-year anniversary of arriving in Bermuda during the shelter-in-place period.
"What is most important to us, is that after three months, all of our Ignite entrepreneurs are still working on their businesses and will be stronger entrepreneurial leaders for the experience and lessons learned. We know that 65% of the jobs will come from early-stage businesses – entrepreneurs need to be at the heart of recovery and growth."
"The programme managed to deliver its last in-person session at the mid-way mark on March 11th and quickly moved online to continue delivering the programme's scheduled content as well as bringing new mentors into the network via video conferencing.
"The decision was also made to extend this cohort by a month in order to maintain the support system during the extended period of high stress and uncertainty which has delayed the intake of the next round of programme applications.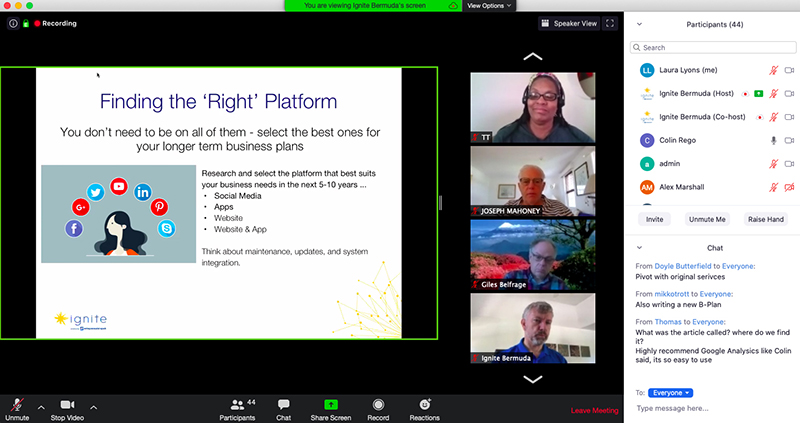 "Looking back over the last twelve months, Ignite has supported 51 businesses who made up the first two cohorts, many more businesses on the "light" programme, initiated mentor matching, created resident advisor roles, facilitated entrepreneurial lead mastermind groups and extended community support.
"Over the last few months, many businesses in the community have had to make some very difficult decisions. In a recent poll, Ignite entrepreneurs responded to the question "What is the state of your business right now?"
39% Hard Pivot & Testing New Models
10% Mothballed – Awaiting 2021
16% Growth or Mergers & Acquisitions
13% Financial Distress
22% Original Business with Restricted Revenues
"Throughout the last few months the Ignite programme and world events have challenged the cohort of January 2020 with the questions, 'What can you do now?', 'How can you be a resource?', 'Where will you be in 6-months time?' and 'What do you need to do in order to get there?'. All have risen to that challenge, some generating new revenue streams, others working on new partnerships, and all committed to doing work that supports our community," said Laura Lyons, Ignite's Manager of Entrepreneurial Enablement.
6-month journey for Ignite's 2nd cohort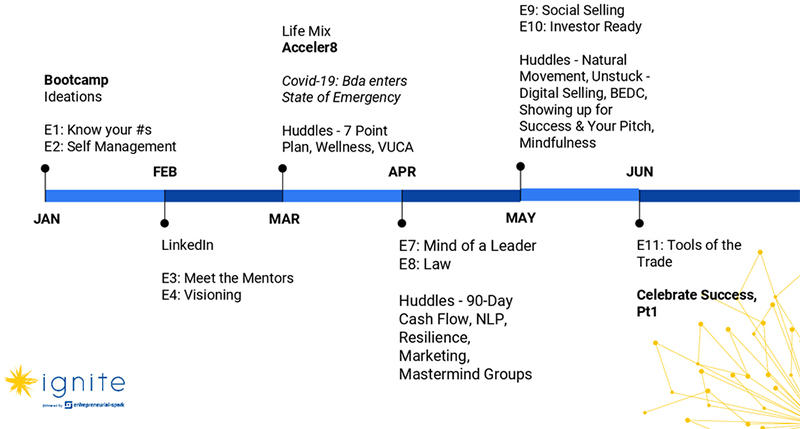 Ms Lyons continued, "we would not be here without the support of our volunteer experts, guest presenters, mentors, donors, board and partners, Entrepreneurial Spark. We are definitely stronger together. Ignite strives to support the growth of community, jobs and diversity; our family of entrepreneurs are committed to those goals."
"Despite the global pandemic and nearly 3 months of shelter in place, 34 entrepreneurial leaders on the Ignite Bermuda programme accelerated, pivoted, collaborated and lent community aid on the programme.
Jennifer Burland Adams, Wavecrest
Cyniqua Anderson, Just Dreams Event Planning
Tracy Astwood, The Harvest Market
Alexis Bean, B.G.P. [Big Girl Panties]
Kumi Bradshaw, Honest Greens
Talibah & Tajémas Branch, Branch of Life
Doyle Butterfield, Gemstone
David Cahill, Crush Media [Bermuda] Ltd
Kim Caisey, K.I.M.'s List
Therese Carroll, Sleep Solutions
Tallent Clark, Rugged Rentals LLC
Fiona Douglas, Care Connect Bermuda
Chris Faria, Agra Living
Darren Glasford, SYSTEMIZED
Martin Godet, Caboodle Store Ltd
Jason Gonsalves, AceBoy Sports Group
Davika Hill, Heart in Hand
Arianna Hodgson, Pink Onion
Donte Hunt, MEMORWIN
Gordon Johnson & Kelly Madeiros, Circle
Melissa Leach, Factor
Mathew Macdonald, Two Rock Wine Company Ltd
Kallie Marcus, Kinetix Natural Movement
Edward Mason, curvereality.com [previously Core Live Ltd]
Claire McDevitt, Healthcare Solutions Ltd
Kayuntae Ming, His N'Hers Hair & Beauty
Danielle Paynter, The NAB App
Kristen Scott Ndiaye, Levanna's Well [previously Read Incredibly]
Indra Smith, B.O.S.S. [Back Office Service Solutions]
Andrea Sundt & Peter Lapsley, & Partners
Mikko Trott, Legitsu Academy
Carl Vincent & Leanne Evans, DropIt Delivery
Kristin White, Long Story Short & Kristin Dot Com
Thoslae & Taylor Williams, ELEVATE Host Services
"Ignite Bermuda aims to seek entrepreneurs from across Bermuda with a variety of ideas encompassing all sectors, from start-ups to small businesses looking to scale and grow in markets outside Bermuda. Creating jobs and diversity is part of Ignite's mission.
"Applications for the next cohort will be accepted online from June 22nd for two weeks with those successful applicants ready to begin on August 31st. More information about Ignite Bermuda's Accelerator Programme can be found online via www.ignitebermuda.com. For those interested in applying for the next cohort, the application portal will reopen on the website later this month."
Read More About