Three Year 8 students at Saltus are aiming to create a skateboarding park in Hamilton, working with staff and faculty to achieve their goal.
A spokesperson said, "There is more to skateboarding than learning the latest trick! Three Year 8 students at Saltus share a passion for skateboarding, and they want to share it with Bermuda.
"The students approached the Director of Middle School, Ann Paynter, with their idea of creating a skatepark in Hamilton and looked for guidance on how to accomplish this goal. This presented a great avenue for teaching these students valuable and practical lessons, such as who should they talk to about their idea, how to set up a meeting, being prepared, creating a business proposal, and following up post meeting.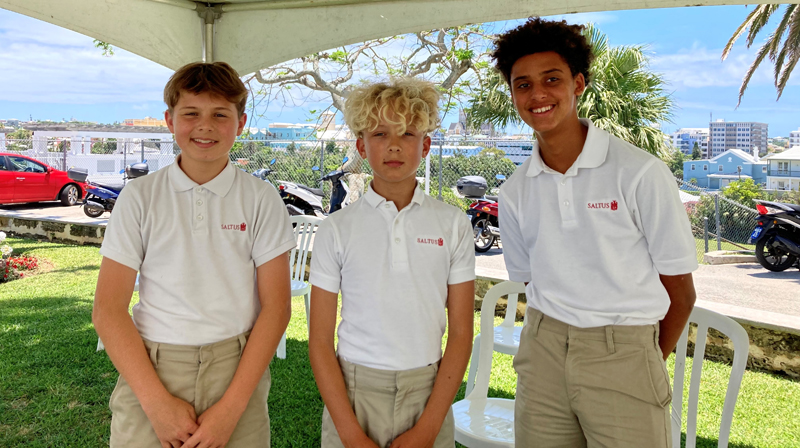 "Their first action was to set up meetings within Saltus, using staff and faculty as a great resource for information. They have met with the Communications Coordinator about how to create a business proposal and get their thoughts and ideas on paper to form a press release.
"They plan to meet with the Director of Finance and the Director of Facilities next to discuss cost and space. Once the students have a plan in place, they also hope to approach external sources to gain their interest.
One of the students said, "Skateboarding has just become an Olympic sport, which helped raise its already existing popularity."
The spokesperson said, "They noted that skateboarding is becoming very popular in Bermuda due to skateboarding shops opening. The students expressed that if Bermuda can take advantage of the already existing skate culture, then it could really help Bermuda.
"For example, we can hold competitions, we can get locals to help tourists learn how to skate and we can hold fundraisers for different charities by local skaters showing off their tricks to raise money.
"Ultimately, these industrious young people want a spot where they don't have to worry about getting kicked out, where they can socialize with others while staying physically active and learning new tricks. They are passionate about this project and building a diverse community of people who share the same interest."

Read More About
Category: All