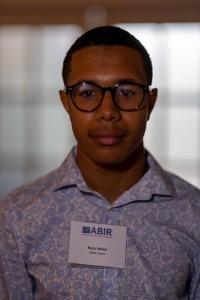 Bermuda College student Kace Wales has joined the Association of Bermuda Insurers and Reinsurers [ABIR] as an intern.
A spokesperson said, "The 17-year-old from Sandys is studying on the Associate of Arts [Business Administration] programme at Bermuda College and aspires to a career in the insurance industry. He studied for his International Baccalaureate at the United World College in Pune, India, having earned a full scholarship from the school as the top Bermudian candidate.
"Kace is a graduate of CedarBridge Academy, where he was a Junior Student Leader and prefect. He had previously attended Sandys Secondary Middle School, where he was Deputy Head Boy.
He will remain with the ABIR team until early September.
"During his internship, Kace will learn about Bermuda's international insurance and reinsurance market; spend time with member companies; help organize an intern event and provide member services and operations support."
John Huff, President and Chief Executive Officer of ABIR, said: "We're pleased to be able to give Kace this great opportunity to gain insight into the island's international insurance sector. Kace is an impressive young man, who is already showing great enthusiasm. He is eager, responsible and has a genuine interest in the industry."
ABIR added, "Kace got a head start in acquiring insurance knowledge earlier this year by attending the 'Special Topics in Insurance: Foundations of Bermuda's International Re/Insurance Sector' lecture series, which was jointly hosted by ABIR, Bermuda College, and St. John's University. Attendance for the series, which was streamed via Zoom and free of charge, surpassed expectations, with audiences sometimes approaching 200."
"My interest in insurance has spiked over the past two years," Mr Wales said. "I was advised to take this Special Topics in Insurance course. I wasn't sure about it beforehand, but ended up really loving it."
"Many teens look at the industry and think you need to be a mathematician to work in insurance, as an actuary or an underwriter. What I learned from the course is that there are different kinds of jobs available – the industry needs attorneys, marketing agents and human resources teams."
"I'm excited about the internship and I'm already learning so much about what employers look for," Mr Wales said. "Being able to get this experience at such an early age is extraordinary."
"In his spare time, Kace enjoys photography and videography. Before the pandemic, he enjoyed cricket and volunteered at the Lorraine Rest Home in Warwick, preparing meals, reading to residents and conversing with them," ABIR added.
"Kace will complete his Bermuda College course next spring and is considering his options for further education."
Read More About