The Somerset Cricket Club retained the Cup with a 10 wicket victory over the St. George's Cricket Club in the 2021 Cup Match. Somerset in their first inning started the day 138/1, they added another 143 runs as they were bowed out for 281, Chris Douglas scored 128, off 137 balls, he hit 12 fours and 7 sixes.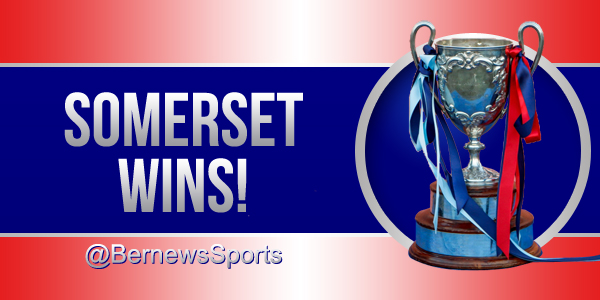 The St. George's Cricket Club was bowled out for 130 in their second inning with Detroy Smith the top scorer with 41, Malachi Jones was the pick of the Somerset Cricket Club bowlers with figures of 13-3-24-3.
Somerset only needed 1 run for victory and it came off the last ball of the first over.
Somerset Cricket Club 1st Inning
128 [137] Christopher Douglas c Onias Bascome b Jamar Stovell
..04 [05] Terryn Fray c Jamar Stovell b Justin Pitcher
..38 [98] Tre Manders c Temiko Wilson b Rodney Trott
..43 [77] Alje Richardson b George O'Brien
..13 [39] Dion Stovell c Detroy Smith b George O'Brien
..07 [27] Kamau Leverock c Allan Douglas b George O'Brien
..11 [12] Steven Bremar LBW Rodney Trott
..08 [16] Malachi Jones c & b Rodney Trott
..10 [26] Jordan DeSilva Not Out
..02 [05] Derrick Brangman LBW George O'Brien
..05 [19] Greg Maybury b George O'Brien
..12 Extras [4nb-4b-2lb]
281 Total All Out after 75.5 overs
Fall of Wickets: 1-14 [Fray], 2-150 [Manders], 3-203 [Douglas], 4-227 [Richardson], 5-242 [Leverock], 6-245 [Stovell], 7-263 [Bremar], 8-268 [Jones], 9-273 [Brangman], 10-281 [Maybury]
St. George's Cricket Club Bowlers
18.5-6-59-5 George O'Brien
4.0-0-15-1 Justin Pitcher
21.-2-52-3 Rodney Trott
4.0-0-36-0 Isaiah Greaves
10.-2-37-0 Allan Douglas
5.0-1-30-1 Jamar Stovell
12.-1-44-0 Onias Bascome
1.0-1-00-0 Detroy Smith
St. George's Cricket Club 2nd Inning
..22 [60] Temiko Wilson b Dion Stovell
..29 [93] Oronde Bacome c sub [Nirobi Mills] b Dion Stovell
..00 [03] Allan Douglas c Tre Manders b Derrick Brangman
..41 [104] Detroy Smith c Derrick Brangman b Dion Stovell
..00 [01] Onias Bascome c Dion Stovell b Kamau Leverock
..04 [4] Rodney Trott c Steven Bremar b Malachi Jones
..04 [05] Sinclair Smith c Alje Richardson b Malachi Jones
..12 [09] Justin Pitcher c sub [Dominic Sabir] b Malachi Jones
..05 [19] Jamar Stovell b Kamau Leverock
..06 [13] George O'Brien Not Out
..01 [04] Isaiah Greaves LBW Derrick Brangman
..06 Extras [5b-1nb]
130 Total All Out after 59.3 overs
Fall of Wickets: 1-44 [Wilson], 2-45 [Douglas], 3-64 [Oronde Bacome], 4-65 [Onias Bascome], 5-97 [Trott], 6-105 [Detroy Smith], 7-105 [Sinclair Smith], 8-119 Pitcher], 9-125 [Stovell], 10-130 [Greaves]
Somerset Cricket Club Bowlers
15.3-4-25-2 Derrick Brangman
9.0-2-22-2 Kamau Leverock
13.-3-24-3 Malachi Jones
7.0-0-13-0 Greg Maybury
15.-3-41-3 Dion Stovell
Somerset Cricket Club 2nd Inning
..01 [06] Kamau Leverock Not Out
..00 [00] Alje Richardson Not Out
..00 Extras
..01 Total for 0 wickets after 1 over
Fall of Wickets:
St. George's Cricket Club Bowlers
1.0-0-01-0 George O'Brien

Read More About