[Written by Don Burgess]
Somerset had a resounding 10-wicket victory over St George's to retain the Cup.
The Red and Blue have now had the Cup for 10 years to mark one of the most dominant eras in Cup Match history.
St George's, who were 151 declared, struggled to get the 130 runs they need to pull even with Somerset's 281 from the first innings. After colt Isaiah Greaves knotted the score for St George's, he was then bowled by Derrick Brangman to send the game into a most unusual situation – Somerset having to come out for their second innings needing just one run.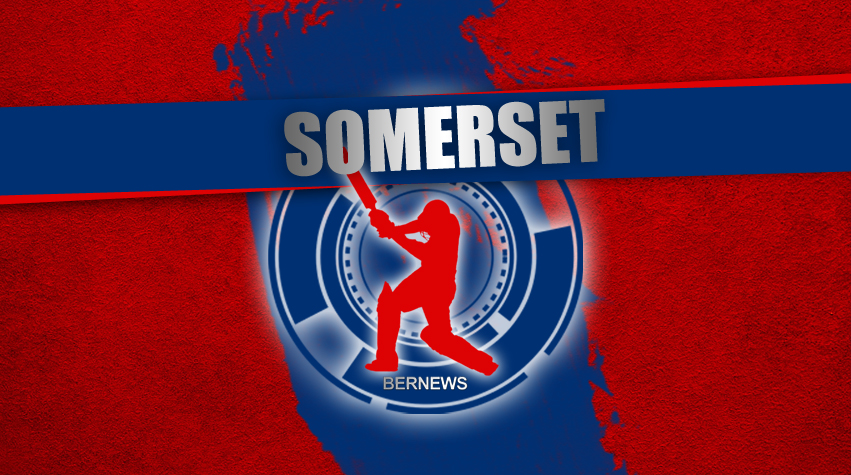 There was confusion after Kamau Leverock skied a ball just short of the boundary setting off wild celebrations in the Red and Blue camp. However, the umpire ruled a spectator had come onto the field and interfered with the play and it was a dead ball.
The pitch then had to be cleared of the fans who had come onto the field, which ended up being a 10-minute delay. Leverock then knocked off a single when play resumed, setting off wild celebrations for a second time.
Christopher Douglas was the batting star for Somerset as he made his first Cup Match century with 128 runs. Douglas ended yesterday's play with 98 runs, and he quickly reached his century. He also joined the 500-run club for Cup Match.
Other sparkling performances for Somerset saw Alje Richardson, 43, and Tre Manders, 38, also contributed to the scoreline, while Dion Stovell and Malachi Jones tore through the St George's batsmen in the second innings. Stovell was 3-41 while Jones took three wickets for 24 runs in 13.3 overs.
Allan Douglas Jr. had what may have been the catch of the Classic when he ran to his right with a full out dive to take the wicket of Kamau Leverock. Douglas has deservedly earned a reputation as one of Bermuda's better fielders having won three previous Safe Hands Awards for Cup Match.
George O'Brien took five wickets for 59 runs providing another bright spot for St George's. Rodney Trott took three wickets for 52 runs in 21 overs.
Detroy Smith was the top batsman for St George's with 41 runs in the second innings.

Read More About