Thelise Dyer is the 2021 recipient of the Dr Kathy-Ann Louise White Scholarship offered by The Phoenix Stores Ltd, the company announced today.
Named after the first Bermudian pharmacist with a Doctorate, Dr Kathy-Ann Louise White, the scholarship provides up to $10,000 per year for a maximum of five years of study at an approved college or university.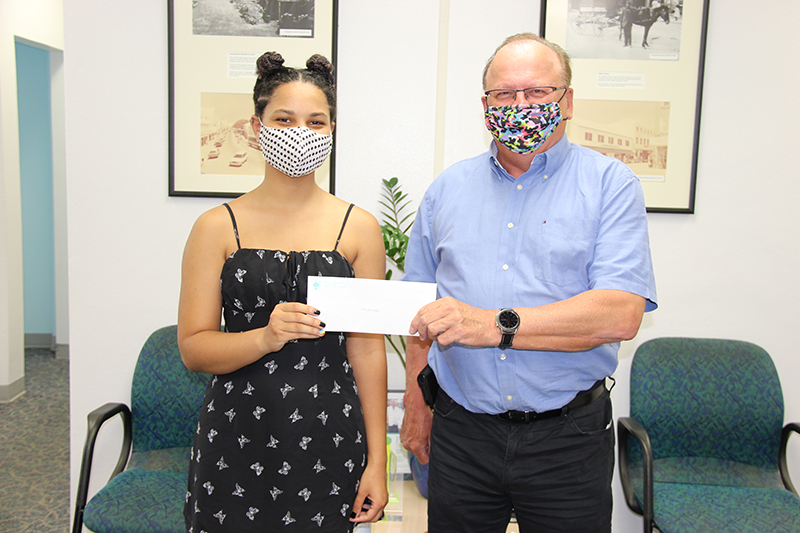 George Grundmuller, President & CEO of The Phoenix Stores Ltd, said, "The Phoenix Stores Ltd is committed to supporting our local community and investing in its future. We are delighted to provide such an awarding opportunity for young Bermudians to receive financial support towards university costs and experience in educational endeavours surrounding the pharmacy field.
"The Phoenix Stores constantly supports at least two talented individuals seeking to excel and reflect the excellent dedication of Dr White, who studied at Central School, The Berkeley Institute, Bermuda College, Massachusetts College and Mercer Southern School.
"Dr White worked at the King Edward Memorial Hospital for more than ten years before moving to The Phoenix Stores, where she held the Chief Pharmacist position. We are pleased to carry on her legacy through ambitious young Bermudians."
A spokesperson said, "Thelise completed her high school education at Bermuda High School with a G.P.A. of 3.79 and an IB Diploma with 32 credits in 2019. She plans to continue her studies in pharmaceutical chemistry at Ontario Tech University this Fall, where she currently sits on the Dean's List and is expected to graduate in 2024.
"The 19-year-old admits a few obstacles in pursuing her career goals include growing up in a single-parent household, juggling two jobs to assist with school fees and a significant decrease in work hours due to the Covid-19 pandemic."
Thelise Dyer said, "It is my dream to go into pharmacy because of my drive to help others, especially those in my community as well as my affinity for science. I am grateful for this scholarship and the opportunities it will afford me, as I will also have the chance to gain quality work experience in a pharmacy during school breaks.
"I believe gaining a degree in pharmacy will give me the knowledge required to contribute positively to the community of Bermuda. Throughout my life, I have noticed a large majority of Bermudians either do not have comprehensive health insurance plans or do not have access to insurance at all.
"One long term goal I have is to create a fund or programme to aid persons who do not have the proper access to their medications with the financial support they require. Although, I would need to research if there was any possible way to subsidize these costs, at least partially. I am confident that gaining a degree will give me the knowledge to affect change.
For more information about the Dr Kathy-Ann Louise White Scholarship, contact The Phoenix Stores via hr@psl.bm.

Read More About