Following the conclusion of the 2021 Gold Cup Preliminary Round – which saw Trinidad and Tobago, Haiti and Guadeloupe advance — Bermuda's Nahki Wells was the top scorer with four goals.
The  Preliminary Round  had 12 teams in total, although only 10 played as Cuba was unable to make the game due to "Covid-19 related travel and visa challenges" so their match was cancelled.
Haiti's Frantzdy Pierrot also has 4 goals, with both footballers scoring a hat-trick in one match and one goal in another match, with Pierrot's hat trick scored against Bermuda and propelling Haiti to a 4-1 win.
Nahki Wells – who served as the team's captain – also gave Bermuda the distinction of recording the fastest goal in Gold Cup history when he scored in only 17 seconds during the first match, with the professional footballer stressing that the record setting goal was part of an overall team effort.
Following last night's defeat to Haiti which resulted in Bermuda being eliminated, Wells tweeted, "Tough one to take that result. We are better then that and we didn't perform anywhere near our best tonight. As our Captain I have to take responsibility for that. Credit to Haiti Football Federation and all the best in the Gold Cup. we will see you again."
The Gold Cup also tweeted about Wells, saying, "Nahki Wells. Top goal scorer in Bermuda's history at the Gold Cup: 6 goals in 5 games. 4 goals in 2 games of Gold Cup 21."
Screenshot from the official Gold Cup website: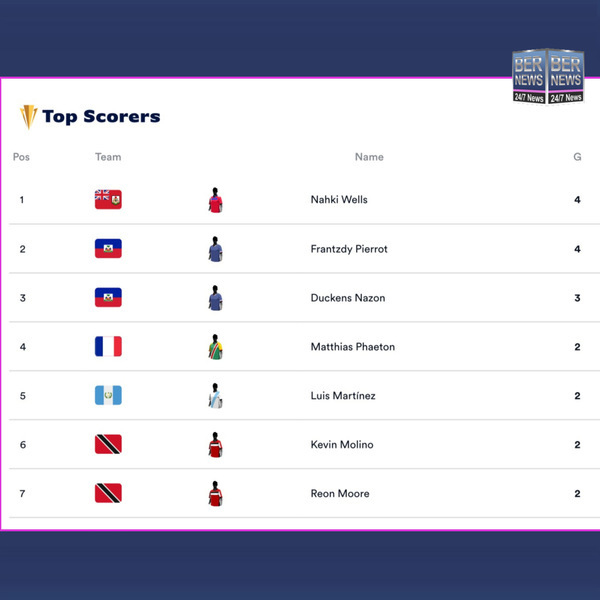 Read More About