[Updated] Planning is in the works for the World Rugby Classic – an event that was cancelled last year but is generally held annually and features international teams — as it has been granted a Large Group Exemption, "permitting a gathering of 1,925 persons to assemble" for the event, with a listed date in November.
The official notice said, "Public Health [Covid-19 Emergency Powers] [Phased Re-Opening] Regulations 2021 Large Group Exemption.
"Whereas the Minister of Youth, Culture and Sport considers that John Kane of World Rugby Classic is justifying an exemption from the prohibition in regulation 5[5] of the Public Health [Covid-19 Emergency Powers] [Phased Re-Opening] Regulations 2021 on groups of more than 50 persons assembling;
"Now therefore, the Minister grants an exemption under regulation 5[5] of those Regulations to John Kane of World Rugby Classic, 12 Garthowen Road, Devonshire DV07, permitting a gathering of 1,925 persons to assemble for the purposes of The 33rd Annual World Rugby Classic at the North Field, National Sports Centre, Frog Lane, Devonshire."
The exemption notice, which can be read in full here,  notes it is subject to the standard large group conditions such as the use of SafeKey, wearing masks indoors and more.
Update: The World Rugby Classic organisers posted the graphic online, saying, "We are thrilled to officially announce that the 2021 World Rugby Classic is happening! This will be a SafeKey event and we look forward to sharing more information with you soon."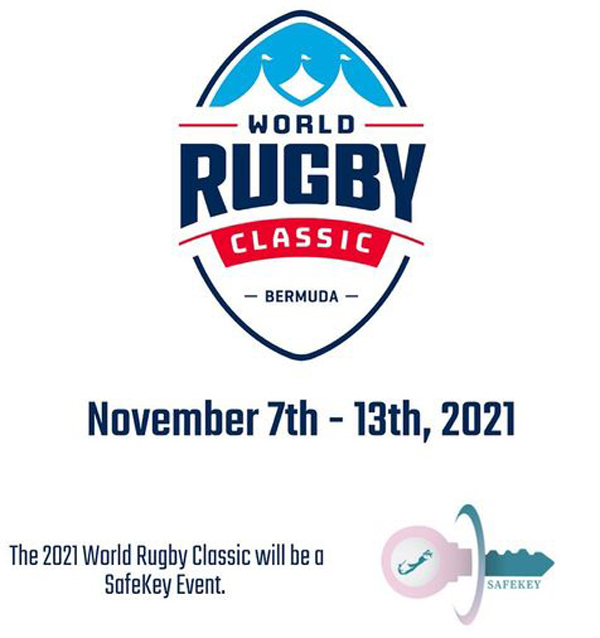 Update Aug 27, 8.00am: The World Rugby website said, "The good news was just received that the 33rd World Rugby Classic, a SafeKey Event, will take place from the 7th to the 13th November.
"This is the best rugby result we could have received' said John Kane, "Covid-19, World Rugby Classic -21"!
"Our overall aim is to provide a safe event for everyone attending the Classic and to protect all the good work which has been done in Bermuda to keep everyone here safe. All the players and incoming officials will have been vaccinated, had a pre-arrival test, tested upon arrival, tested on Day 4 and will, while on the Island, follow all the protocols which are in place. We have also advised all the overseas corporate guests of these requirements.
"While everyone thinks of Classic Week as a rugby and social event it is also a very big week for international business as board meetings, as well as meeting with clients and advisors, are usually scheduled to coincide with the rugby. We have received numerous overseas emails from investment banks, law firms etc. seeking information re this year's Classic and so we now expect there will be a sizeable influx of those visitors during Classic Week
"The business generated for the hotels, restaurants, bars and the taxi industry is sizeable and will be a welcome relief to those entities during these difficult times. Also the many businesses which are involved with the Classic: caterers, event planners, those who provide the infrastructure, security firms and, of course, the National Sports Centre will all welcome a return to some degree of normality.
"This year it has been decided to invite six teams:
Rugby Canada
USA Classic Eagles,
Ireland Rugby Legends,
Lions Legends,
Rugby Italian XV and
France Classic Rugby
"This will be a ticket only event, combined with SafeKey, with details to be announced later.
"In just over ten weeks the 33rd Classic will take place and bring some welcome news to those who have endured the past 18 months of Covid restrictions"

Read More About