The Bank of Butterfield announced the recipients of their 2021 scholarships, with Bermudian students Tierrai Tull and Isaiah Wales being awarded $25,000 each per year for the duration of their course in support of their undergraduate studies.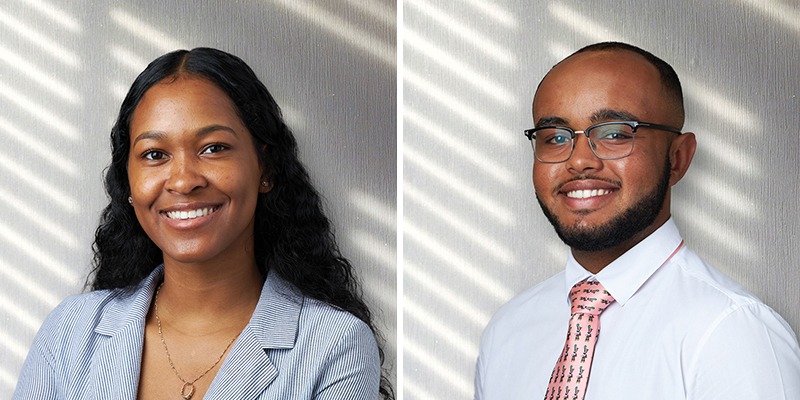 "Butterfield offers more than $150,000 to university students every year through six scholarships which are tenable for up to four academic years – representing a potential investment of more than $600,000 in each annual cohort of scholars. The criteria for selection includes academic achievement, financial need and community involvement," a spokesperson said.
"Tierrai Tull received the Sir Harry D. Butterfield Undergraduate Scholarship, established in 1978 to benefit Bermudian students in honour of Butterfield's late Chairman. Tierrai is studying for a bachelor's degree in International Relations at the University of Toronto, Canada. A member of the Bermuda Junior Economic Advisory Committee, Tierrai has a passion for debating and is co-founder of Bermuda Youth Connect, an organisation committed to bridging the gap between Bermuda's young people and the country's leaders. She aspires to combine her community efforts and academic qualifications to help further Bermuda's economic and cultural ties.
"Isaiah Wales received the Butterfield Undergraduate Scholarship for Employees' Children [Atlantic), one of three regional scholarships for children of Butterfield employees. Isaiah is studying for a bachelor's degree in Sociology at Queen's University, Canada. Charismatic and highly motivated, Isaiah is a talented sportsman who has played on the Varsity team for basketball and football, in addition to supporting youth sports programmes as an assistant coach. He has completed the Duke of Edinburgh bronze and silver levels and looks forward to using his skills to contribute to the world of work.
Andrew Burns, Butterfield's Group Head of Human Resources, said, "Congratulations to Tierrai and Isaiah, and all our well-deserving scholars. We wish them the best and look forward to following their achievements. Our scholarship programme is something we are proud of and, together with our graduate trainee programme and summer internships, we hope to empower young people to pursue their career aspirations in the financial services industry and beyond. Butterfield has been investing in education for the last 43 years, starting in Bermuda and expanding across all the communities we call home. In the last four years, we have given more than $2 million and remain committed to doing our part going forwards."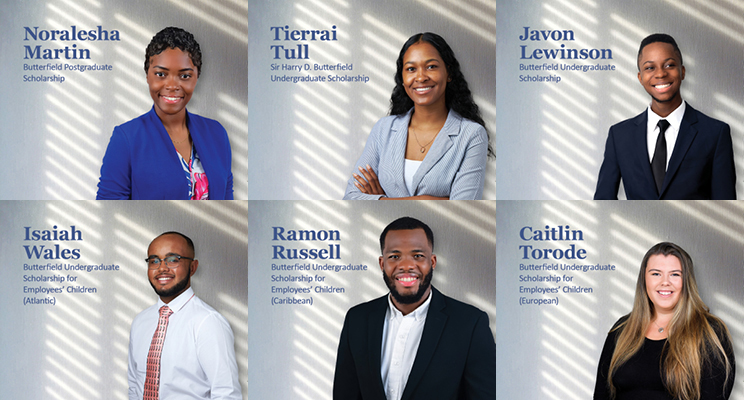 "This year's Butterfield Postgraduate Scholarship, which is open to students from all ten Butterfield jurisdictions around the world who are studying disciplines related to the preservation and improvement of island environments, was awarded to Noralesha Martin from The Bahamas who also receives $25,000 per year for the duration of her course. Noralesha is studying a master's degree in Energy Systems Management at the University of San Francisco, having graduated from the University of The Bahamas with a bachelor's degree in Small Island Sustainability: Environment and Ecosystems Management – Marine Science.
"The 2021 recipients also include:
"Javon Lewinson, from the Cayman Islands, who has been awarded $30,000 per year for the duration of his course with the Butterfield Undergraduate Scholarship, established in 1993 in celebration of Butterfield's 25th anniversary in the Islands. Javon is pursuing a Bachelor of Medicine and Bachelor of Surgery degree at the University of the West Indies in Jamaica
"Ramon Russell who receives $25,000 per year for the duration of his course having been awarded the Butterfield Undergraduate Scholarship for Employees' Children [Caribbean]. Ramon is from The Bahamas and pursuing a Bachelor of Medicine and Bachelor of Surgery degree at the University of the West Indies Open Campus Bahamas
"Caitlin Torode, from Guernsey, who has been awarded $25,000 for the duration of her course with the Butterfield Undergraduate Scholarship for Employees' Children [European] and is studying for a Bachelor of Science degree in Sports & Exercise Science at the University of Surrey in the UK
"Applications for the 2022 scholarship programme open later this year in December. For more information on scholarships and other career opportunities, please visit www.butterfieldgroup.com."

Read More About