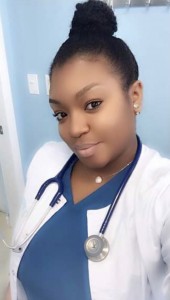 Following the death of her brother, Jade Richardson was inspired to become a doctor, saying that having "the knowledge, tools, and skill set to save an individual's life was a way to make a difference."
Ms Richardson has received a medical scholarship from Dr. Kyjuan H. Brown, Medical Director of Northshore Medical Center. She has received a $10,000 per year scholarship since 2019 from Northshore Medical Center to study medicine at the prestigious St. George's University School of Medicine in Grenada.
Ms Richardson always knew she wanted to help people, but it became more evident when her brother passed away in 2013.
The doctor that attempted to resuscitate him said that "the only way he would have survived is if a doctor was present in the moment of his injury." Those words stood out to Ms Richardson and replayed in her mind for a very long time.
She said, "I instantly felt that I could help another family not go through what mine went through. Simply having the knowledge, tools, and skill set to save an individual's life was a way to make a difference. My 'why' is definitely my reason for continuing on. It keeps me determined daily and feeds my faith."
Ms Richardson puts her heart into everything she does, including her desire to pursue a medical career. She choose a medical career because she truly takes an interest in the wellness of others, and because of that she says that her heart is filled with compassion.
She said, "Compassion is something that many physicians lack. Medicine is much more than just a career to me, I genuinely care and want people to be the best versions of themselves physically and mentally. I want people to be able to live a happy and quality life.
"My hope is that my approach to medicine and science will win back the trust of Bermudians. I want Bermudians to trust physicians again. I want them to know that the majority of us do not relatively care about the money. I want them to know that we care about our people."
Ms Richardson has enjoyed her medical journey so far and strongly believes that students should love the field they are choosing.
She said, "I enjoy the learning aspect despite that it being far from easy. I love gaining knowledge. I enjoy the patient contact and communication, just being able to connect with a patient is a rewarding thing for me, and I love taking the journey with like minded people.
"Daily encouragement is a must when taking on a task such as this, so to constantly know that there are people cheering you on and hoping and wishing the best for you is truly inspiring and beautiful."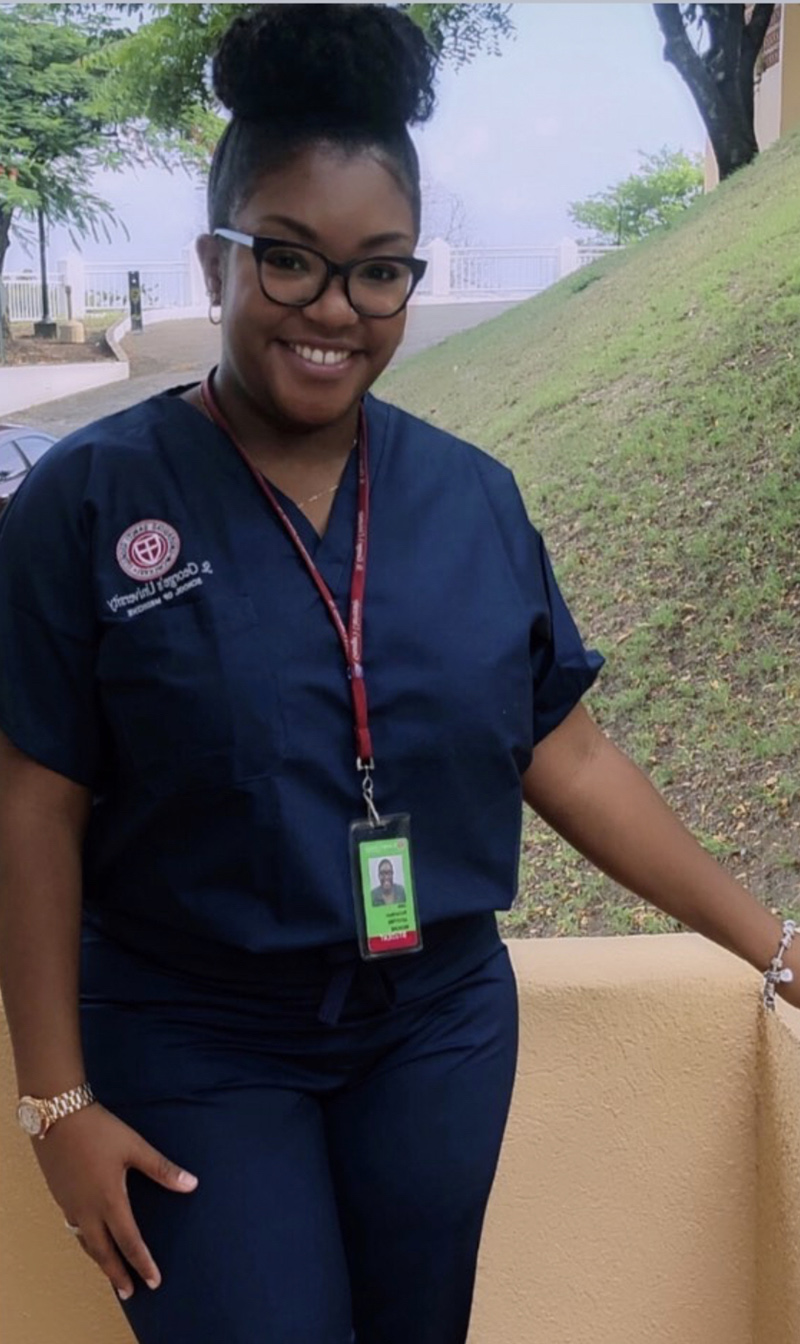 Ms Richardson was thankful and humbled that Dr. Brown entrusted her with this scholarship because she knows that while we do see some students receiving medical scholarships locally, many students find it tough to secure the funding they need. She applied for many scholarships and was unsuccessful and then felt discouraged because she knew she was a deserving student.
She knows that Dr. Brown is investing in her future and that he believes in her and her capabilities and medical dreams.
She said, "Dr. Brown's financial help means the absolute world to me, I have applied to many scholarships recently and in the past and have not been successful. People do not understand how hard it is to find the assistance. Medical school is extremely expensive and every dollar counts."
Ms Richardson hopes to obtain as much knowledge as she possibly can before returning home. She would like to work alongside extremely skilled doctors abroad to ensure that she gets the experience needed to properly assist her Bermudian people.
When asked about her specialty, Ms Richardson said "Before I completely make a decision on the specialty in which I want to practice, I want to consider the fields of medicine that are needed locally. I can assure that once I have made a concrete decision, it will be an area that is strongly needed on the island."
Ms Richardson not only receives her scholarship from Dr Brown, but she also relies on him as her mentor. Ms Richardson confirms that Dr. Brown has not only helped her with medical school, but also helped her and her family get through a tough time in their life.
She said, "Dr. Brown has been an outstanding mentor to me; when my brother passed away he was a huge help to my parents and I. We struggled mentally for many, many, many years, and I can honestly say that if it wasn't for Dr. Brown I would not be where I am today.
"He has supported my dreams from the very start. I look forward to repaying him the favor upon my return to Bermuda by joining his practice as a physician. With the continued support from him and my other mentors such as Dr. Chantelle Simmons, Dr. Sylvannus Nawab, and Dr. Paula Estwick, I know that my journey will continue to be christened with greatness, success, encouragement, constructive criticism, and humility."
Ms Richardson has also been employed at NMAC for four years and works there while when she is on her college breaks to gain first-hand valuable experience.
She said, "I started off as a front desk receptionist, and later ventured into the role of a medical assistant. It was important to Dr. Brown that I start at the bottom to learn the ins and outs of how a medical practice is run. I am so glad that he did because I know I will appreciate the process more and more.
"With the consent of the patient, I have shadowed the different doctors, and learned something from each of them. I am truly amazed at how quickly Dr. Brown's vision has come into fruition in a matter of eight years! He has accomplished what would take others 15-20 years to achieve. I am blessed to have his mentorship and to be an employee at NMAC. I am looking forward to seeing the practice grow more and more."
When asked about her future plans, Ms Richardson said, "I learned a long time ago that when you make a plan God laughs, so I make a conscious effort to focus on the present and allow God to order my steps.
"My hope however, upon my completion in approximately 2025, is to complete my residency in an excellent hospital in the Northern States and score a fellowship under an extraordinary doctor. I know wherever God sees fit for me to be will be perfect, and success will follow."

Read More About