Well known barbershop owner and community leader Ricky Spence presented Dr. Kyjuan Brown with the 'Most Outstanding Member of our Bermuda Community 2021′ award, saying he has "helped our community greatly in and out of medicine."
A spokesperson said, "This month, veteran barbershop owner and community leader, Ricky Spence felt the urge to celebrate some community heroes by honoring them with a community service award.
"Ricky's Barbershop which is located on 20 Union St, Hamilton, in Bermuda has been honoring barbers in the community for awards since 2015 however for this year he also decided to focus on the medical community for their outstanding work in the medical field and in the community, Dr. Kyjuan Brown was a featured doctor for 2021.
"Mr. Spence presented Dr. Brown with "Most Outstanding Member of our Bermuda Community 2021 Award" plaque, as a recent initiative after observing his efforts in the community.
Ricky Spence said, "I have known Dr. Brown all my life before he was a doctor and use to come to my barbershop to have me cut his hair regularly. He has blossomed as a young Bermudian Black man who makes a difference every day in helping others with their health. When I look at who deserves this award, I look at those who make a difference in the community. Giving Dr. Brown this award is my way to reward someone who has helped our community greatly in and out of medicine."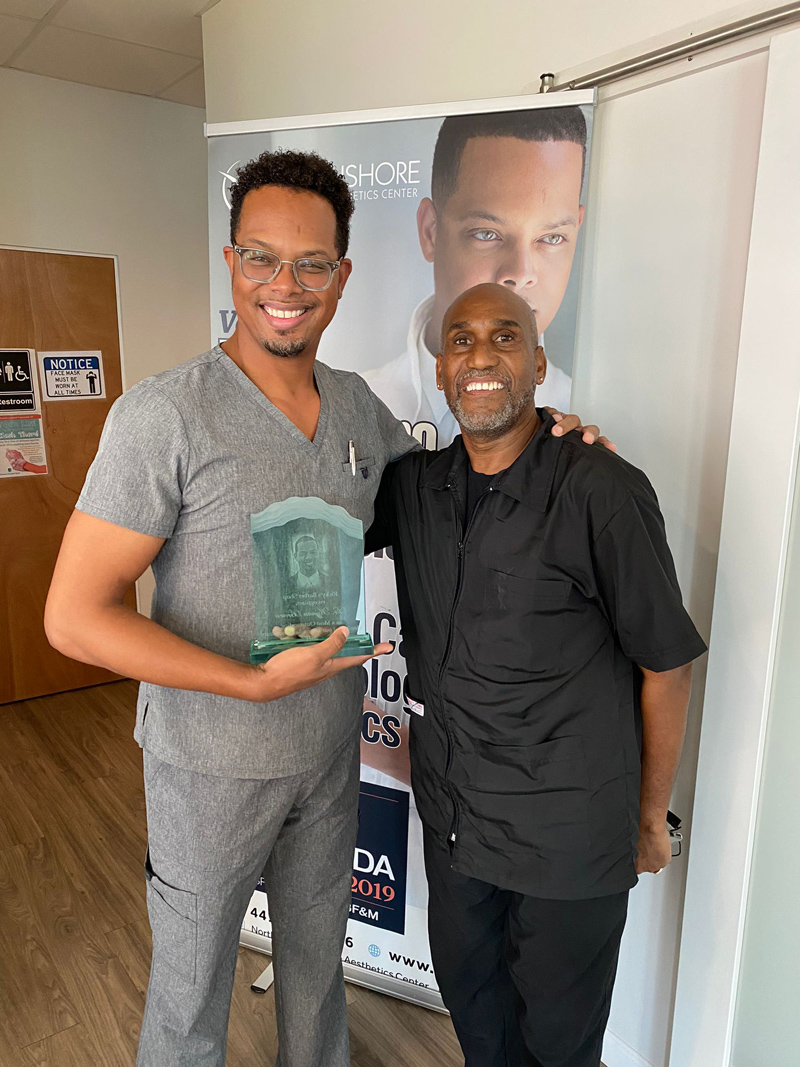 A spokesperson said, "Many who know of Dr. Kyjuan Brown, may know that he is the founder, owner and Medical Director of Northshore Medical Center, a hair restoration specialist award winner, the king of medical aesthetics on island, and formulator of his own hair, skin and health supplement line Dr Brown's Laboratory. However, for those who really grew up with Dr. Brown, his staff and those who know him personally, also know he has a big heart to serve his community, that often goes unnoticed."
"Dr. Kyjuan H. Brown is no stranger to community service as it has been in his blood from both his mother Dawnette and father Hilton Brown and their families. So it was no shocker, that Dr. Kyjuan Brown follows in their footsteps continuing the legacy to serve his community, but in his own special way.
"In medicine, Dr. Brown is known for his free community health clinics and has a heart for seniors by offering VIP home visits to make it easy for them to have convenient access to healthcare.
"In business, Dr. Brown continues to sponsor various college students scholarships like Jade Richardson, community sports teams like the HPWC Hot Peppers football team, various churches events and initiatives, and annually has sponsored his father's community Swan's running club with the Turkey Trott race.
"NMAC is also know for having their annual back to school community event where they give away bookbags with school supplies, cotton candy, snowballs, and popcorn for the gifts. Personally, Dr Brown sponsors Carol Clarke's Annual Senior feeding initiative every year because of his passion for the senior community. He also prepares and distributes food with his Pembroke constituency to those who are in need."
"As you see Dr. Kyjuan Brown is no stranger to community service and serving his community through healthcare," Mr Spence said.
"He also gives people jobs and he is also a great doctor. I observe various doctors who are agents of change and Dr. Brown is one of those who deserved the recognition."
Read More About