Bermudian triathletes made a huge showing at the World Championships this weekend, as in addition to Flora Duffy claiming another World Title, the island had two triathletes competing in the Under 23 World Championships, with both Tyler Smith and Erica Hawley making strong showings.
The appearance of Smith and Hawley — who are world class triathletes in their own right — means Bermuda was fielding around 3.5% of the total competitors in the U23 World and Elite Women's World categories, a very impressive figure for a small island.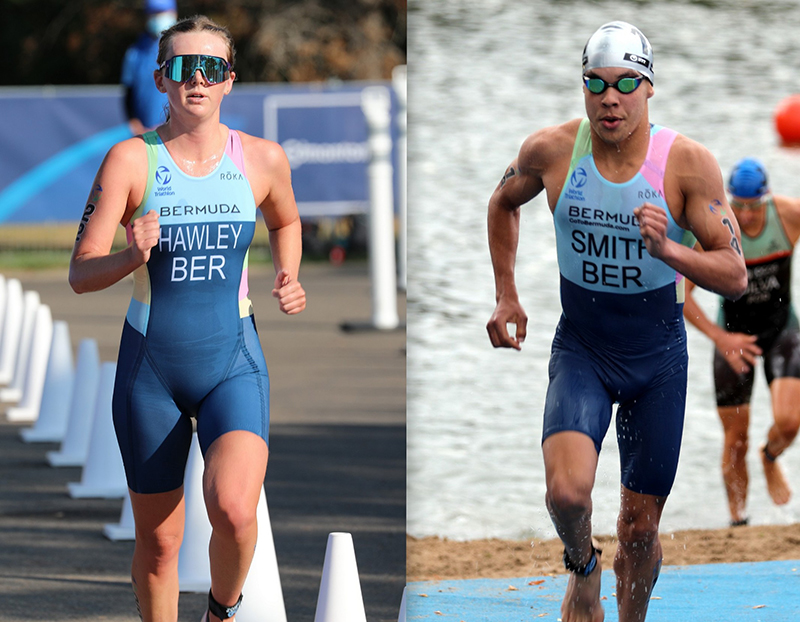 Competing in the Women's Under 23 World Championships in Edmonton, Erica Hawley finished 22nd overall with a time of 2:05:24, she clocked 20:05 on the swim, 1:04:25 on the bike course, and 39:17 on the run.
Tyler Smith competed in the Men's Under 23 where he finished 19th with a time of 1:51:07, he recorded a time of 18:52 on the swim, 56:46 on the bike, and 34:11 on the run.
Clips from the broadcast showing glimpses of Smith & Hawley in action
Locals will have the opportunity to watch our elite triathletes racing at the World Triathlon event in October in Bermuda, as Flora Duffy is expected to race, and she along with Tyler Smith and Erica Hawley are expected to form the Bermuda Elite Mixed Relay team at the Championships.
Bermuda has a stunning amount of talent in triathlon and has previously made an excellent showing in a relay, as in the 2018 Commonwealth Games Bermuda's triathlon relay team of Flora Duffy, Erica Hawley, Tyler Butterfield and Tyler Smith finished 5th.
Speaking during a recent BNV Interview, Ms Duffy suggested the island's triathletes may build on their team success, saying "The 2018 Commonwealth Games having Tyler Smith, Tyler Butterfield, and Erica Hawley there was just so fun, and I just really loved that experience.
"Of course, racing the mixed team relay was a lot of fun, so hopefully we can repeat that in 2022 next year and maybe build off that and get a team qualified for the Olympics in 2024, which would be amazing," she said.

Read More About