[Updated: Over 80 bus runs cancelled on Thursday morning and over 140 in the afternoon]
"Bus services have been impacted due to staff shortages," the Ministry said, adding that "the current expectation is that there will be additional cancelled routes."
There were 78 runs cancelled on Monday, 90 cancelled on Tuesday and 39 runs cancelled on Wednesday.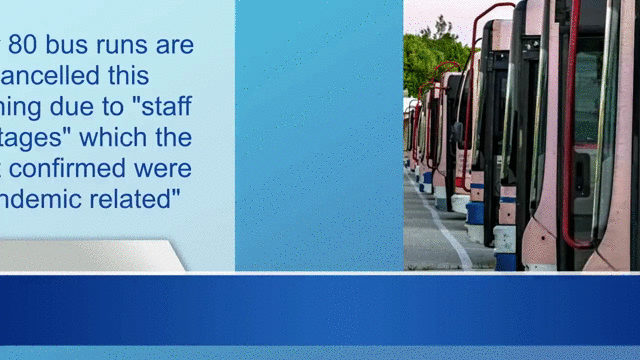 A spokesperson said, "The Department of Public Transportation is advising commuters that bus services have been impacted due to staff shortages.
"There have been a significant number of cancellations this week, and the current expectation is that there will be additional cancelled routes tomorrow.
"The Department recommends that commuters check the latest bus alerts on www.gov.bm/bus-alerts and plan to use alternative transportation wherever possible.
"The Department appreciates the public's understanding as we grapple with Pandemic related staffing shortages, and the Department will provide a further update at 10 a.m. tomorrow."
Update: The Government site has now updated to reflect over 80 bus runs cancelled in the morning, a significantly large amount, bearing in mind this is just the morning cancellations, normally the afternoon cancellations are announced later on that day.
Update Sept 16, 11.28am: A Government spokesperson said, "Just an update on bus service, as of 10 am this morning bus service is limited. Commuters should continue to check the latest bus alerts onwww.gov.bm/bus-alerts and plan to use alternative transportation wherever possible. The Department appreciates the public's understanding as we grapple with Pandemic related staffing shortages."
Update 6pm: The afternoon cancellation list includes over 140 runs, making over 220 cancellations for the day, the list is so long we are adding it below as a scrolling animation, to read in full visit the Government's website
The morning cancellation list is below
| | | | |
| --- | --- | --- | --- |
| | | | |
| 10 | St. George's | Hamilton | 6:15a.m. |
| 7 | Watford Bridge | Hamilton | 6:50a.m. |
| 3 | #1 Gate | Hamilton | 6:52a.m. |
| 6 | St. George's | St. David's | 6:55a.m. |
| 8 | Watford Bridge | Hamilton | 6:55a.m. |
| 7 | Watford Bridge | Hamilton | 7:00a.m. |
| 11 | St. George's | Hamilton | 7:00a.m. |
| 8Dch | Dockyard | Hamilton | 7:05a.m. |
| 3 | Hamilton | St. George's | 7:15a.m. |
| 10 | St. George's | Hamilton | 7:15a.m. |
| 10 | St. George's | Grotto Bay | 7:15a.m. |
| 1 | Hamilton | Grotto Bay | 7:15a.m. |
| 7 | Hamilton | Hamilton | 7:20a.m. |
| 8 | Watford Bridge | Hamilton | 7:25a.m. |
| 3 | Grotto Bay | Hamilton | 7:30a.m. |
| 4sj | Hamilton | Spanish Point | 7:30a.m. |
| 4sj | Spanish Point | Hamilton | 7:42a.m. |
| 7 | Watford Bridge | Hamilton | 7:45a.m. |
| 4sj | Hamilton | Spanish Point | 7:50a.m. |
| 8xpsp | Dockyard | Hamilton | 7:50a.m. |
| 11 | Hamilton | St. George's | 8:00a.m. |
| 4sj | Spanish Point | Hamilton | 8:02a.m. |
| 11 | St. George's | Hamilton | 8:05a.m. |
| 1 | Grotto Bay | Hamilton | 8:10a.m. |
| 1 | Hamilton | Grotto Bay | 8:15a.m. |
| 10 | St. George's | Hamilton | 8:15a.m. |
| 9 | Hamilton | Prospect | 8:15a.m. |
| 10 | Hamilton | St. George's | 8:15a.m. |
| 2 | Hamilton | Ord Road | 8:15a.m. |
| 3 | Hamilton | Grotto Bay | 8:15a.m. |
| 8 | Warwick Bowl | Hamilton | 8:20a.m. |
| 9 | Prospect | Hamilton | 8:25a.m. |
| | | | |
| 11 | St. George's | Hamilton | 8 : 30am |
| 2 | Ord Road | Hamilton | 8 : 40am |
| 7 | Hamilton | Barnes Corner | 8 : 45am |
| 11 | Hamilton | St. George's | 8 : 45am |
| 8 | Barnes Corner | Hamilton | 8 : 49am |
| 5 | Hamilton | Pond Hill | 8 : 50am |
| 8 | Barnes Corner | Hamilton | 8:57a.m. |
| 11 | St. George's | Hamilton | 9 : 00am |
| 5 | Pond Hill | Hamilton | 9 : 00am |
| 3 | Grotto Bay | Hamilton | 9 : 00am |
| 8 | Hamilton | Barnes Corner | 9:07a.m. |
| 8 | Watford Bridge | Hamilton | 9:08a.m. |
| 1 | Grotto Bay | Hamilton | 9:10a.m. |
| 10 | Hamilton | St. George's | 9 : 15am |
| 10 | St. George's | Hamilton | 9 : 15am |
| 8 | Hamilton | Dockyard | 9 : 15am |
| 7 | Hamilton | Barnes Corner | 9 : 15am |
| 8 | Barnes Corner | Hamilton | 9 : 19am |
| 7 | Hamilton | Barnes Corner | 9:22a.m. |
| 11 | Hamilton | St. George's | 9:30a.m. |
| 8 | Hamilton | Barnes Corner | 9:37a.m. |
| 7 | Barnes Corner | Hamilton | 9:42a.m. |
| 11 | Hamilton | St. George's | 9 : 45am |
| 11 | St. George's | Hamilton | 9 : 45am |
| 8 | Barnes Corner | Hamilton | 9:49a.m. |
| 7 | Hamilton | Dockyard | 10:00a.m. |
| 8 | Hamilton | Barnes Corner | 10:00a.m. |
| 7 | Barnes Corner | Hamilton | 10:12a.m. |
| 2 | Hamilton | Ord Road | 10:15a.m. |
| 8 | Hamilton | Dockyard | 10:15a.m. |
| 6 | St. George's | St. David's | 10:15a.m. |
| 1 | Hamilton | St. George's | 10:15a.m. |
| 3 | Hamilton | Grotto Bay | 10:15a.m. |
| 8 | Dockyard | Hamilton | 10:35a.m. |
| 6 | Ord Road | Hamilton | 10:45a.m. |
| 2 | Ord Road | Hamilton | 10:45a.m. |
| 3 | Hamilton | St. George's | 10:45a.m. |
| 1 | Hamilton | Grotto Bay | 10:45a.m. |
| 1 | St. George's | Hamilton | 10:52a.m. |
| 3 | Grotto Bay | Hamilton | 11:00a.m. |
| 8 | Hamilton | Barnes Corner | 11:00a.m. |
| 3 | St. George's | Hamilton | 11:12a.m. |
| 7 | Hamilton | Barnes Corner | 11:15a.m. |
| 9 | Hamilton | Prospect | 11:15a.m. |
| 7 | Dockyard | Hamilton | 11:20a.m. |
| 9 | Prospect | Hamilton | 11:25a.m. |
| 11 | St. George's | Hamilton | 11:30a.m. |
| 8 | Hamilton | Barnes Corner | 11:30a.m. |
| 7 | Barnes Corner | Hamilton | 11:34a.m. |
| 8 | Dockyard | Hamilton | 11:35a.m. |
| 11 | Hamilton | St. George's | 11:45a.m. |
| 8 | Barnes Corner | Hamilton | 11:49a.m. |
| 5 | Hamilton | Pond Hill | 11:50a.m,. |
Read More About