This year's Bermuda Government Bursary Award recipient is Taneesha Ottley, who is currently pursuing a Masters in Public Policy and Management at the University of York.
During her time in Bermuda she has been working with the Ministry of Education, and Ms. Ottley says her ultimate goal is "to become a senior policy analyst so that she can influence policies in Bermuda."
Head of the Public Service, Dr. Derrick Binns, Taneesha Ottley, Valerie Robinson James, Permanent Secretary Ministry of Education and Carlita O'Brien Chief Employee and Organizational Development Officer.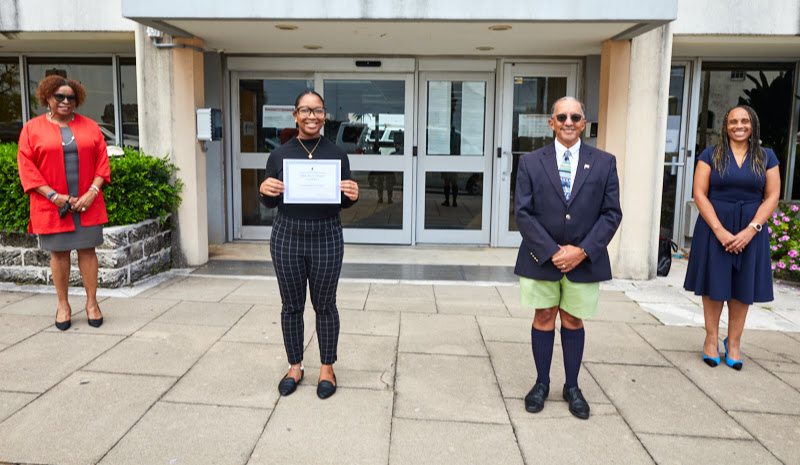 Head of the Public Service, Dr. Derrick Binns said, "I am extremely delighted to recognize Taneesha Ottley as this year's recipient of the 2021-2022 Bermuda Government Public Service Bursary Award.
"The Public Service Bursary Award Scheme identifies qualified individuals who will meet the future needs of Government Departments, thus ensuring a well-trained cadre of people to fill positions within the Public Service. We are very proud of Taneesha's achievements and look forward to welcoming her into the ranks of the Public Service."
The Bursaries are awarded by the Public Service Commission [PSC] to selected applicants enrolled in courses of study at a university, college or other training institution, in order to acquire professional or technical qualifications. The bursaries are valued at $20,000 per annum; not exceeding five years.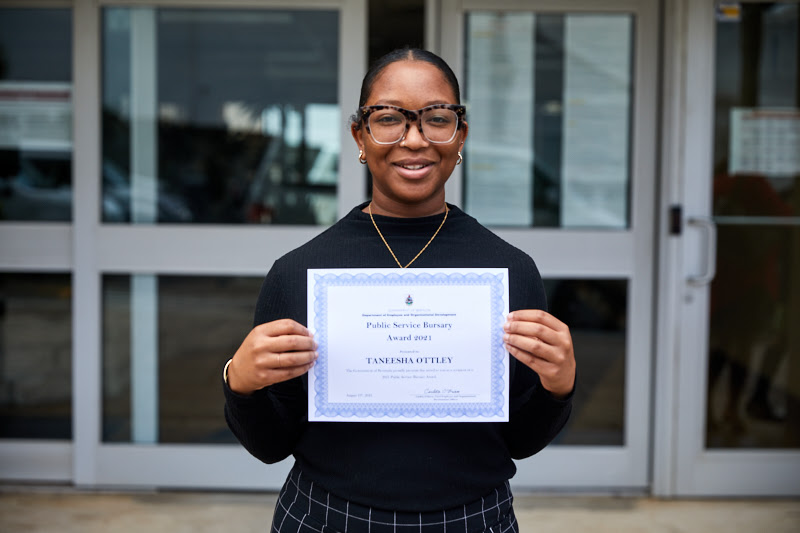 To be considered for a Bursary Award, applicants must:
Have completed no less than 5 years of schooling in Bermuda;
Be 40 years of age or under, at date of application;
Have been accepted into an institution of higher learning or currently be undertaking courses leading to a professional, specialist or technical qualification required within the Public Service;
Be in an Undergraduate or Master's Degree programme; and
Be planning a career in the Public Service upon completion of their education."

Read More About