"Our situation is critical. This outbreak continues to spread fast, it is everywhere in our community and, at the risk of causing panic, it is only a matter of time before the situation is unmanageable," Health Minister Kim Wilson said this evening.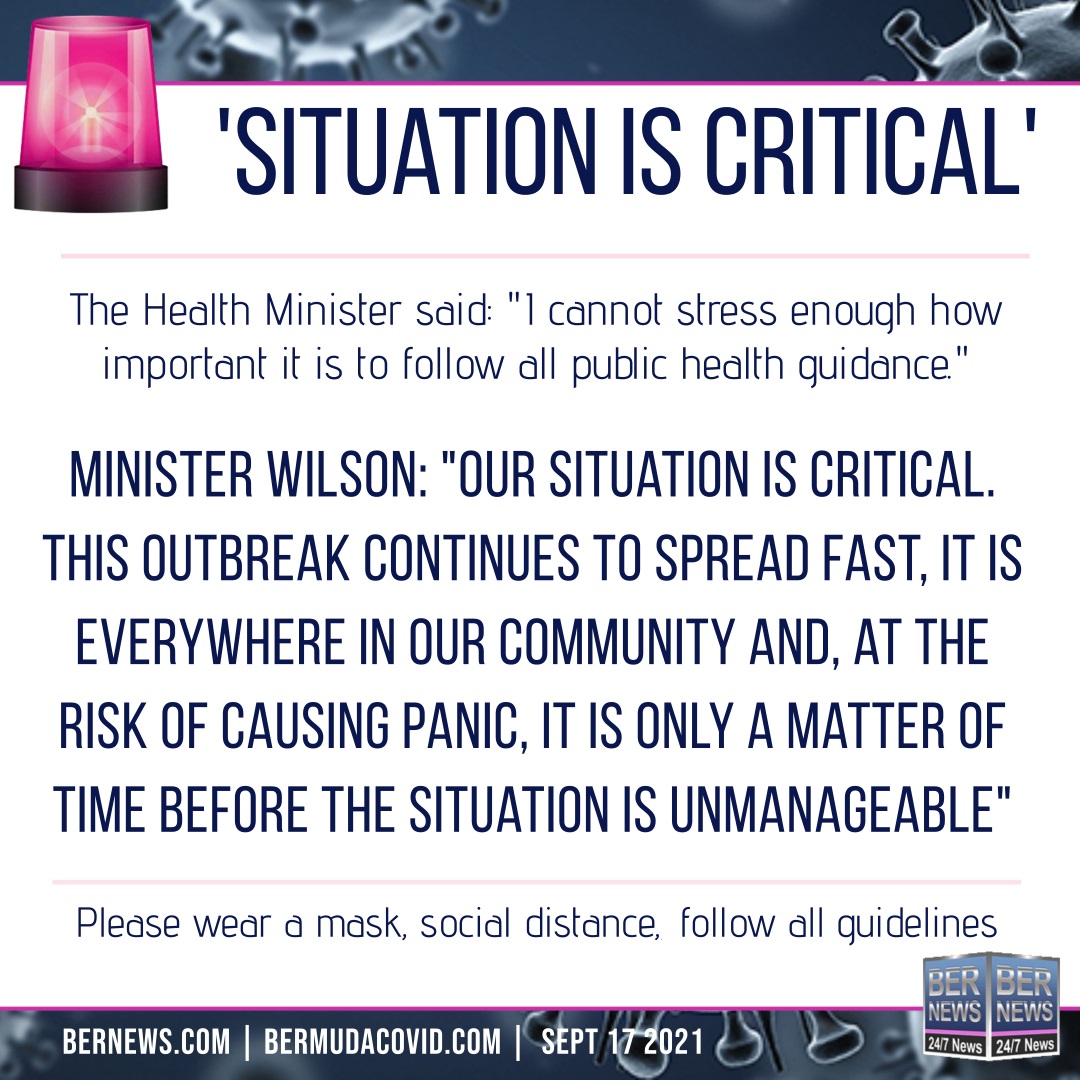 In releasing the latest test results this evening [Sept 17] Minister Wilson said, "The hospital, public and private labs, contact tracers, testers, indeed, our entire healthcare sector, are all under tremendous pressure. They are doing a fabulous job, and I cannot commend them enough. But we must all do our part to help ease this pressure."
"To be exceptionally clear, please take individual responsibility for your health and safety. I cannot stress enough how important it is to follow all public health guidance. Wear a mask at all times when you are within 6 ft of other people. Avoid crowded places and closed spaces. Please Bermuda, minimise your movements and keep to your family bubbles."
Tonight's figures were the worst since the pandemic began, marking the highest active cases, the most cases in one day, the most people in hospital and the most people in ICU, resulting in the hospital moving to "Disaster Alert Level 4″ today, which is the first time during the pandemic that BHB has moved to the highest alert level.
Unfortunately the Government also confirmed another Covid related death tonight, marking the 38th since the pandemic began, and a sharp increase from the death toll of 33 less than three weeks ago.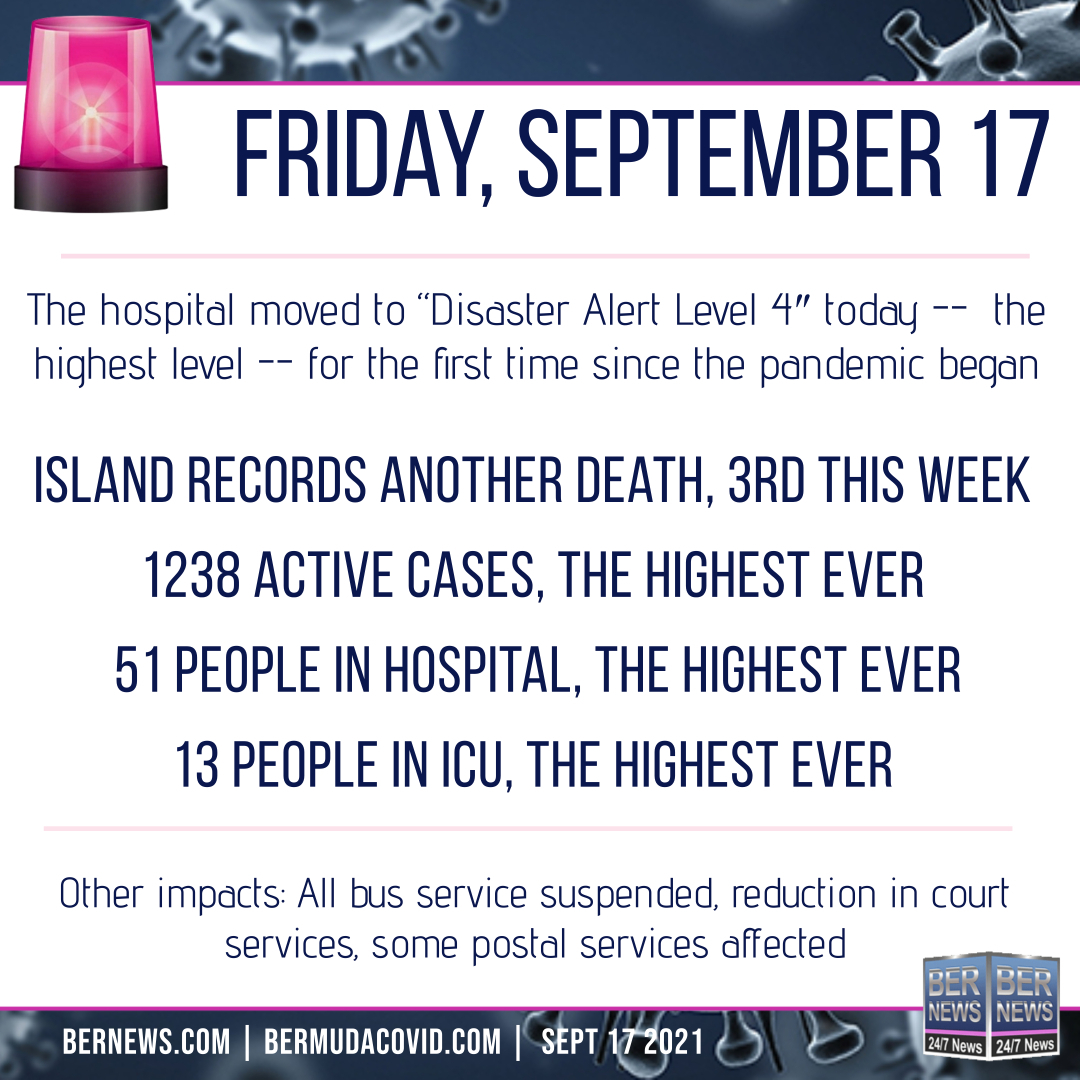 "We all must work together to help stop the spread of the virus in our community," Minister Wilson said.
"Please take note, if you or anyone in your household is feeling ill, even slightly ill, stay home. I cannot stress this enough. We are seeing far too many cases appear because people are either going to work ill, or sending their children to school or camps with symptoms.
"Remember the symptoms include sore throat, headache, stuffy/runny nose, sneezing, cough, diarrhoea, vomiting, fever, muscle/body aches, shortness of breath, or the loss of taste and smell."
"Also, please take your medically fit for discharge family members home. The hospital is under tremendous pressure, and they need the space for additional admissions, not all of which are Covid related. An overwhelmed hospital with no available beds puts critically ill patients at risk. Anyone who can be discharged must leave the hospital to free up much-needed bed space."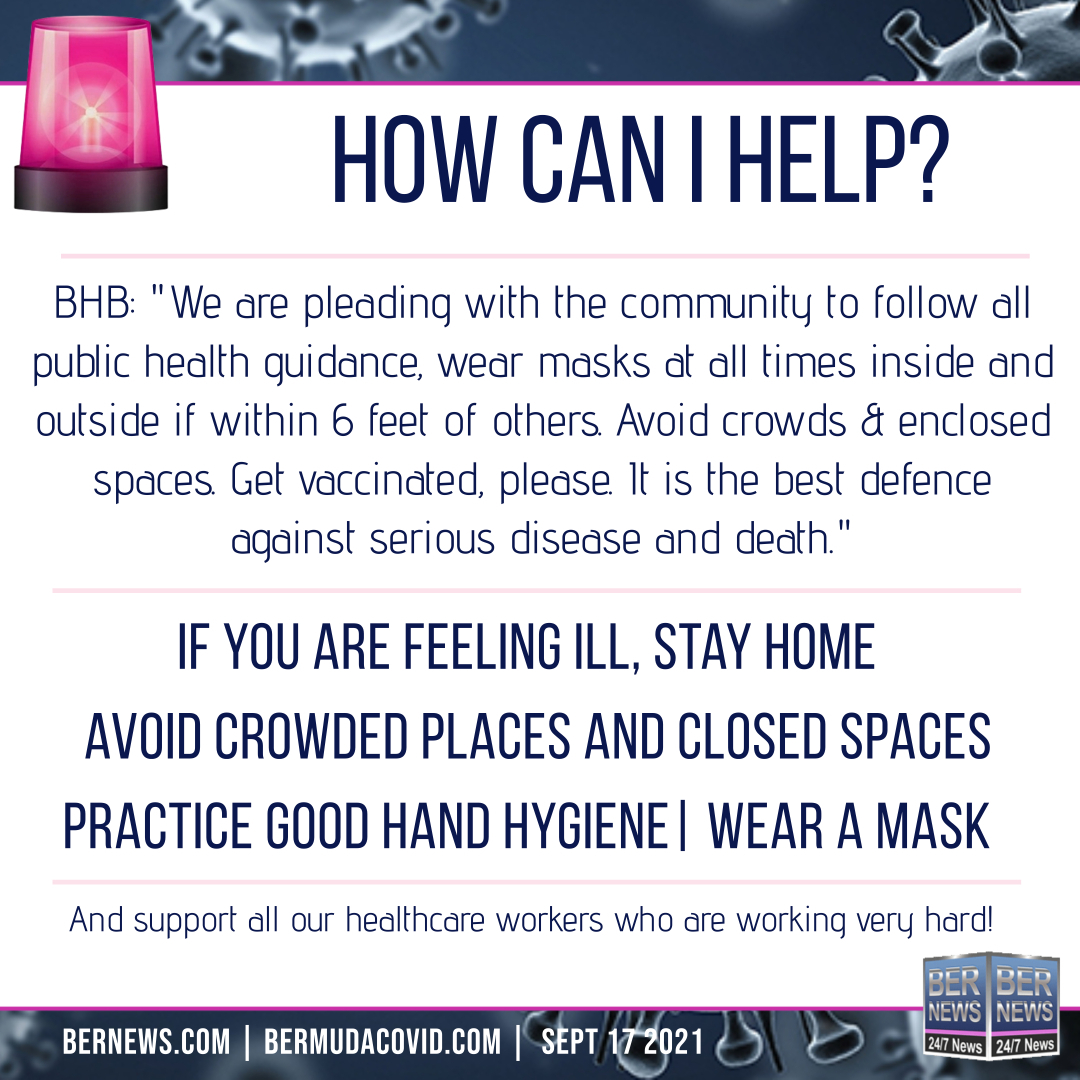 Minister Wilson concluded, "Bermuda please remember, we are our brother's keeper. We must act responsibly and adhere to the public health guidelines. Bermuda, we are in a very serious situation and in order to get through this, we must take responsibility for ourselves and others in our community".
"Each of us has a role to play in stopping the spread of the coronavirus. Follow Public Health guidelines, wear a mask, practice good hand hygiene, maintain physical distance and download the WeHealth Bermuda app."
BHB CEO Michael Richmond said, "People in the community may not realise the extent of the impact on healthcare services, but they need to be aware that the increasing demand on the hospital may start to impact our ability to deliver the quality of care that we usually strive for each day.
"We are pleading with the community to follow all public health guidance, wear masks at all times inside and outside if within 6 feet of others. Avoid crowds and enclosed spaces. Get vaccinated, please. It is the best defence against serious disease and death."

You can find more information on the links below from our dedicated website BermudaCovid.com, which is the most comprehensive resource and historic record available of Bermuda's handling of the pandemic.
Read More About