KPMG in Bermuda congratulated Matthew Viney and Christopher Alexander on the successful completion of their accounting designations.
A spokesperson said, "The Managing Directors and staff of KPMG in Bermuda congratulate Matthew Viney [Chartered Professional Accountant – CPA Canada] and Christopher Alexander [Associate Chartered Accountant – ACA UK] on the successful completion of their accounting designations.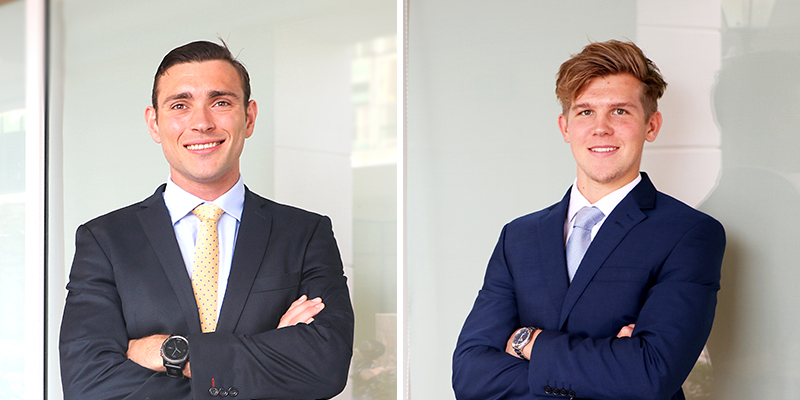 Mr Viney joined KPMG in Bermuda's Audit department in October 2017, where he focused on insurance, after graduating with a degree in Business/Accounting from Mount Saint Vincent University.
Matthew Viney commented: "I am excited to have successfully completed the CPA Canada exams. Thank you to my friends and family for their support and understanding while I invested many hours into studying over the past couple of years. Thanks also to KPMG and the Graduate Committee for their support and guidance throughout this process."
"Chris joined KPMG in Bermuda's Audit department in October 2018, also focused on insurance, after graduating with a degree in Accounting/Finance from the University of Bristol. This achievement is a milestone for Chris as he is the first KPMG in Bermuda Staff Accountant to have obtained this ACA designation since KPMG was authorised as an Institute of Chartered Accountants in England & Wales ["ICAEW"] Authorised Training Employer in February 2017," the company noted.
Christopher Alexander commented: "I am incredibly proud that after three years of hard work, I have successfully passed all my ACA exams to qualify as an ICAEW Chartered Accountant. It was a challenging process but one I am grateful for and, in which, I learnt so much.
"I would like to thank my family, friends, and colleagues as well as KPMG, especially those involved in the Lift Off Program, for their continued support and guidance – it would not have been possible without you! I am excited to see what the future holds as I now carry this designation for the rest of my career."
Steve Woodward, Managing Director and Head of the KPMG Lift Off Program added, "KPMG in Bermuda registered as an ICAEW Training Office for the ACA designation 4 years ago, as we were seeing an increasing number of our Bermudian recruits graduating from UK universities. It's a fantastic achievement by Chris in becoming the first successful ACA writer to pass through our Lift-Off Program. The ACA and CPA Canada final examinations are both extremely challenging, so we congratulate Chris and Matt on their succsss and look forward to seeing them continuing their career development with the firm."
"Each of our newly qualified employees has taken part in the firm's KPMG Lift Off Program. We currently have nine Bermudians that are in various stages of achieving the CPA CA, CPA US and ACA designations. During the past five years, KPMG has seen 10 Bermudians achieve their professional accounting designations.
"The program has three robust curriculums. The first is our Summer Internship/Co-Op Placement Program where employment is offered to a select group of Bermudian undergraduates [12-week period for interns and 4-6 months for university co-op placements]. The second is our KPMG Scholarship Program whereby an award, valued at $20,000 per annum for up to three years, is granted to a Bermudian university student interested in pursuing a career either as a Chartered Professional Accountant, a Certified Public Accountant or an Associate Chartered Accountant.
"Within our third curriculum, many of our interns and scholarship recipients then continue on to take part in our Graduate Trainee Program, where they join us as full time employees and are supported with on the job training, mentoring as well as sponsorship of further education towards their professional accounting designation. All three curriculums are available through an application process which can be found by visiting here."
Read More About