The Bermuda Mental Health Foundation [BMHF] will be hosting a virtual conference entitled 'Mental Health: It's About All of Us' on October 28.
A spokesperson said, "After months of planning and preparations, the Bermuda Mental Health Foundation has officially opened registration for its first-ever virtual conference event.
"'Mental Health: It's About All of Us' is jammed with a robust line-up of local powerhouse speakers that are extremely passionate about mental health/mental illness in Bermuda. The event takes place on October 28, 2021, at 10am to 5pm and is FREE to the public. The goal of many of the different sessions and discussions is to educate, develop solutions to long standing problems, encourage, motivate and to listen to everyone."
Jodi Covington said, "This event was carefully crafted to touch just about every topic surrounding mental illness/mental health in Bermuda. Attendees will have the opportunity to get up close and personal with industry leaders and hear from key decision-makers regarding how they intend to move the Bermuda Mental Health industry forward and get the people the help they require to live a mentally healthy life."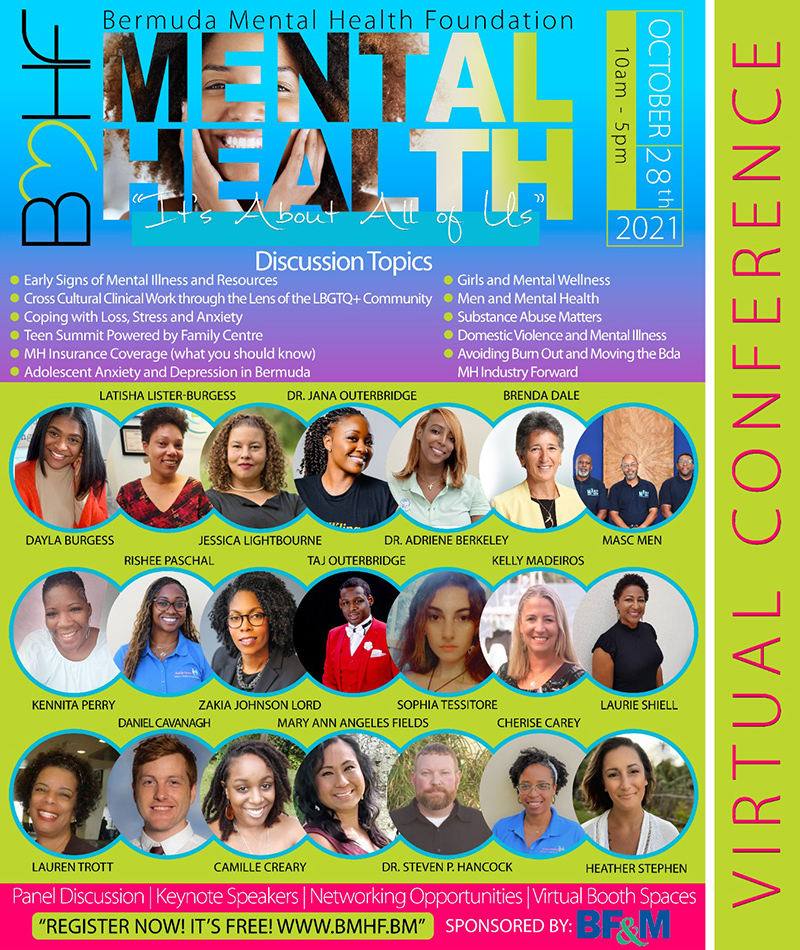 The spokesperson said, "Topics include 'Early Signs of Mental Illness and Resources,' 'Avoiding Burn Out and Moving Bermuda's MH Industry Forward,' 'Domestic Violence and How It Impacts our Mental Health,' 'Cross Cultural Clinical Work Through the Lens of the LBGTQ+ Community,' 'Coping with Loss, Stress and Anxiety,' 'Men and Mental Health,' 'Substance Abuse and its Correlation to Mental Illness,' and so much more.
"Speakers include Dayla Burgess, Latisha Lister-Burgess, Jessica Lightbourne, Heather Stephen, Camille Creary, Kelly Madeiros, Laurie Shiell, Laurie Trott, Dr. Jana Outerbridge, Brenda Dale, Rishee Pascha, Cherise Carey, Dr. Adriene Berkeley, Kennita Perry, Zakiya Johnson- Lord, Dr. Steven Hancock, Mary Ann Angeles, Sophia Tessitore, Taj Outerbridge, Fitzgerald E. Williams, Dr. Ernest Peets, Tyrone McHardy, and Daniel Cavanagh.
"The Foundation has also partnered with The Family Centre to power its Teen Summit event that will be fully produced and hosted for our local high school students. Students will receive community service hours for their registration and participation. Registration is 100% free.
"The event will take place on the Hopin.to online platform. This platform features a virtual keynote stage, breakout stages, networking opportunities and a virtual vendor booth space. Attendees will be able to fully interact with each other and with speakers to ensure their questions are answered and their voice is heard."
Ms. Covington said, "One of the exciting opportunities will be our networking slot. Attendees will be automatically linked to professional counselors for a one-on-one brief session where they can ask anything they want to know about talk therapy. The goal is to introduce attendees who have not considered talk therapy to our local professionals and learn as much as possible about this wonderful tool."
The spokesperson said, "The BMHF would like to recognize and thank sponsor BF&M for its commitment to the 'Mental Health: It's About All of Us' virtual conference. as well as our community.
"Registration is open by visiting www.bmhf.bm and is 100% free to all attendees. If you're interested in having a virtual booth space or sponsorship, please email the Foundation at info@bmhf.bm."

Read More About
Category: All