Clarien Bank has announced it will make its third donation to The Flora Fund by giving $10,000 in aid of the athletic support charity.
Michael DeCouto, Clarien's Chief Digital & Marketing Officer, said: "With so much celebration going on around the Island over the last two weeks in honour of Bermuda's golden girl, Flora Duffy and her historic achievements in sport, Clarien wanted to do something special to show our support.
"As many on the Island know, Flora has been a longtime partner of our annual Iron Kids triathlon and even excelled in the sporting event as a child. We have witnessed her hard work, determination and perseverance first hand over many years and are delighted to support the Flora Fund in its efforts to give back to the next generation of Bermuda's athletic talent."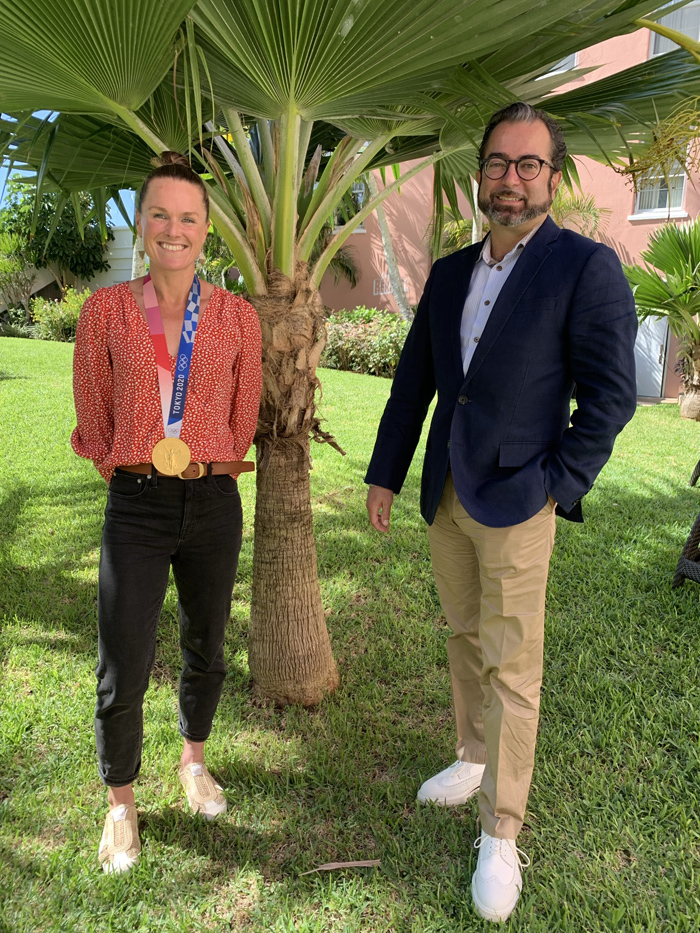 The company said, "Established in May 2018, the Flora Fund was launched by Flora Duffy in partnership with the Bermuda Community Foundation. The Fund seeks to get Bermuda's established and aspiring athletes on track to meet their goals and provides sponsorship for any of the following: equipment, training, fees, event registration and coaching.
"In recent months, Flora Duffy has claimed a series of major victories on the international stage, most notably a gold medal win at the 2020 Summer Olympics in Tokyo this past July. Since then she's gone on to win first place at the World Triathlon Championship Series in Montreal in August and the Super League Triathlon in Malibu last month. Her victories have earned her the title of first triathlete in history to be crowned the World and Olympic Champion in the same year.
"In addition to a National Holiday named after her this past Monday, October 18, a series of events have taken place in the last week to celebrate Flora Duffy's return home as Bermuda's first Olympic Gold Medalist. On Monday, October 11, she was greeted at the L.F. Wade International Airport with a special motorcade; an artistic mural was announced; and an open air tribute concert was also held in her honour that same day.
"Additionally, the Ministry of Public Works has officially renamed Corkscrew Hill in Devonshire to Flora Duffy Hill; meanwhile National Sports Centre's South Field Stadium will be renamed the Flora Duffy Stadium.
"In past media interviews, Flora has said how the scholarships and other financial support she received from the Bermuda community helped to catapult her to success. Now that the professional athlete is in a position to pay it forward, she is assisting the next generation of local sports stars."
Flora Duffy said: "Looking back, as I cannot help but do this week, I'm overwhelmed by how many of the key pieces to my success, our success as Bermuda in winning an Olympic Gold, were in place some 20 plus years ago. Kids' triathlons need sponsors, volunteers and programmes developing kids – I'm grateful that was there for me growing up, allowing me to find my feet and set ambitious goals.
"Clarien Bank has been a supporter of Bermuda's Iron Kids Triathlon, and a supporter of The Flora Fund since day one. I am very thankful to Clarien and their entire team for yet another investment into Bermuda's sporting stars of tomorrow."
"Clarien Iron Kids is a community-driven event hosted by Clarien Bank, which seeks to give young people a chance to compete in a traditional swim, bike and run junior triathlon. Beginning in 1988 as a Gibbons Company event held at Shelly Bay Beach in Hamilton Parish; the event was later organized by Capital G Bank, now Clarien Bank, and is now held at Clearwater Beach in St. David's.
"Managed by the Bermuda Triathlon Association, young people between ages 7 and 15 are tasked with swimming, biking and running their way to the finish line. The last event for the day is a Tiny Tots Race, open to children ages 3 to 6. Though cancelled in 2020 and 2021 due to the ongoing Covid-19 pandemic, Clarien looks forward to safely hosting the event again in the near future.
"Contributions to The Flora Fund can be made online through the Bermuda Community Foundation's donation page or offline by completing a Gift Intention Form. For more details contact the Bermuda Community Foundation at 294-4959."
Read More About