Clarien has donated $10,000 to The Flora Fund, with a cheque presented yesterday [Nov 3] to help support Bermuda's next generation of rising sports stars.
The Flora Fund has received $10,000 from Clarien as Bermudian triathlete Flora Duffy prepares to compete in the 2022 World Triathlon Champion Series this weekend.
A spokesperson said, "In lead up to Bermuda's 'Golden Girl' Dame Flora Duffy's return to participate in the 2022 World Triathlon Champion Series this weekend, Clarien was pleased to yesterday present her with a cheque for $10,000.
"In addition to receiving the donation for The Flora Fund, Dame Flora also posed for a group photo with the 2022 Iron Kids participants on the steps of the marina at Hamilton Princess.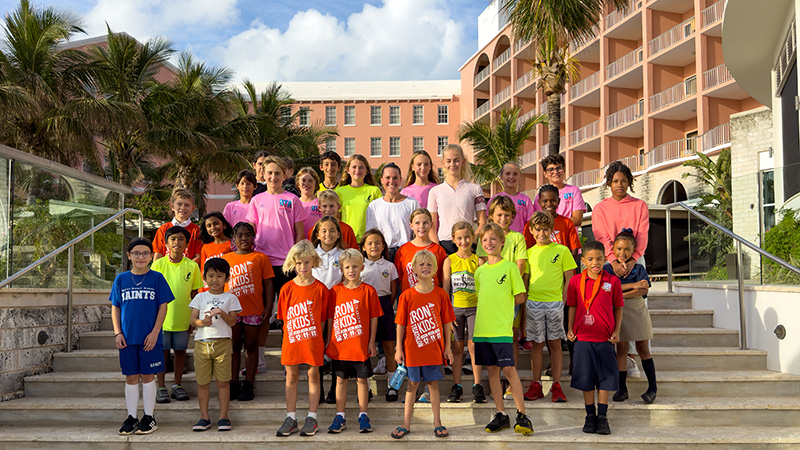 "A community-driven event hosted by Clarien Bank, in partnership with the Bermuda Triathlon Association, Iron Kids allows young people of all athletic levels, ages 3-15, to compete in a traditional swim, bike and run junior triathlon. In addition to being a longtime partner of the event, Dame Flora also excelled in the sporting competition as a child."
Michael DeCouto, Clarien's EVP, Chief Digital & Marketing Officer, said, "We are delighted to be continuing our partnership with Flora Duffy and her athletic support charity, The Flora Fund. This $10,000 gift counts as Clarien's fourth donation to this incredible cause and we are excited to see how these funds will help to nurture and strengthen Bermuda's next generation of rising sports stars.
"In addition, Clarien has once again signed up to be the VIP Sponsor for the World Triathlon Champion Series, which Flora, along with scores of other top athletes from around the world, will take part in this weekend. We wish all the athletes the best of luck and look forward to being able stand on the sidelines and cheer for Flora, our hometown hero."
The spokesperson said, "Established in May 2018, the Flora Fund was launched by Dame Flora in partnership with the Bermuda Community Foundation. The goal of the charity is to support Bermuda's established and aspiring athletes with meeting their sporting goals, including sponsorship for equipment, training, fees, event registration and coaching.
"In past media interviews, Dame Flora shared how the scholarships and other financial support she received from the Bermuda community helped to catapult her to success. Now that the professional athlete is in a position to pay it forward, she is assisting other up and coming athletes."
Dame Flora said, "Clarien have been a constant support to The Flora Fund, just as they have been to triathlon, ever since my junior days – which honestly feels like a long, long time ago now.
"To date The Flora Fund has awarded more than $55,000 in grants to young, aspiring sports talent in Bermuda. The sports have been Football, Gymnastics, Triathlon, Swimming, Track and Field, Motorsports and Tennis. This Clarien Bank donation will go a long way in ensuring we can continue to support applicants into 2023."
The spokesperson said, "Clarien Iron Kids began in 1988 as a Gibbons Company event held at Shelly Bay Beach in Hamilton Parish. It was later organised by Capital G Bank, now Clarien Bank, and is now held at Clearwater Beach in St. David's. Managed by the Bermuda Triathlon Association, young people between ages 7 and 15 are tasked with swimming, biking and running their way to the finish line.
"The last event for the day is a Tiny Tots Race, open to children ages 3 to 6. Though cancelled in 2020 and 2021 due to the pandemic, Clarien was able to safely host the event again on Saturday, June 18th, 2022.
"Contributions to The Flora Fund can be made online by visiting www.theflorafund.com and clicking on the 'Donate' tab. You can also visit www.bermudacommunityfoundation.org or email info@bcf.bm."

Read More About