[Updated] Some residents are experiencing power outages in Sandys following a pole fire on White Hill, and some customers in the Woodland Road area are also experiencing power outages after a vehicle struck a pole.
This morning, BELCO tweeted, "Due to a pole fire on White Hill in Sandys, some of our customers in the area are experiencing an outage. We appreciate your patience while our team works to correct this issue. Please be cautious when driving in the area as our crews carry out restoration work."
Another tweet this morning from BELCO said, "A commercial vehicle has struck a BELCO pole, which has caused an outage for most of our customers in the Woodland Road area. Our team is aware of this incident and has already begun work to restore the power."
BELCO outage map as of 1130am this morning in Bermuda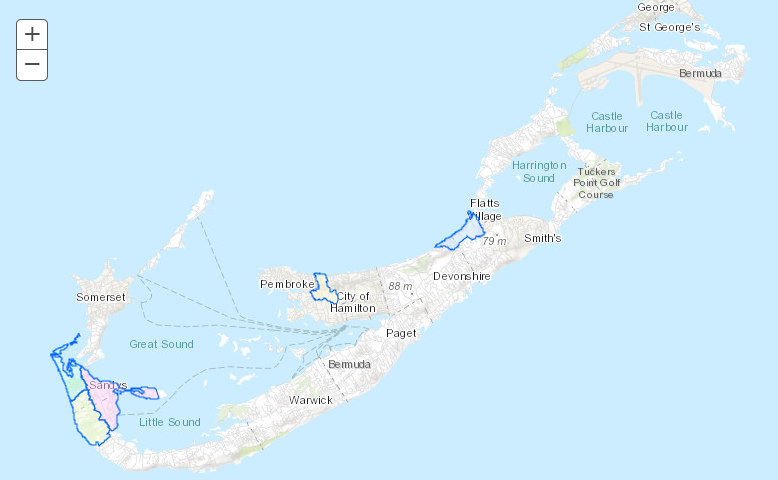 Update 12.55pm: Shelly Leman, Managing Director Transmission Distribution & Retail, said, "Bermuda Electric Light Company Limited [BELCO] is aware of two outages currently affecting customers in Pembroke and Sandys.
"At approximately 10.30 am this morning a commercial truck hit a pole on Serpentine Road which caused an outage to approximately 170 customers in the area. Crews will be working throughout the day to replace the broken pole, repair damaged wires and restore power to customers. As a result of this accident, Serpentine Road between Woodlands Road and Ferrar's Lane is closed to traffic while repairs are carried out.
"In addition, shortly after 10 am this morning, there was a pole fire in the White Hill, Somerset area with approximately 950 customers affected. BELCO crews are also working to repair the damaged infrastructure and restore power to customers as soon as possible.
"As a reminder, customers can go to the outage map on www.belco.bm for more information on current outages."
Read More About