The Bermuda Economic Development Corporation's [BEDC] "Eat, Shop, Play." Shop to Win Draw starts today, and runs through to January 2nd.
When you spend $20 or more in any participating restaurant or store in the EEZs in Somerset, North East Hamilton and St. George's, you are entered into a draw for a chance to win a $500, $300 or $200 gift voucher to your favourite participating restaurant or store.
Ray Lambert, BEDC Micro Small & Medium Enterprise [MSME] Director, states, "This initiative is designed to incentivize customers to shop in the Zones, and it also provides an opportunity for our Officers to engage with the shop owners to determine how best to support them during this holiday season."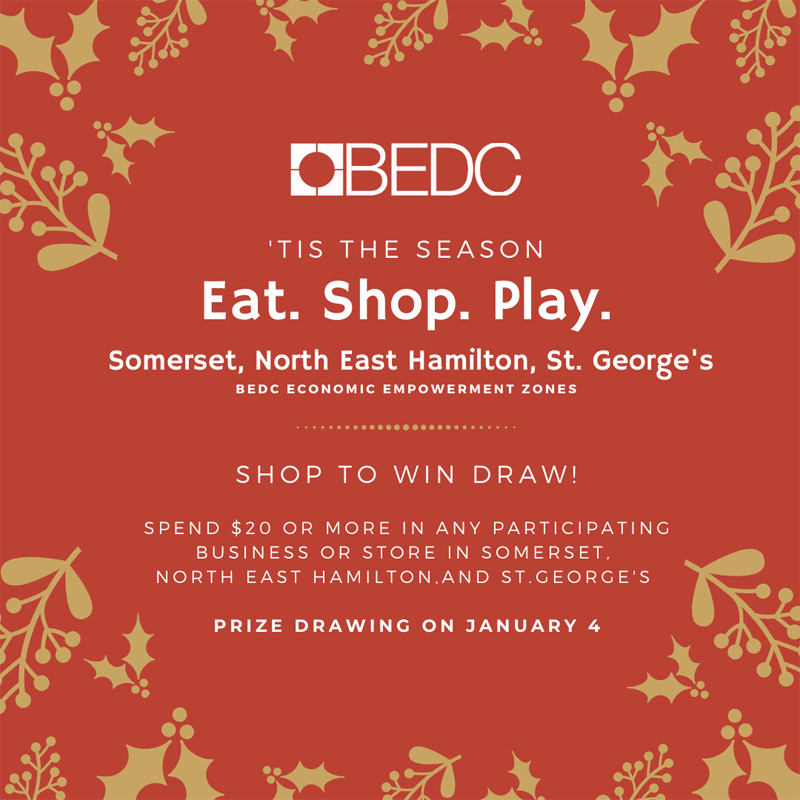 "We are excited to bring back this successful initiative that focuses on encouraging the public to diversify their spending habits," said Donte Hunt, BEDC MSME Officer supporting North East Hamilton.
"Eat, Shop, Play is a fun way to inspire the public to visit and shop at unique restaurants and stores that are located a little off the beaten path and as an added bonus the chance to win some extra cash during this holiday season."
Eat, Shop, Play, is not just a great opportunity for customers, but business owners can win too. The store that the grand prize winner patronizes wins an additional $500.
Astoria Smith, owner of Lacquered Lounge located in the St. George's EEZ said, "I am so excited to welcome shoppers down to the Towne of St George and to Lacquered Lounge. These past two years have been unprecedented and it's only with the support of Bermudians that Lacquered, and many other businesses, have survived.
"St George's is the perfect place to spend the day eating, shopping, and experiencing and I am so excited to highlight and share our Towne with the rest of Bermuda for the Eat. Shop. Play. Initiative!" Lacquered Lounge offers non-toxic, vegan polishes, organic wax, and more creating a guilt-free beauty experience."
Ondreyah Rochester & Dennis Carter, both Junior MSME Officers in charge of Somerset and St. George's, respectively, shared their sentiments, "We are thrilled to be offering this incentive to shop in the EEZs again. By participating in this initiative, members of the public can explore new spaces, get great deals and the chance to win big in our raffle. "
The BEDC added, "To participate, spend $20 or more in any participating store in Somerset, North East Hamilton, and St. George's from now until January 2nd. Winners will be announced on January 4th.
"Shop for your chance to win a $500, $300, or $200 gift voucher to spend at any participating business in the EEZ's. For more information and a full list of participating stores, please visit www.bedc.bm. Happy shopping and Happy Holidays!"
Read More About