Two Bermudian businesswomen — Carla Zuill and Roslyn Famous – who reside outside of the country have teamed up to create a multilingual women's only event.
In 2016, Carla Zuill created the Women's Empowerment Summit, which is usually held each November. The event, which has been attended by close to 700 women since its inception, has seen both local and international speakers deliver presentations and workshops geared towards different aspects of women's lives.
While the summits are usually held in person, due to the pandemic, last year's event was held virtually. Uncertain if previous attendees would attend online because of the connectivity the summits are known for, Ms Zuill was hesitant and considered cancelling.
Carla Zuill and Roslyn Famous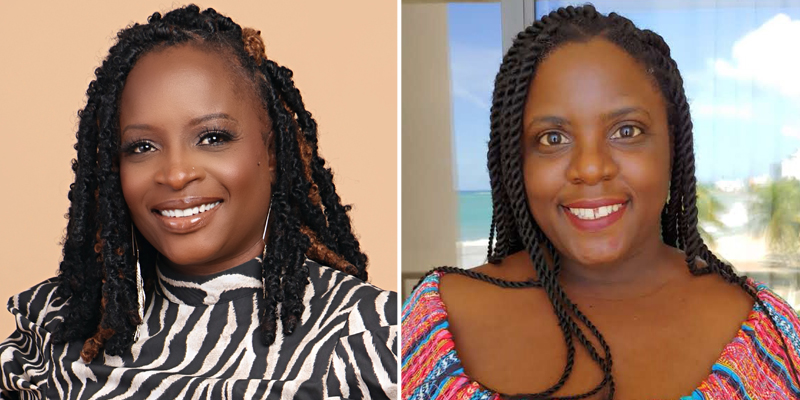 Ms Zuill said, "But I felt I was letting women down if I cancelled, so I forged ahead, and the 2020 summit was a success."
While she planned an entire Women's Empowerment Summit weekend for this year's event, Covid restrictions forced her to make the decision to hold it again virtually this year.
A few weeks ago, she was approached by Roslyn Famous, owner of Puerto Rico-based Lingovox Translation Studio.
Ms Famous said, "Domestic violence doesn't care what culture you are from or what language you speak. A person who speaks Portuguese is just as vulnerable to domestic violence as a person who speaks English. The same goes for co-parenting or women's empowerment. These are issues that are relevant to all cultures and in all languages.
"The powerful messages to be shared at the sixth annual Women Empowerment Summit on Saturday apply to women from all cultures and who speak all types of languages. So, why limit the event to women who speak English only? Why not empower women from many cultural backgrounds in Bermuda and around the world?
"If these issues don't discriminate against the women they affect, why should we? That was the thought that inspired me to pick up my phone and say to Carla, 'Hey, girl, let's be pioneers. I want to sponsor remote simultaneous interpretation for your summit.'
"For some years now, as a Bermudian professional translator, entrepreneur, and the owner of Lingovox Translation Studio—a successful translation agency in Puerto Rico—I have been looking for ways to use my talents to give back to my island. So, when I saw the announcement for Carla's event, something told me that this was the chance I was looking for.
"Having just provided remote interpretation via Zoom for an international five-day virtual conference with a team of 17 interpreters – including sign language – I saw the event advertised and said there is absolutely no reason why I can't do the same thing for the Spanish and Portuguese speakers in Bermuda."
"I'm excited to be able to collaborate with Carla on this. I'm calling this my passion project for 2021. It's a true joy to be able to share my skills and 22 years of experience to help another Bermudian entrepreneur fulfill her dreams.
"Bermuda's population is increasingly multilingual, and I'm just happy to help the island tear down its invisible language barriers. I believe that the Women Empowerment Summit will be the first major virtual event in Bermuda to be offered in three languages: Portuguese, Spanish, and English."
Ms Zuill adds: "I am excited about this collaboration and am excited to be able to provide a platform for not only English-speaking women, but women of other cultures who will love what we have to offer at the Women's Empowerment Summit."
The sixth annual Women's Empowerment Summit will take place on Saturday, December 4th, starting at 10.30 am Bermuda time.
Speakers will be American Schmeka Bowrin, who will discuss healthy co-parenting; NY-based Bermuda Lendrea Stays, who will share her journey of how she rebuilt her life after being the victim of domestic abuse; branding expert Nikki Fagan will offer women tools which can be used to build the type of life they desire; and local life coach Patrice Frith Hayward will present a workshop on leaving old baggage behind.
A spokesperson said, The Women's Empowerment Summit's annual Woman of the Year will also be awarded to an unsuspecting woman in the Bermudian community. Both regular [$50] and patron [$100] tickets are available for purchase at www.shehub.tv. The event has been sponsored by MasterKey Management since its inception in 2016."
Read More About