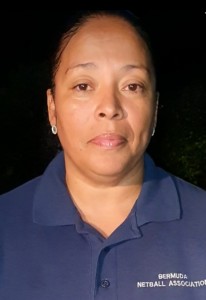 [Written by Stephen Wright]
Bermuda's budding netballers could have a pathway to the professional ranks through a link with a UK school affiliated with Superleague team Wasps.
Teachers from Rugby School in Rugby, Warwickshire, met with Bermuda's top young players as part of the Boarding School Fair at the Hamilton Princess hotel last month.
Kimale Evans, the Bermuda Netball Association, president said Rugby School teachers, Nick Tester, Head of Curriculum and Graham Joyce, Assistant Head, Upper School, also attended a training session involving a dozen players aged 13 to 17 at Bernard Park.
"This is hopefully the beginning of what will be a long-term partnership," Evans told Bernews.
"We approached parents who had girls in the age range eligible [for scholarships and financial aid] at Rugby School and held a training session so they could view those players.
"After the training demonstration, players had a chance to represent themselves and speak to the Rugby School visitors. I know they were impressed with our players."
The BNA already has a relationship with Wasps, the Superleague champions in 2017 and 2018, through former England captain Naomi Taylor, who has lived in Bermuda since 2016.
Taylor, who won the silver medal at the Indoor Netball World Cup in 2014, coaches Docksiders in the Senior Netball League.
Bermuda players Zariah Amory and Nabiilah Nasir have previously attended training camps at Coventry-based Wasps as part of the Ministry of Youth, Culture and Sport's National Junior Athlete Sponsorship Programme.
"We've had a relationship with Wasps for several years, and it's nice to know that, through the Rugby School, there is a continuation of that relationship," Evans added.
"The educational demands of the school are very high, and if they can find an individual who ticks all of the boxes, it will be a worthwhile investment for the school and any individual offered an opportunity.
"If we can get a player to the UK to further their education and enhance their level of play, it will be a great thing."
The BNA has received an invitation from the United States Netball Association to compete in the Spring Into Netball Tournament, to be held in Florida in April.
Also taking part are Antigua, the Cayman Islands, Trinidad and Tobago, Switzerland and the United Arab Emirates.
Bermuda, whose national programme has remained dormant since 2017, are not among the 44 nations listed in the World Netball international rankings.
"Hopefully, we can get some international matches and regain our international ranking," said Evans, who said the BNA plans to appoint a new head coach early next year.
"We started revamping the national programme last year, and we've had several coaches put their names forward the national coach's position."

Read More About