Taste 141 — the bar and restaurant located in the John Swan building on Front Street — has introduced a voluntary 'round up your bill' initiative to help SPCA Bermuda fulfil the needs of the animals that are currently in shelter.
"Throughout the month of December, customers will have the option to round up their bill to the nearest dollar to contribute as a small donation to the charity. If customers feel inclined to give more, they can donate an amount of their choosing or select a specific need, for example, sponsor a dog or cat spay/neutering," a spokesperson said.
SweetPea poses with staff from Taste141 outside the restaurant located on the ground floor of the John Swan building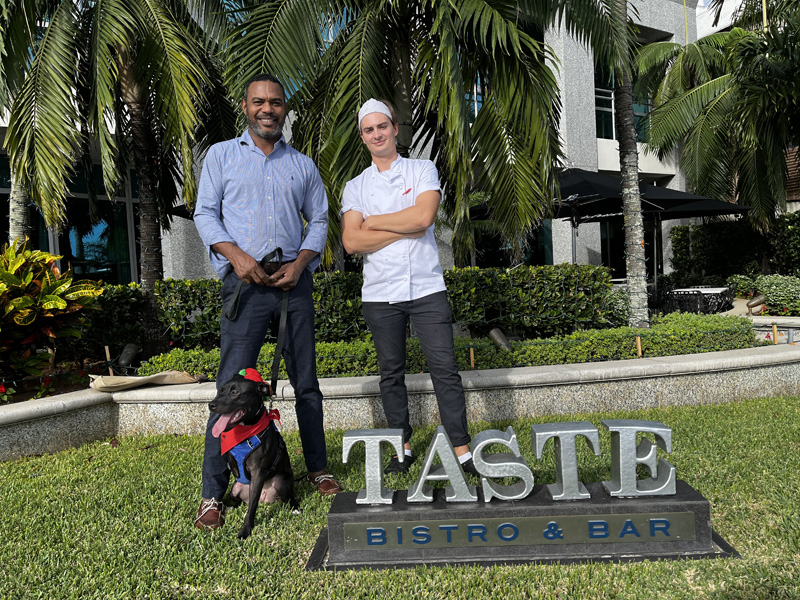 Louisa Knight from SPCA Bermuda said, "The SPCA is thrilled to receive the support of Taste 141 and their customers. This fundraising initiative will enable us to continue with our ongoing work to care for Bermuda's neglected, unwanted and abused animals.
"The shelter's intake numbers have continued to rise and without the generous support of the public, we simply cannot continue to provide our vital services. From the bottom of our hearts, animal and human, thank you."
Taste 141's General Manager, Kia Wolffe, commented, "As a dog-friendly establishment, it only seemed natural to set up an initiative for SPCA Bermuda when we saw their community outreach earlier in the year.
"We love it when our customers bring their dogs with them to sit outside on the patio, which has increased in popularity over the last year. Knowing that we have animal-loving customers makes us feel confident that this will be a successful drive."
A spokesperson added. "Recently, an SPCA dog by the name of SweetPea visited Taste 141. The sweet-natured young pit bull lost one of her legs due to a bike accident, but her love of life and people captured the attention of everyone in the restaurant."
"There are lots of dogs, cats and rabbits like SweetPea at the SPCA right now who deserve a happy home, but the charity requires donations in order to keep them healthy and safe until then. We are hopeful that bringing some of the animals to the restaurant throughout the month will help raise awareness and assist in finding them homes sooner", added Mr Wolffe.

Read More About