JM Smucker and Butterfield & Vallis donated $3,530 to Bermuda Society for the Prevention of Cruelty to Animals [SPCA].
A spokesperson said, "JM Smucker and Butterfield & Vallis recently completed another cycle of their "Pawsitively Purrfect" campaign. With the purchase of any JM Smucker pet food and pet snack product [including Milk Bone, 9 Lives, Pup-Peroni, Canine Carry-Outs, Meow Mix, Kibbles'n Bits and Nature's Recipe] at stores throughout Bermuda, a percentage of sales was accrued to be donated to the Bermuda SPCA.
Raven Pearman [JM Smucker Pet Food Divisional Purchasing Associate at Butterfield & Vallis] Jacqui Frith [SPCA Executive Director]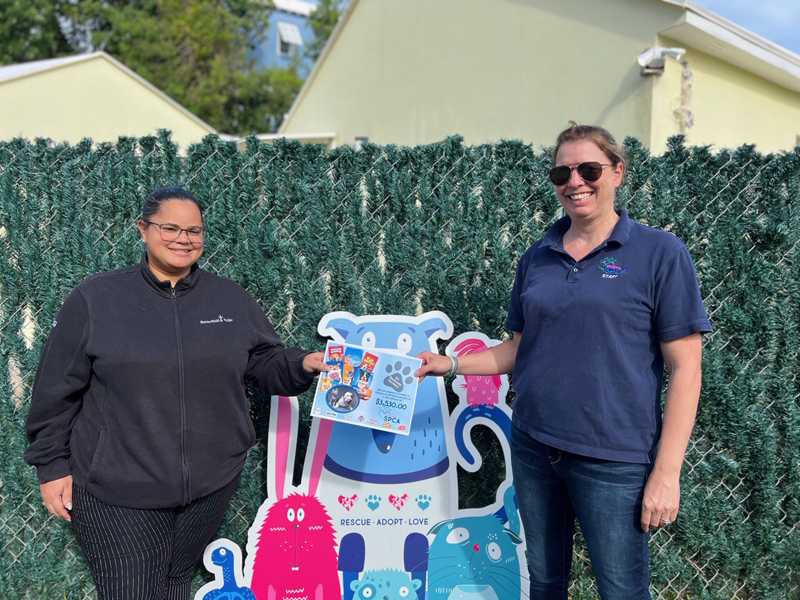 "This week, a cheque was presented to the SPCA in the amount of $3,530.00. These funds will help the SPCA to encourage and promote kindness to animals, to provide effective, lawful means for the prevention of cruelty to animals and to promote the education for the general public on care and well-being of all animals.
"The Inspectorate team provides an emergency service for animals that have been injured or are in need of emergency care as well as overseeing complaints of cruelty and neglect for all types of animals. As an animal shelter, the SPCA provides a safe-haven for animals in need of a home and an adoption service for abandoned, abused or neglected animals.
"This campaign will continue in 2023 with the SPCA. The management & staff of both JM Smucker and Butterfield & Vallis would like to thank everyone for purchasing JM Smucker pet food and pet snacks and in-turn supporting the SPCA."

Read More About