Bermudian Dr. Kyjuan Brown was awarded the prize for the most outstanding research paper at the annual Caribbean Dermatology Association [CDA] conference held this weekend in Barbados.
There were presentations from over 20 doctors from the USA, Canada, Jamaica, Trinidad & Tobago, Cayman Islands, Barbados, and St. Lucia; with Dr Brown's presentation deemed to be the most outstanding.
Dr Brown accepting the award in Barbados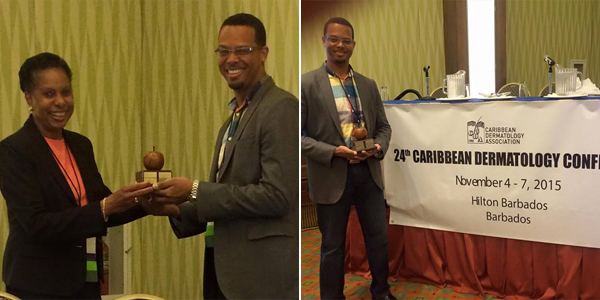 The Professor Hywel Williams Research Prize, often referred to as the "Apple Award", is awarded at the end of the the CDA conference to the presenter of the most outstanding original research paper with the greatest relevance to the Caribbean.
Dr Brown's presentation was called "Doctor, Now I Have Hair!" and it was clinical case presentation on the methods and results of his medical hair restoration program.
For the past two years Northshore Medical has been treating patients suffering from hair loss, and Dr Brown said that using a combination treatment approach, they have seen patient regrow their hair within 3 to 6 months following treatment.
One of the photos used in Dr Brown's presentation showing his client results: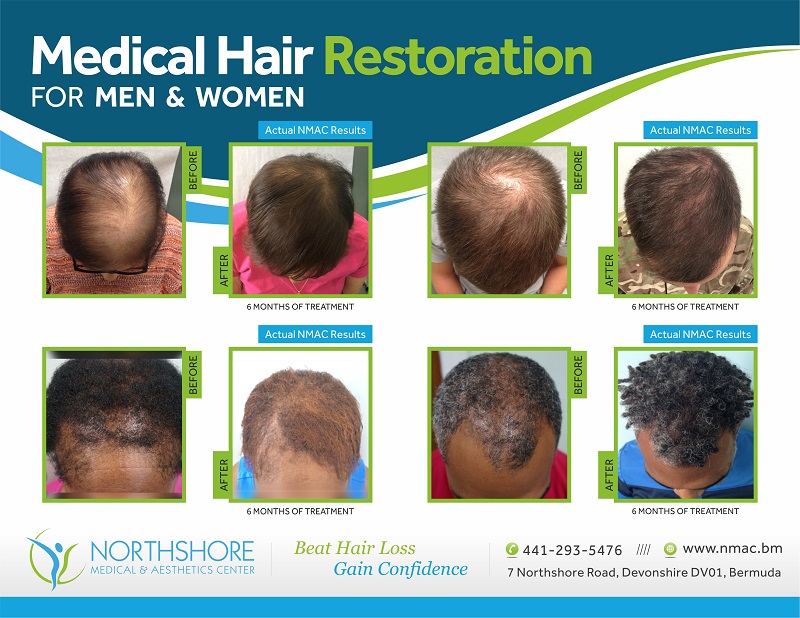 "The basis of the presentation was to show evidence that there are effective medical hair restoration treatments which yield excellent results, as well as to encourage other dermatologists to start to employ my techniques and treatment protocols in an effort to give hope to patients suffering from this disease," Dr Brown said.
The combination treatment Dr Brown offers includes Low Light Laser Therapy, Protein Right Plasma "PRP" Injections mixed with A Cell Technology, Special Hair Growth Multi Vitamins and Medicated Shampoos.
Dr Brown after winning the award:
Speaking after the presentation, Dr. Brown told Bernews, "I am just so overwhelmed, as this was a huge honour. There were over 20 other doctors who presented, many of them with more distinguished careers than mine."
"I am truly honoured as this was my very first presentation to the Caribbean Dermatology Conference. This just gives further justification to the work I do in Bermuda to treat patients suffering from hair loss. It's no greater honour than to be recognized by your peers for the work you do."
You can find out more about the hair restoration services at Northshore Medical here on their website.
Read More About