Cal Athletics — where Bermudian Dr. Ty-Ron Douglas works –  is hosting a virtual 'Pain Into Purpose' educational and empowerment session this evening [Jan 24], with people in Bermuda invited to join.
A spokesperson said, "The Pain Into Purpose Bermuda movement has been embraced by the University of California, Berkeley Athletics Department / Cal Athletics, who are partnering to highlight road safety and wellness awareness through the Cal Diversity, Equity, Inclusion and Belonging [DEIB] Office that Dr. Ty-Ron Douglas leads as Associate Athletics Director of DEIB.
"Cal Athletics is hosting a special virtual #PainIntoPurpose #DEIBPlaybook educational and empowerment session from 9:30pm to 10:30pm Bermuda time today and the people of Bermuda are welcomed to join the virtual experience.
"There will be a special tribute video [Paul DeShield productions] that includes a song by gospel recording artist Duawne Starling and an acknowledgment of the late Kijani Burgess and a number of Bermudian and international athletes who have recently passed away.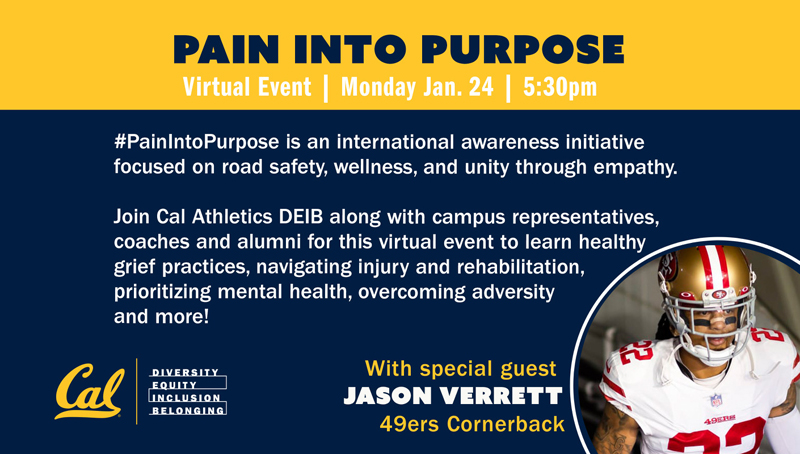 "Current NFL player, Jason Verrett of the San Francisco 49ers, will be a special guest. Cal Athletics coaches, staff, student-athletes, and Cal's Athletic Director Jim Knowlton will also be in attendance.
"Please click here to register for this virtual event. You will receive a confirmation email that will include the Zoom link that you will use this evening.
"Pain Into Purpose is an international awareness initiative focused on road safety, wellness, and unity through empathy.
"Pain Into Purpose day was started by Bermuda Institute students after their 11th grade classmate, Kijani Burgess, passed away in a moped/motorcycle accident. His classmates and family have sought to pivot the pain of the experience into something productive. The Cal Athletics DEIB office plans to use this #PainIntoPurpose movement to support our student-athletes with road safety and overall wellness resources.
"We plan to focus on road safety involving pedestrians, cyclists, motorists, and car/bus/truck drivers; and wellness is for all, including learning healthy grief practices, navigating injury and rehabilitation, prioritizing mental health, and overcoming adversity. An element of diversity that people do not always talk about is the diverse journeys of overcoming adversity and the different ways that people grieve."
Read More About
Category: All