[Written by Stephen Wright]
From retired professional figure skater to reality television star to soon-to-become four-times Olympian, the resurrection of Vanessa James's competitive career reads like a far-fetched Hollywood movie script.
James was settled into retirement for almost two years when a chance meeting on the set of the wildly popular CBS reality TV show, Battle of the Blades, brought her together with three-times Olympic medal-winner Eric Radford.
While practising with their ice hockey partners during the sixth season, they performed a routine together and found they had instant chemistry and were encouraged to explore it by the show's producers.
The Winter Olympics in Beijing, starting on February 4, now beckons for the pair who are proving age really is just a number.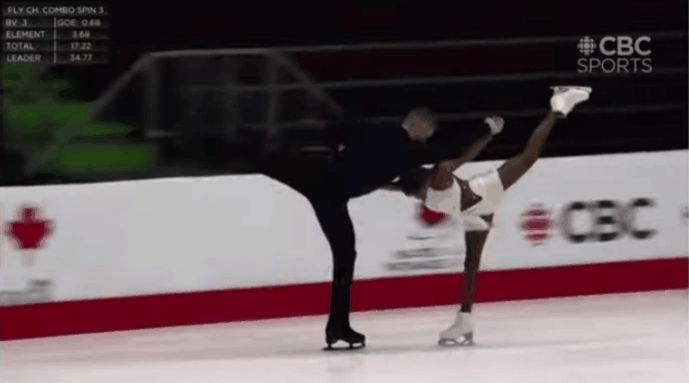 "We decided to do one lap together, and the producers said, 'Wow, you guys have a great line; you should have skated together," James told Bernews. "That got us thinking, 'Oh, why not do some shows if we can.'
"At one point, Eric said, 'Why not show this to the world. It would be a shame to keep it just to the shows.'
"We had no idea what the possibilities were, but we gave it a shot, and the rest is history.
"Our sport, especially these days, is for young people. We see girls aged 15 and 16 [competing], and the retirement age seems to be 25.
"A lot of people have reached out to say our story is inspiring. There's no age limit to success, and we're writing a new chapter in our careers."
James, 34, envisioned bringing the curtain down on her decorated career by representing France in Beijing before bowing out at the World Figure Skating Championships in Montpellier in March.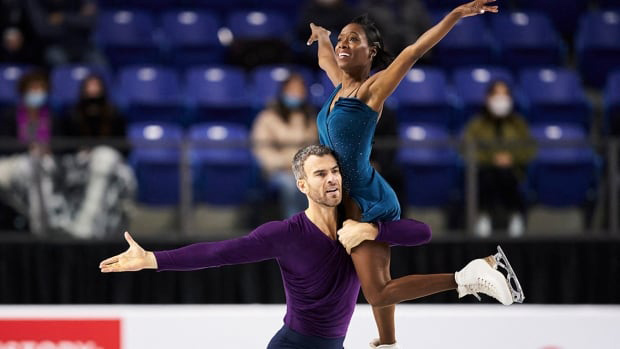 Her dream looked dashed when she decided to prematurely retire following allegations that her pairs partner Morgan Ciprés had sent lewd photographs to an underage girl on social media.
However, the unusual circumstances leading to her new partnership with Radford, who turns 37 next week, has thrown up an unexpected opportunity to dazzle on the biggest stage once again after they were selected to represent Canada in Beijing.
"Eric had been retired three years, I'd been retired two years, no one has ever done what we've done; skate together for ten months and then go to the Olympics," said Ontario-born James, whose father Kevin is Bermudian.
"We didn't have any expectations in the beginning, but we are competitors and we want to do our best. We don't have as much mileage [as a pair] as the other competitors, but that doesn't take our quality and experience away. We'll give it our best shot.
"I didn't think I'd have another chance, and it seems like the stars have aligned, and things have gone full circle … to have been born in Canada, to be representing Canada and to then finish my career [at the world championships] in France."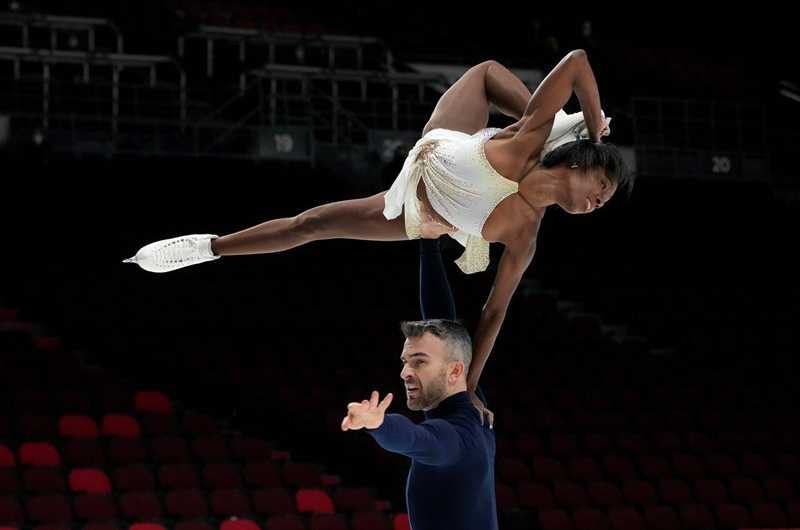 James, who lived in Bermuda until the age of ten, admits it will feel strange to have the Maple Leaf on her costume instead of the French cockerel, although she believes it is only fitting to end her career representing her birth country.
"It will feel different wearing a different flag," said the world championship bronze medal-winner. "I'm very proud to have represented France for as long as I did and had the success I did.
"I was born in Canada, and when I competed when I was younger, I always felt loved and had standing ovations. I was always Vanessa James, the Scarborough girl!
"I think it will feel like a natural transition, and I know I still have incredible support from the France fans."
Although James and Radford, who will compete in the team and individual pairs, have had only ten months to build up a repertoire, they appear to have gelled on and off the rink and have a similar work ethic and approach to ironing out any kinks in their routines.
"We've always known of each other, but we were never really friends and didn't spend time with each other," James explains. "However, getting to skate with him and getting to know him, it feels like we've known each other for a very long time.
"The rapport we have is incredible, and we've never got into a fight. We have hard days when the elements are difficult, and we're not meshing as well, but every day is constructive, and we're both very open to listening to the other person. We have fun every day."
The journey to Beijing has not been without controversy for James and Radford.
Having both tested positive for Covid-19 during the build-up to the recent Canadian Figure Skating Championships, they opted against competing in the long program even though they knew it could affect their Olympic chances.
Although their selection was not well-received by some in the sport, the championships are just one of the criteria for qualifying.
"We wanted to try our best, but it just didn't happen in the short program [they finished fourth], and it solidified our decision not to put on a full program, even for our health, knowing that it could have consequences for our selection," James added.
"We hoped we had done enough throughout the season in which we had the best [Grand Prix] performances of any Canadian pair team.
"We know it was controversial not being at the championships, and it was scary not being there, but it's not the be-all, end-all [in terms of qualification]. We're very proud of what we've achieved [this season]. Had it not been for the 12 days when we had Covid, we would have been fully prepared [for the full program]."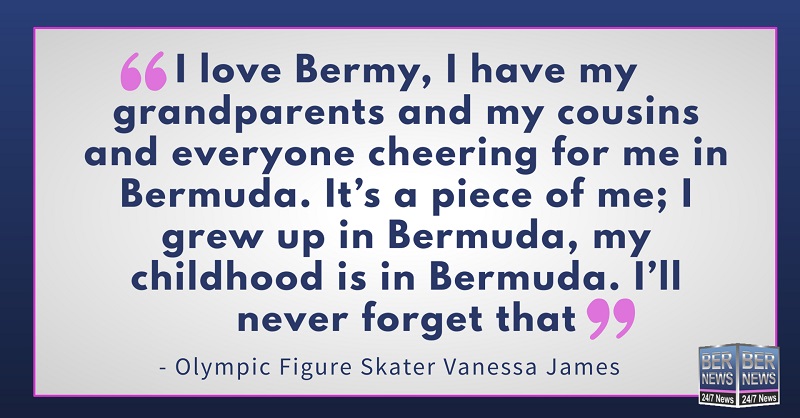 James, who attended Mount St Agnes on the island, said she always carries a piece of Bermuda in her heart regardless of which country she represents.
"I love Bermy, I have my grandparents and my cousins and everyone cheering for me in Bermuda," she said.
"It's a piece of me; I grew up in Bermuda, my childhood is in Bermuda. I'll never forget that."
Bermuda, France and Canada are unlikely to be the only nations cheering James on when she begins the final, distinctly feel-good chapter of her figure skating story.

Read More About