Digicel is partnering with the Sargasso Group and their Pronto venture to "promote innovation and technological development."
A spokesperson said, "Digicel is proud to announce a new technology partnership with the Sargasso Group and their newest venture Pronto.
"As a means of continuing to support Bermudian community initiatives as well as local businesses, Digicel has partnered with Sargasso Technologies to continue to promote innovation and technological development.
"The grocery market is evolving to a mix of instant, or scheduled, delivery and buy models and as such, the Sargasso Group remains focused on Q-Commerce for the Bermudian public. The introduction of Pronto offers exactly what Bermuda's consumer market has requested.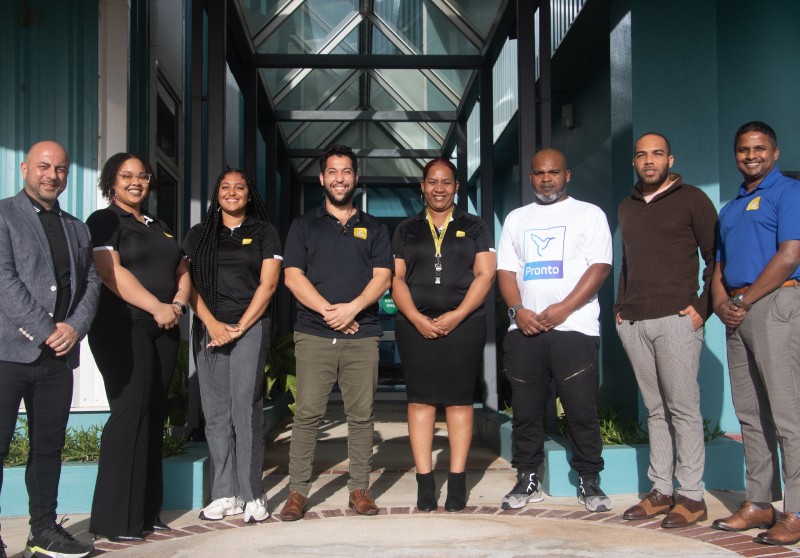 "Pronto is an online grocery shopping experience that is focused on simplicity and ease of use. Pronto offers shelf-stable grocery categories such as household care, snacks, personal care, and packaged foods along with traditional grocery categories such as dairy, produce, fresh meat, and frozen foods and is attracting consumers to make those purchases online.
"Consumers will be able to get the groceries they want, how they want and where they want through an online and engaging experience from anywhere.
"Pronto offers the lowest prices in market, free [for orders over $100] and fast delivery, product variety that scales based on consumer behaviour and engagement, and new job opportunities to empower the community."
Stephen Murad, Regional CEO for Digicel, said, "As a digital operator, Digicel is excited to see Colin and the team have developed great innovation, to meet the ever increasing demands of the Bermudian public. With a Super-Fast Fiber to the Home and Business network and lightening quick Mobile speeds, Digicel is primed to help power this innovation and future needs of Bermudians.
"Digicel has seen a transformation of its business model to that of a Digital Operator and it is with these great synergies of organisations, that we can help to support the drive for innovation even further."
The spokesperson said, "The recent launch of Sargasso Technologies [sargassotech.com] highlights the speed of digital transformation in Bermuda, offering modern solutions to modern day problems, including those addressed by the introduction of Pronto, which launched under Sargasso Technologies."
Colin Rego, CEO and founder, said, "Increased online shopping is here to stay, with nearly 50% of consumers buying daily essentials online at least once a week. Consumer preferences have changed, from how and what consumers buy, to their expectations for customer experience and pricing. We very much look forward to our partnership with Digicel as we scale and continue to innovate for our community.
"This will not only allow us to build and expand our technology product offerings, but also enable us to educate businesses of any size on how to scale and grow.
"We look to enhance the Pronto experience in the coming months through mobile apps for a more engaging consumer experience, improving order to delivery time to 30-min anywhere and expanding our technology partnerships to help deliver value to our consumers."

Read More About
Category: All, Business, technology