The Family Centre has a new initiative #VirtualValentine — where you can donate online to send an eCard — that helps people to show their love and spread it to the wider community this Valentine's Season.
A spokesperson said, "A simple, effective, and eco-friendly way to show any loved one that you care, the #VirtualValentine is an eCard that is delivered to your loved one's email address with a donation made to the Family Centre in their name.
"All donations of $20 or more will be entered into a draw and one lucky winner will receive a one-night stay at Rosewood Tucker's Point with a complimentary breakfast for two.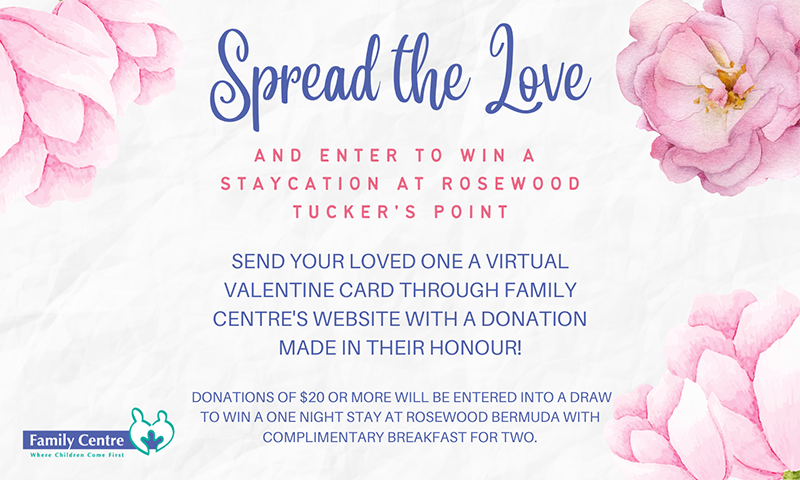 Dr Sandy De Silva, Executive Director is inviting everyone to engage and intentionally spread their love with family, friends and loved ones, whether near or far.
Dr De Silva explains. "The great thing about this campaign is that it is a simple way for us all to feel connected. Over the last year adults, children and teens have had to be mindful of their social bubbles and sadly, many of us could not connect with our loved ones, family members, friends, and colleagues in the ways we normally would.
"This disconnect can contribute to feelings of isolation and loneliness that challenge our mental wellbeing, especially for children. Last year, October through December, we experienced a spike in the number of calls with parents seeking help for their children and teens.
"We believe the 'Spread the Love' campaign can help close the gap on being socially distant from each other and is a positive way to engage in self-care and demonstrate care for others. Through your participation, you are also providing critical support for Family Centre's programme and services that provide healing and empowerment for vulnerable children and families."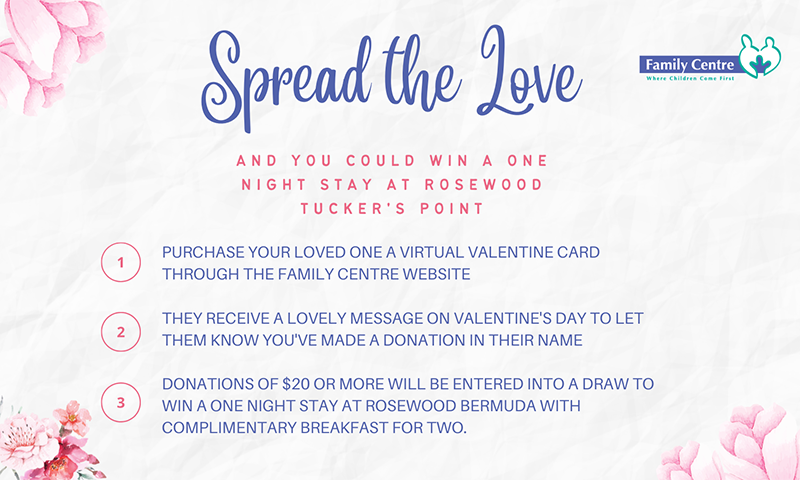 "In addition to the #VirtualValentine, Family Centre launched a collaboration with Exclusive Flowers. When customers order flowers for loved ones throughout the month of February at Exclusive Flowers, they have the option to donate to Family Centre in their loved one's name.
Family Centre's Relationship Development Director, Thania Redman, says "We are asking you to stop for a minute and smell the virtual roses. Think about your loved ones, colleagues, church groups, seniors, or anyone that you feel can use a bit of love. You can act now or throughout the month of February purchase Family Centre e-cards. There is an assortment of e-cards from which you can choose. Your e-card will include your personalized message and will arrive directly to the recipient of your care and concern."
"Donations made up until February 28 will be entered into the draw and are not limited to one entry. The draw will be held live at Exclusive Flowers on February 28th. Stay tuned for more information. Please visit https://www.tfc.bm/virtual-valentine or https://www.eebermuda.com/flowers to participate in this important fundraiser."
Read More About
Category: All, News, technology