Family Centre's fourth annual Celebrate the Night fundraiser takes place on Saturday, March 12 at Fourways Inn in Paget, with some 14 bands, entertainers and comedians set to join MC, Patrina "Power Girl" Paynter, to create an evening that has something for everyone to enjoy.
"The Simons Brothers Band has taken the Island by storm with their youthful enthusiasm and musical prowess. Hugh Murray, from Legacy fame, performs to tracks with his beautiful voice and encourages you to sing along with him. Zany Mike Hind plays the ukulele like no other while Gavin Smith has an easy style all his own," a spokesperson said,
"Tony Bari plays piano and sings rat-pack classics and, this year, Saviour Messina provides a classical piano sound in the main dining room. The Comedy & Improv Show features Gina Davis and Eddy G in an expanded space.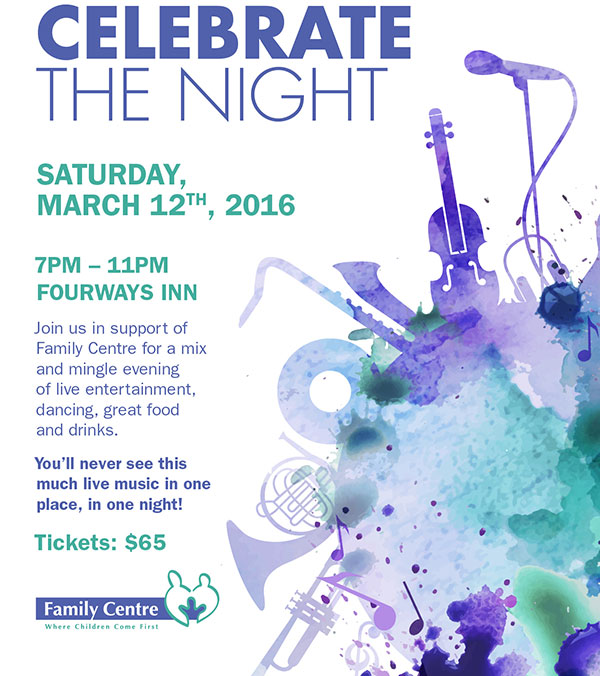 "Veteran Improv Troupe -of Just for Laughs recent fame- includes Toby Butterfield, Julia Pitt and Gavin Carter. Getting everyone on the dance floor is the specialty of DJ D'Nice with mixes of Motown and Soca along with special requests."
Martha Dismont, Family Centre's Executive Director, states, "We are looking forward to another great event with music, dancing, good food, comedy and great raffle prizes. The funding from Celebrate the Night supports our vital counselling services for vulnerable children and their families.
"Each year Family Centre's extensive, wrap-around services supports more and more children and families. The demand for these services continues to rise and our staff members are serving families for longer periods and with more intensive interventions."
Tickets are on sale at Fourways Inn, La Trattoria, www.BDAtix.bm , Family Centre/Charities House on Point Finger Road and Select Sites Group near Café Ten on Dundonald Street.
There is a bountiful buffet supper with a cash bar featuring Fourways' signature drinks with part proceeds going back to the charity.
Starla Williams, Celebrate the Night Event coordinator, says, "It is a mix & mingle setting so that guests on the evening can move throughout the entire venue party setting to enjoy all the different genres of entertainment being offered and mingle with friends. The more the merrier and it is hopeful that more than 400 persons come out to take part in the fun. The ticket price of $65.00 makes this event a great value."
Family Centre said they are grateful to following sponsors: Mike Collins, Butterfield & Vallis, BF&M, BELCO, Admiral Management, AIC, Bermuda Commercial Bank, Bermuda Forwarders, CellOne, Europa Imports, Gold Standard, Lindo's, Marshall Diel & Myers, Northshore Medical & Aesthetics Centre, Treecon, TOPS and Ultimate Imaging.
Emilio Barbieri, from Little Venice Group, said: "Fourways Inn is proud to be a sponsor again for the Celebrate the Night event to benefit such a great charity. Our restaurant venue and layout works well for the broad variety of entertainment planned each year by Family Centre. We hope for a wonderful turnout."
For more information or ticket delivery for orders of 10 or more, please call 232-1116.
Read More About
Category: All